Anthology movies are those which consist of more than one short story in a single film. The stories though, may or may not have any connecting factor. In some such movies, the characters in each story bear some connection among themselves. However, it may also be the case that they are completely unrelated and have separate themes. The Indian film industry has made a few anthology movies among which some have been loved, while some have failed to work. Let us look at ten anthology movies of Bollywood.
1. Bombay Talkies Click to look into! >> Read More...
...
This movie was made to commemorate hundred years of the Indian cinema. Directed by Anurag Kashyap Born on 10th September 1972, Anurag Kashyap has es >> Read More... , Zoya Akhtar Zoya Akhtar has now become a household name promin >> Read More... , Karan Johar Karan Johar is one among the top ten celebrities i >> Read More... , and Dibakar Banerjee Dibakar Bannerjee is a director and screenwriter a >> Read More... ; this is an anthology film consisting of four separate stories. The stories were "Ajeeb Dastaan Hai Yeh", " Star Click to look into! >> Read More... ", "Sheila Ki Jawaani", and "Murabba". The stories tackled issues related to the show business. The cast of this movie included Rani Mukherji, Randeep Hooda The strong macho image of Randeep Hooda graces the >> Read More... , Nawazuddin Siddiqui Nawazuddin Siddiqui was born in Budhana in Muzaffa >> Read More... , Saqib Saleem Saqib Saleem also known as Saqib Saleem Qureshi (b >> Read More... , Ranvir Shorey Intro: Ranvir Shorey is a popular Indian movies ac >> Read More... and few others.
...
2. I Am
This 2010 anthology film directed by Onir entails four stories about four individuals. "I Am Afia" is about a single mother; "I Am Megha" is about the conflicts in Kashmir; "I Am Abhimanyu" is about a film director's struggle with his sexual identity, and "I Am Omar" is about is about a struggling actor, embroiled in sexual abuse. The movie was appreciated critically and had also bagged many awards. The cast includes Juhi Chawla Juhi Chawla is a renowned Indian actress and produ >> Read More... , Manisha Koirala Manisha Koirala, is a Bollywood actress of Nepales >> Read More... , Nandita Das Nandita Das is an actress and director extremely p >> Read More... , Rahul Bose Rahul Bose, who is an actor, director, writer and >> Read More... , Sanjay Suri Sanjay Suri is known as an actor in Bollywood. The >> Read More... , Purab Kohli Purab Kohli is an Indian model, Video Jockey (VJ) >> Read More... , Radhika Apte Radhika Apte, an Indian actress was born on Sept 7 >> Read More... , etc.
...
3. Yuva
...
This bollywood film exposes how the world of politics affects the societies of different social strata. The lives of the characters are affected adversely by the world around them. Though the movie had a common theme, it depicted three stories about unrelated individuals who are linked together by a common theme. The characters cross paths with one another and even contribute to the other stories. At its heart, Yuva is a social film with a deeply relevant message.
...
4. Darna Mana Hai If you are a Daredevil & love to watch movies rela >> Read More...
...
This is an anthology horror film directed by Prawaal Raman Prawaal Raman is an Indian movie chief and screenw >> Read More... , depicts a group of seven friends who were stranded in the middle of a forest after their car broke down. To pass the time, they each narrate a horror story, following which one of the people disappear. The movie showed six different horror stories narrated by each of the characters. The stories are unique and depict different aspects of supernatural horror. The cast of this movie includes , Vivek Oberoi Vivek Anand Oberoi's birth was on 3rd Septembe >> Read More... , Nana Patekar Nana Patekar is a popular Indian actor who was bor >> Read More... , Shilpa Shetty A model turned actress, producer, entrepreneur and >> Read More... , Sohail Khan Sohail Khan is an Indian Film Actor. He is also a >> Read More... , Sameera Reddy Sameera Reddy was born on December 14, 1980, in Ch >> Read More... , Aftab Shivdasani Aftab Shivdasani is an actor and producer of Indi >> Read More... , etc.
...
5. Dus Kahaniyaan Click to look into! >> Read More...
Directed by Sanjay Gupta Sanjay Gupta is an Indian filmmaker who has even p >> Read More... , Meghna Gulzar Meghna Gulzar is among the few female directors in >> Read More... , Apoorva Lakhia A well-known film director and writer, Apoorva Lak >> Read More... , Hansal Mehta Hansal Mehta is an Indian writer, director, produc >> Read More... , Rohit Roy Born on 5th April, 1968, Rohit Roy is an extremely >> Read More... , and Jasmeet Dhodhi, Dus Kahaniyaan is an anthology film having ten different stories. The stories are social, tragic, supernatural, or religious. The cast includes Sunil Shetty, Arbaaz Khan Born in a family that has strong ties in the film >> Read More... , Jimmy Shergill Jimmy Shergill is a renowned Indian actor and prod >> Read More... , Dino Morea Dino Morea is a die-hard Bollywood actor and a for >> Read More... , Shabana Azmi Shabana Azmi is a film actress of Indian origin an >> Read More... , Naseeruddin Shah Naseeruddin Shah is an experimental actor and asso >> Read More... , Sanjay Dutt July 29, 1959, was the day when the two legends of >> Read More... , Amrita Singh Amrita Singh is an Indian film and TV actress. She >> Read More... , Neha Dhupia Neha Dhupia is a Bollywood actress who began her c >> Read More... , Minnisha Lamba, Sudhanshu Pandey Sudhanshu Pandey was born on 22nd August 1974 in L >> Read More... , etc. The movie was averagely successful, but the stories are quite interesting.
6. LoveSex Aur Dhokha
Directed by Dibakar Banerjee, LSD is a digicam film consisting of three separate stories interlinked by certain characters and incidents. The first film deals with the concept of love and honor killing; the second film tackles the issue of sex tapes and MMS scandals; the third story addresses the issue of casting couch and betrayal in show business. The film was extremely well-made and was critically appreciated. The cast of the film was relatively new, consisting of names like Anshuman Jha Anshuman Jha was born on 15th March and at his age >> Read More... , Nushrat Bharucha Who will forget the dictator and bossy girlfriend >> Read More... , Rajkummar Rao Raj Kumar Yadav, also known as Rajkummar Rao, star >> Read More... , Neha Chauhan Neha Chauhan is an Indian actress, singer, and fil >> Read More... , Arya Banerjee Arya Banerjee (formerly known as Devdutta Banerjee >> Read More... , Taran Bajaj Taran Bajaj is an actor and casting director who w >> Read More... , etc.
7. Darna Zaroori Hai Click to look into! >> Read More...
This horror anthology film was the sequel of "Darna Mana Hai". The film begins with five children getting lost in a forest and meeting a mysterious woman in a house. The woman tells them six horror stories, and they have to sit through the ordeal without getting scared. In this film, six horror stories are shown, each having separate supernatural concepts. The actors of this film are , Anil Kapoor Anil Kapoor was born on 24th December 1956 in Mumb >> Read More... , Arjun Rampal Amit Rampal is an Indian Actor, Host, Producer and >> Read More... , Mallika Sherawat Mallika Sherawat is a glamorous Model turned bold >> Read More... , Sonali Kulkarni Sonali Kulkarni was born in the Marathi-speaking K >> Read More... , Sunil Shetty, Bipasha Basu Bipasha Basu, born in January 7,1979 in Delhi, is >> Read More... , Randeep Hooda, Riteish Deshmukh Riteish Deshmukh is the son of a politician, late >> Read More... , etc.
8. Mumbai Cutting
A host of directors involving Anurag Kashyap, Sudhir Mishra Sudhir Mishra is a Bollywood director and screenwr >> Read More... , Rahul Dholakia Rahul Dholakia, born in Mumbai, is a Bollywood dir >> Read More... , Kundan Shah Kundan Shah is an Indian director and scriptwriter >> Read More... , Revathy, Jahnu Barua Jahnu Barua, an Assamese Filmmaker, born on 17 Oct >> Read More... , Rituparno Ghosh Rituparno Ghosh(1963-2013) was a profound actor, d >> Read More... , Shashanka Ghosh Shashanka Ghosh was an advertisement guru before h >> Read More... , Ruchi Narain Ruchi Narain is an Indian film director and screen >> Read More... , Ayush Raina Ayush Raina is film director from India. He is wel >> Read More... , and Manish Jha Manish Jha was born in 3rd May, 1978 at West Champ >> Read More... directed this Indian anthology film. The film consists of eleven short stories having a variety of themes. The stories are bonded by a common factor: the city of Mumbai. The film has not been released commercially, but it has been sent to several film festivals where it has won a lot of praise and appreciation.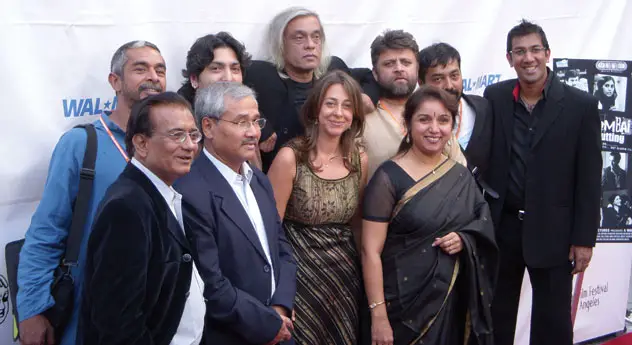 9. Salaam-e-Ishq: A Tribute to Love
This movie was based on a British film named "Love Actually". It is a romantic film and depicts six different love stories. The stories have a connecting thread between some of the characters. Each story shows a different aspect of love and has a unique concept. Though the movie was not commercially successful, it is still interesting to watch so many lovely stories put together. The cast of this movie includes Salman Khan Salman Khan is a very famous Indian actor and a pr >> Read More... , Priyanka Chopra Born on 18 July 1982, Priyanka Chopra is an establ >> Read More... , Anil Kapoor, Govinda, John Abraham Like some of our sexy stars, John Abraham has had >> Read More... , Vidya Balan Vidya Balan is an award winning Bollywood actress >> Read More... , Juhi Chawla, Ayesha Takia Ayesha is a Bollywood film actress, born on 10th A >> Read More... , etc.
10. Traffic
This anthology movie has been adapted from theme of a Malayalam film having the same name. It is based on a real incident which happened in the city of Chennai. A traffic accident and a sickness intertwine the lives of unrelated individuals, giving rise to an interesting film concept. The characters come in contact with each other and affect each other's lives in the film. The film cast includes actors like Manoj Bajpayee Born on 23 April 1969, Manoj Bajpai is first a Bol >> Read More... , Kitu Gidwani Kitu Gidwani is a model and an actress from India. >> Read More... , Jimmy Shergill, Divya Dutta Divya Dutta was born in Mumbai, Maharashtra, India >> Read More... , Prosenjit Chatterjee The only son of Biswajit Ranjitkumar Chatterjee wa >> Read More... , Parambrata Chatterjee Parambrata Chatterjee, born on 27th June 1980, is >> Read More... , etc.