Well, it's the gala time of Holi! We bring to you top 15 Holi songs from Hindi cinema. Be it a 'Sholay' or 'Mother India' or even 'Yeh Jawaani Hain Deewani', audiences flocked to the theatres to have a glimpse of these Bollywood songs.Bollywood has immortalised the festival of colours on screen.
Mother India
...
The song "Holi Aayi Re Kanhai", sung by Shamshad Begum, has been cited as a typical Hindi film song which is written for and sung by a female singer. It has an emotional appeal to it. The song was picturised on legendary Nargis and Raaj Kumar Raaj Kumar was a Bollywood actor. He worked as sub >> Read More... .
Godaan
...
A Holi song that doenst feature any women and only the men shake their legs along the village pathways! The song 'Jogira Holi Khelat Nandlal' was picturised on Mehmood and other co-artistes. The folk music was very well composed by sitar maestro Pandit Ravi Shankar Born on April 7, 1920, in Banaras, Uttar Pradesh, >> Read More... and Mohammed Rafi's golden voice had become the song of rural India.
Phool Aur Patthar
...
One of the best works of Dharmendra and Meena Kumari Meena Kumari is a popular TV and film actress. She >> Read More... the film gave Dharmendra super stardom. A song 'Layi Hai Hazaron Rang Holi' was picturised where women and men danced in a village and a widow Meena kumari watches them playing Holi. Sung by Asha Bhosle Asha is considered to be the second greatest femal >> Read More... , the song was one of Asha's best songs .Item queen Laxmi Chayya also participated in this song. Actually, the song was also a focus on a growing relationship between a forsaken widow and a criminal.
Kati Patang
...
In this song, Asha Parekh Asha Parekh was born in October 1942 to a middle-c >> Read More... is hesitant to take part in the festivities of Holi as she is a widow. But her beloved Rajesh Khanna Born as Jatin Khanna on 29th December 1942, the ch >> Read More... is in no mood to listen to her thoughts. The song' Aaj Na Chodenge' sung by Kishore Kumar Kishore Kumar is an Indian playback singer, who ha >> Read More... partly and Lata Mangeshkar Lata Mangeshkar, the veteran playback singer had >> Read More... joining Kishore Kumar, expressing Asha Parekh's mood, really remains an unforgettable song of Holi. Music by R.D. Burman was indeed catchy.
...
Navrang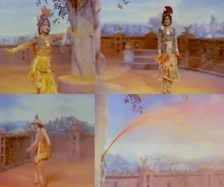 ...
In this film a song 'Arrey Ja Re Hat Natkhat' was a popular Holi song picturised on actress Sandhya. Sandhya essays the role of a girl as well as a boy in this beautifully choreographed song from Navrang. Music was composed by C. Ramachandra and the song was sung by Asha Bhosle and .
Holi Ayee Re
...
Holi Ayee Re ("the festival of colors has come") is a 1970 Bollywood romance film featuring and Shatrughan Sinha Shatrughan sinha is a well known name of the Hindi >> Read More... . A song '"Holi Ayee Re" sung by Lata Mangeshkar, Mahendra Kapoor and Usha Khanna Usha Khanna is an Indian music director of Hindi C >> Read More... was picturised on Mala Sinha.
Phagun
The film 'Phagun'presented a beautiful Holi song titled ' Piya song Khelo Holi Phagun Aayo Re' sung by Lata Mangeshkar. The song was picturised on beautiful Waheeda Rehman She took birth in a Tamil Urdu speaking Muslim fam >> Read More... , who danced with great joy, and this showcased the festive mood of Holi in its highest spirit. Music was by S.D. Burman.
Sholay

 
In this film you had heard Gabbar Singh Click to look into! >> Read More... growling 'Kab Hai Holi, Kab Hai Holi!!' And soon the celebration of Holi is seen in the song 'Holi Ke Din' with pichkaris. The film also showed how the people in the village of Ramgarh were excited! The love depicted in the song between Dharmendra and Hema Malini Hema Malini is perhaps the only dream girl of the >> Read More... makes it a universal number. Even Amitabh and Jaya Bhaduri get to know each other by exchanging looks. The song' Holi Ke Din' is most popular Holi song of Indian cinema sung by Lata Mangeshkar and Kishore Kumar. R.D. Burman's foot-tapping music did cheer the fans!
Kaamchor

 
K. Viswanath's Kaamchor' also gets attention from cine-goers for a Holi song 'Mal De Gulaal Mohe". The song sung by Lata Mangeshkar and Kishore Kumar was picturised on Suresh Oberoi Suresh Oberoi is a character actor and the father >> Read More... , Neeta Mehta and others. In this film, actor Rakesh Roshan Rakesh Roshan Lal Nagrath is the original name of >> Read More... played a supporting role. In this scene, Jayaprada was separated from husband Rakesh Roshan.The music was by Rajesh Roshan Being a renowned music composer of Hindi films, Ra >> Read More... .
Silsila
No Holi is complete without this song 'Rang Bharse' sung by himself. It was written by Amitabh's father Harivansh Rai Bachchan Harivansh Rai Bachchan is the father of Bollywood >> Read More... and Shiv Hari was the music composer. The folk song was picturised on Amitabh Bachchan and Rekha and aptly presents Holi and the festival of Holi. While Amitabh and Rekha enjoy Holi in full spirit, Jaya Bhaduri and Sanjeev Kumar Sanjeev Kumar was born on July 9th, 1938 in Mumbai >> Read More... just watch them.
Mashaal
 
In this film, a song 'Holi Aayi Holi Aayi Dekho Holi Aayee Re' was a typical Holi song sung by Kishore Kumar, Mahendra Kapoor and Lata Mangeshkar. In this song, not only Anil Kapoor Anil Kapoor was born on 24th December 1956 in Mumb >> Read More... and Rati Agnihotri Rati Agnihotri is an Indian movie actress who has >> Read More... profess their love for each other but also veterans like Dilip Kumar Muhammad Yusuf Khan was born on the 11th of Decemb >> Read More... and Waheeda Rehman too confessed their love in a dreamy song.
Darr
In this film, a song 'Ang Se Ang Lagana' was picturised on Juhi Chawla Juhi Chawla is a renowned Indian actress and produ >> Read More... , Sunny Deol Sunny Deol is a film actor, director and producer. >> Read More... , and Shah Rukh Khan Shah Rukh Khan or also known as SRK is a prominent >> Read More... . The 'Dhol' beats in this song were really a milestone. The number was sung by Alka Yagnik Alka Yagnik is a very popular playback singer of t >> Read More... and Vinod Rathod Music is a gift of god. It is said, a melodious s >> Read More... .
Waqt- The Race Against Time
A Holi song from film 'Waqt- The Race Against Time'was very popular with youths. The song 'Do Me A Favour Let's Play Holi ' depicts the spirit of Holi. It was picturised on Priyanka Chopra Born on 18 July 1982, Priyanka Chopra is an establ >> Read More... and .
Baghban
Old is gold! In this film a Holi song 'Holi Khele Raghubira' truly depicted the romance at good old age 60! Ths song was picturised on Amitabh Bachchan and Hema Malini and was sung by Udit Narayan One of the famous playback singers of Indian Film >> Read More... , Sukhwinder Singh Sukhwinder Singh, an asset to the Bollywood Music >> Read More... , Alka Yagnik and Amitabh Bachchan himself.
Yeh Jawaani Hain Deewani
Though the Holi song 'Balam Pichkari' is meant as a Holi song, Deepika Padukone Deepika Padukone is an Indian actress and model. S >> Read More... and Ranbir Kapoor Ranbir Kapoor is a noted Indian film actor. He was >> Read More... are seen singing under the spell of bhaang. It is a song of the newer generation and the music is catchy as Deepika and Ranbir play with colour and water as they celebrate Holi with friends The song is sung by Vishal Dadlani Vishal Dadlani mostly known by duo name Vishal She >> Read More... and Shalmali Kholgade Shalmali Kholgade is very famous Indian songwriter >> Read More... and the music is by Pritam Chakraborty When it comes to Bollywood music, Pritam Chakrabor >> Read More... .