Le Grand Rex is a legendary and biggest movie theater in the world. It is a place where people enjoy movies and can see the magic of them. Over the years, this legendary cinema hall has showcased some of the best Indian films. These movies have not only impressed Indian audiences but also got praise internationally. Below are some movies that got screened in Le Grand Rex, Paris.
1. Kabali
Kabali is an action-drama movie that is released in Tamil language. The film is directed by Pa. Ranjith. Kabali features stars like Rajinikanth in the lead role along with Radhika Apte Radhika Apte, an Indian actress was born on Sept 7 >> Read More... , Winston Chao Winston, born on 19th June 1960 is an actor. Winst >> Read More... , Kishore, Sai Dhanshika Dhansika is a Tamil actress who went to get acclai >> Read More... , Dinesh, Kalaiyarasan, and John Vijay John Vijay was born in 1976. John is a Tamil film >> Read More... in supporting roles. The film shows us the story of a character named Kabali. He is an old gangster who was recently released from jail. He now wants to take revenge on his enemy and also locate his wife and daughter. This film won several awards, including the IIFA, Edison Award, and the South Indian International Movie Award.
2. Baahubali 2: The Conclusion
Baahubali 2 is an Indian movie directed by S.S. Rajamouli. The film was released in 2017 and was a super hit. It still holds many records. It was screened across the world and received a positive response worldwide. The film features megastars like Prabhas as Baahubali, Rana Daggubati Rana Daggubati is a famous Indian actor. He was bo >> Read More... as the menacing Bhallaladeva and Anushka Shetty Anushka Shetty is the popular South Indian star wh >> Read More... as Devasena. Baahubali 2 was the sequel to Baahubali, which was also a super hit. Baahubali 2 broke Box office records in India as well as internationally, making it one of the highest-grossing Indian movies. It continues the storyline of Amarendra Baahubali and his mission to regain the throne of Maheshmati. It is an action-packed movie and is filled with good cinematics.
3. Mersal
Mersal is a South Indian Tamil language movie filled with the action-packed performance of actor Vijay. In this movie, Vijay played a triple role. Along with Vijay, it also features stars like Kajal Aggarwal Kajal Aggarwal is a modern Indian model and film a >> Read More... , Sathyaraj, Vadivelu, Samantha Ruth Prabhu Born on April 28 1987 Samantha is a model and actr >> Read More... , Nithya Menen Born on April 8, 1988 Nithya Menen is indeed a sta >> Read More... , Hareesh Peradi Hareesh Peradi, a sublime actor who blends so well >> Read More... , Kovai Sarala Kovai Sarala is an actress who acted in more than >> Read More... , and Sathyan. The film is the highest-grossing movie of Vijay's career and is one of the highest-grossing South Indian films, with a collection of 260 crores worldwide. The film portrays the story of two brothers who were separated at birth. One of them becomes a magician, and whose mission is to fight medical crime, while his brother is a doctor who charges enormous amounts from his patients. The film was also screened in Le Grand Rex, Paris.
...
4. Padmaavat
Padmaavat is one of the most famous movies which was released in India. It is a historical drama movie, which is based on the epic poem Padmavat by Malik Muhammad Jayasi which portrays the siege of Chittorgarh by Sultan Alauddin Khalji, played by Ranveer Singh Ranveer Singh Bhavnani is an Indian movie actor wh >> Read More... , and the immensely beautiful Rajput queen Padmavati, portrayed by Deepika Padukone Deepika Padukone is an Indian actress and model. S >> Read More... , and her love towards her husband and the king of Mewar, Ratan Singh which was played by Shahid Kapoor Shahid Kapoor also identifies as the name Shahid K >> Read More... . With a total budget of 190 crores, Padmaavat is one of the most expensive movies in Indian cinema. Also, it collected almost 600 crores at the box office, becoming the 12th highest-grossing film in Indian history. It got mixed reviews from the audience and was rereleased with some changes.  
...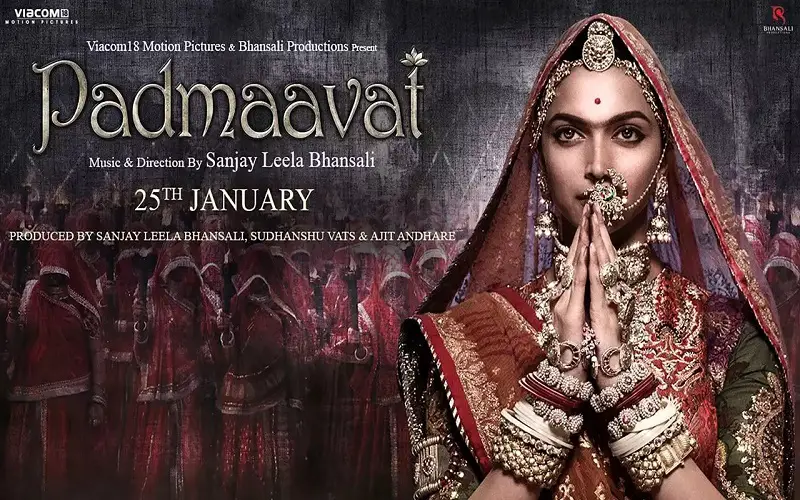 5. Vishwaroopam 2
Vishwaroopam 2 is the first film which is set in the United States of America. It is a spy action film. Vishwaroopam 2 was produced, directed, and written by Kamal Haasan Kamal Haasan is the most versatile actor that Indi >> Read More... . It is a sequel to Vishwaroopam. In this movie, Kamal Haasan played the role of a RAW agent major named Wasim Ahmad Kashmiri. Along with him, this film also features Pooja Kumar Pooja Kumar, is a renowned American actress,who i >> Read More... , Rahul Bose Rahul Bose, who is an actor, director, writer and >> Read More... , Shekhar Kapur Shekhar Kapur is a renowned Indian actor, director >> Read More... , and Andrea Jeremiah It is sometimes fascinating to read about how film >> Read More... in supporting roles. It was shot in Hindi as well as in Tamil language. Ekta Kapoor Ekta Kapoor; a legendry producer in Indian TV and >> Read More... promoted the movie as Vishwaroop 2.
...
6. Veer Zaara
Veer Zaara is a romantic drama film which was released in 2004. Veer Zaara was directed by the famous director . It shows the journey of two lovers, Veer and Zaara, played by the king of Bollywood, Shah Rukh Khan Shah Rukh Khan or also known as SRK is a prominent >> Read More... and Preity Zinta Preity, also known as Preity Zinta is a famous Act >> Read More... . The film grossed over 104 crores worldwide and became the highest-grossing film that year. In the movie, Veer is an Indian Air Force pilot, and Zaara is the daughter of a Pakistani politician. Along with SRK and Zinta, Rani Mukerji Rani Mukerji is one of the most celebrated Indian >> Read More... , , Divya Dutta Divya Dutta was born in Mumbai, Maharashtra, India >> Read More... , Hema Malini Hema Malini is perhaps the only dream girl of the >> Read More... , Boman Irani Boman Irani is a well known name today in the Boll >> Read More... , Manoj Bajpayee Born on 23 April 1969, Manoj Bajpai is first a Bol >> Read More... , Anupam Kher Anupam Kher is a very popular actor, director, and >> Read More... and Kirron Kher Kirron Kher or Kirron Anupam Kher was Kiran Thakar >> Read More... were also part of the movie. It won 7 awards, including Best Film, Best Director (Chopra), Best Music Director (Mohan), Best Actor (Khan), and Best Supporting Actress (Mukerji).
...
7. Jawan
Jawan is the most recent movie of Shah Rukh Khan. It is an action thriller film released in Hindi language. The film features SRK in a dual role as the father and his son, and their mission is to destroy corruption in society. The movie has special appearances from famous actors like Deepika Padukone, Nayanthara, and Vijay Sethupathi Vijaya Gurunatha Sethupathi was not born with silv >> Read More... . Also, Sanya Malhotra Sanya Malhotra is an actress and choreographer and >> Read More... and Priyamani are in supporting roles. The film grossed over 622 crores and gained the position of 11th highest-grossing Indian movie and 4th highest-grossing Hindi movie of 2023.
...
8. Kaala
Kaala features superstar Rajinikanth in the lead role. His performance was action-packed in this film. Rajinikanth portrayed the role of Kaala, who is a leader of the slum area. The film was released in Tamil language in the year 2018. Alongside Rajanikanth, the film also has stars like Huma Qureshi Huma Qureshi is a model-turned-actress in Bollywoo >> Read More... , Nana Patekar Nana Patekar is a popular Indian actor who was bor >> Read More... , Samuthirakani, and Eswari Rao. It was the 1st Indian movie ever to be released in Saudi Arabia. With a budget of 140 crores, the film grossed over 160 crores only. The viewers praised the movie for the excellent action and acting of the actors.
...
9. Valimai
Valimali means strength, which was shown by Ajith in this movie while playing his role as Arjun. Arjun is a police officer; his assignment was to locate and capture a group of outlaw bikers as they were involved in serious crimes. The movie is the 2nd collaboration between Boney Kapoor Achal Kapoor or Boney Kapoor is a very famous Indi >> Read More... , Ajith, and Vinoth after another hit movie, Nerkonda Paarvai Click to look into! >> Read More... . The movie is an action thriller movie which is directed by H. Vinoth. The movie was screened in the largest theatre, Le Grand Rex, Paris. The film also features actors including Huma Qureshi, Karthikeya, and Gurbani Judge Gurbani Judge or famously known as Bani J was born >> Read More... . Nirav Shah Nirav Shah is an esteemed name, in the field of In >> Read More... was the cinematographer, and Vijay Velukutty Vijay Velukutty is an editor cum short film direct >> Read More... was the editor for this movie.
10. Nerkonda Paarvai
Nerkonda Paarvai is a legal drama movie. It was originally released in Tamil language and was directed by H. Vinoth. It is a remake of Pink, a Hindi movie. Ajith Kumar Ajith Kumar is a prominent Tamil film actor, model >> Read More... is the main lead in this movie. It's his second movie that was screened on Le Grand Rex, Paris. Nirav Shah has done the cinematography, and Gokul Chandran Gokul Chandran is a well-known Indian editor, anim >> Read More... has done the editing for this movie. It received good reviews from critics and grossed nearly 182 crores across the globe. The main cast for this movie was Shraddha Srinath Born in Udhampur, Jammu, and Kashmir, on September >> Read More... , Andrea Tariang Andrea Tariang is an Indian Actress, Model, Singer >> Read More... , and Abhirami Venkatachalam. Also, Arjun Chidambaram Arjun Chidambaram is a Tamil film actor. He was bo >> Read More... , Aswin Rao Aswin Rao is an Indian Actor, writer, and comedian >> Read More... , Rangaraj Pandey Rangaraj Pandey was born on 16th November 1975 in >> Read More... , Adhik Ravichandran Adhik Ravichandran is an Indian Tamil movie direct >> Read More... , Delhi Ganesh Delhi Ganesh is one of the veteran Tamil actors, b >> Read More... , Sujith Shankar Sujith Shanker is an Indian Actor, who is mostly k >> Read More... , and Jayaprakash were the part of the movie and played some important roles.