We have a film industry with competitive father-son duos where sons taking up their father's profession and keeping up the legacy which their fathers have created and some of them even outshining their fathers. The father-son duos mentioned below are quite prominent in the industry and it's hard to imagine Tamil film industry without them. Few of them make their debuts by nepotism playing its role whereas some of them started working under different directors and producers.
Most of us do not know who Kasthuri Raja Born in Theni, a small town in Tamil Nadu in India >> Read More... is, but interestingly everyone's favorite, Dhanush was born to the film director Kasthuri Raja and his father being the man behind his inception in films. Dhanush is not just changing the definition of Tamil cinema as an actor, singer, story-writer, director, producer, and lyricist but also making the Tamil film industry proud by establishing himself on an international platform of movies!.
1. Prabhu Prabhu Ganesan or better known as Prabhu is a prom >> Read More... - Vikram Prabhu Vikram Prabhu works in Tamil films as an Actor. Fr >> Read More...
...
'Prabhu' being the son of the veteran actor Sivaji Ganesan The Honorable Mr. Ganesan was the second son in hi >> Read More... , is enjoyed watching by all. His son Vikram Prabhu is successfully carrying their family's legacy so far. He would reach is father's popularity and fame with his persistence at work.
2.  Sivakumar Sivakumar (born Palanichamy) is one of the most ve >> Read More... - Suriya Sivakumar Suriya Sivakumar is undoubtedly the biggest star i >> Read More...
...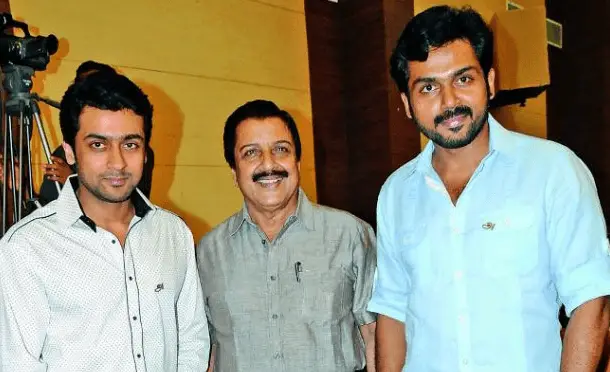 'Sivakumar' stealing the hearts of our grandmothers during those times. Nevertheless, Suriya is carrying the legacy of his father and delivering an acting which an individual could expect from Sivakumar's son. His younger son Karthik is seen playing different characters in the movies. Both of them are liked by the audience but however, their father's works will be admired for ever.
...
3. S.A. Chandrasekhar - Vijay As they always say, "it runs in the blood", the sa >> Read More...
Director 'S.A. Chandrasekhar' , has delivered more than half a hundred movies in Tamil and today's movie buff might not be aware of who he is but exciting 'Ilayathalapathy' Vijay is his offspring. Ostensibly, 'Vijay' has given a new identity to director Chandrasekhar.
...
4. Vijaya T Rajendar - (Simbu)
...
'Silambarasan' began his career by following the guidance of his father 'Vijaya T Rajendar' and also got pictured on the silver screen as a child artist. Simbu is doing exceptionally well in his career and yes, of course, his flair in his professional skills is also because of this genes.
5.  - Yuvan Shankar Raja Yuvan Shankar Raja is the popular music composer, >> Read More...
...
'Ilaiyaraaja' , a man synonymous with harmonic melody and his music being applauded by the entire nation. Yuvan Shankar Raja following the footsteps of his father and successfully producing music which is liked by the audience. No matter how high graded the music of today's time is, Ilaiyaraja's tunes will be peerless till eternity.
...
6.  Thiagarajan Thiagarajan was born on 21st June 1945 in Chennai, >> Read More... - Prashanth Thyagarajan Prashanth Thyagarajan is an Indian actor. He works >> Read More...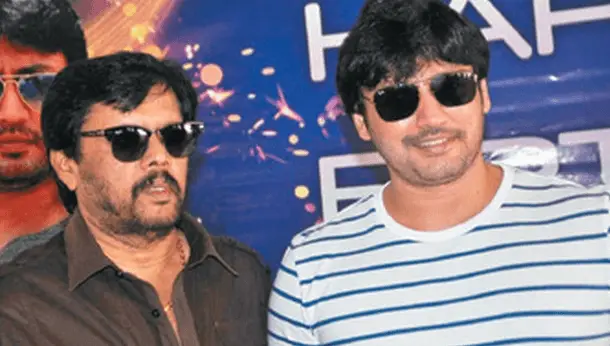 'Thiagarajan' and 'Prashanth Thyagarajan' both of them have been successful in their careers and Prashanth making an on and off presence in movies. Prashanth being cast in the movie ' Saahasam Click to look into! >> Read More... ' which is being produced by his father.
7. Vijayakumar - Arun Vijay Arun Kumar is the son of famous Tamil actor and po >> Read More...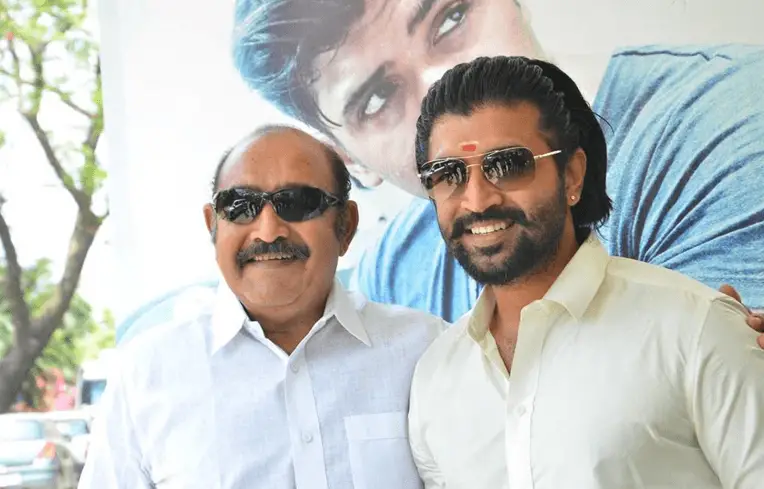 'Vijayakumar' , esteemed actor of Kollywood. Playing negative characters led him a long way in his career and received a huge amount of success. Presently, he is engaged with Vijay's upcoming movie, Puli. Arun Vijay worked on about twenty films. His forthcoming movie is titled as ' Vaa Deal Click to look into! >> Read More... ' and has managed to create some buzz so far.
8. Sathyaraj Sathyaraj is one of the greatest actors of Tamil f >> Read More... -
'Sathyaraj', playing all possible roles which an actor can. Having about 125 films in his bag and an experience which few people have. His son could parallel his success. ' Naaigal Jaakirathai Click to look into! >> Read More... ' produced by Sathyaraj and starring 'Sibiraj' did well on box office and hoped some goodwill for his son's career.
9.  Gangai Amaran Gangai Amaran is an Indian singer. He has mainly d >> Read More... - Venkat Prabhu Venkat Prabhu is a multifaceted and multitalented >> Read More...
Gangai Amaran, a director, music composer and a lyricist of Tamil cinema. A fortunate artist the cinema could ever have. Also, he has given some on screen performances. His son Venkat Prabhu might not be as dexterous as his father but he is giving his best in direction and directing some good films.
10) K Bhagyaraj K Bhagyaraj is the name well known to all the film >> Read More... - Shanthanu Bhagyaraj Having a filmy background, Shanthanu Bhagyaraj is >> Read More...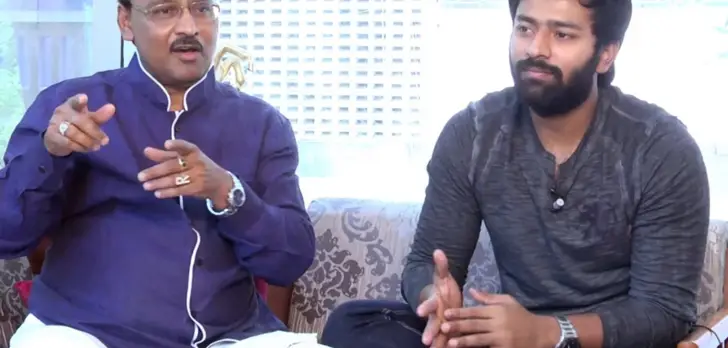 'K Bhagyaraj' , an actor, and a director, his films were highly admired by people during his time. However, his son, 'Shanthanu Bhagyaraj' had to travel a long distance to accomplish little of what his father has.