We have adored and felt the love of on-screen chemistry between the lead pairs. Some of these pairs have felt a spark off-screen too and have now tied the knot to their co-stars with a reel life happy ending to a fabricated story. Here we present ten such couples to you.
1. Mahesh Babu Born on 9 August 1975 in Chennai, Mahesh Ghattaman >> Read More... and Namrata Shirodkar Namrata Shirodkar clinched the Miss India title in >> Read More... :
...
Mahesh and Namrata are a real life 2-states story; the son of a prominent actor and the North Indian debutant fell in love during the shoot of their movie 'Vamsi'. They are now a happy couple blessed with a son and a daughter.
2. Akkineni Nagarjuna Akkineni Nagarjuna is a veteran Indian actor, TV p >> Read More... and Amala Akkineni Amala is initially known as Amala Mukherjee was bo >> Read More... :
...
Nagarjuna did not have a fairy-tale like romance but he did find true love with Amala Paul Amala Paul is the super talented star of South Ind >> Read More... during their shoot of the film ' Siva Siva is the dubbed version of the popular Hindi my >> Read More... ', after his first marriage failed. The couple is blessed with a son named Akhil Akkineni Akhil Akkineni is an Indian film actor. He acts in >> Read More... who is now making his debut in Tollywood industry.
3. Suriya Sivakumar Suriya Sivakumar is undoubtedly the biggest star i >> Read More... and Jyothika Saravanan Jyothika is a highly famous Indian cinema artist. >> Read More... :
...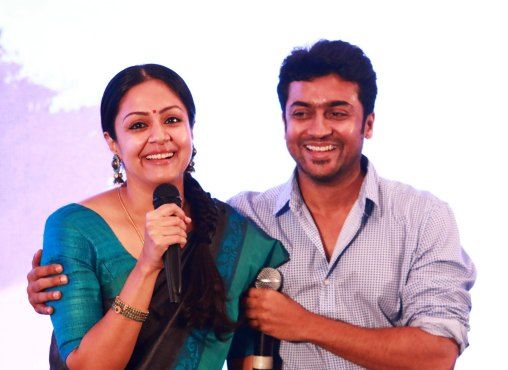 Suriya and Jyothika are both well-known actors in both the Tamil and the Telugu industry. It was magic when they met on the sets of Nuvvu Nenu Prema Story soon >> Read More... after a chain of cinema's together as now they are a happy couple blessed with a boy and a girl.
4. Pawan Kalyan Pawan needs no introduction to South Indian people >> Read More... and Renu Desai Born on 4th December 1981, in Pune, to a Gujarati >> Read More... :
...
The power star Pawan Kalyan and the beauty Renu Desai fell in love on the sets of the movie ' Badri Click to look into! >> Read More... '. Their marriage, however, was not a happy ending as they filed for divorce after having a son and a daughter. Well, it's not necessary that all love stories are true and pure.
...
5. Ajith Kumar Ajith Kumar is a prominent Tamil film actor, model >> Read More... and Shalini Ajith Kumar Shalini is a versatile actress, who is very popula >> Read More... :
...
The Tamil actor had found his better half during the cinema 'Amarkalam'. He dated and married his co-star Shalini and they are now blessed with a daughter and a son. They have set an example of true love.
6. Naga Chaitanya Naga Chaitanya is a Telugu actor and he is into th >> Read More... and ' Samantha Bio coming soon... >> Read More... ':
...
The recent pairing of Naga Chaitanya and Samantha has everyone going gaga and expecting for their wedding bells soon. The pair had much chemistry on the sets of Ye Maya Chesave which was a performance to remember.
7. Meka Srikanth Meka Srikanth, born in Gangavathi, Karnataka (23 M >> Read More... and 'Sivaranjani':
It was a funny start for the great couple Srikanth when he first saw Sivaranjani on the sets of the movie ' Aame Click to look into! >> Read More... '. He thought she was fat but later on he was charmed by her modesty and simplicity and they now are a beautiful family with three children.
8. Varun Sandesh Varun Sandesh is an Indian actor and singer, who w >> Read More... and Vithika Sheru Vithika Sheru (born 1993) is an Indian actress bel >> Read More... :
The Happy Days fame Varun Sandesh had a series of average or failed movies at the box-office, yet his passion has given him his soul mate Vithika Sheru on the sets of the movie Paddanandi Premalo Mari Click to look into! >> Read More... .
9. ' Rajasekhar Dr. Rajasekhar is a famous Telugu actor. He was bo >> Read More... ' and ' Jeevitha Jeevitha is an Indian Actress, and she was born an >> Read More... ':
The social worker and actor Rajasekhar fell in love with his co-star Jeevitha when they found out that they shared common interests. They now work together for social causes together as a family.
10. Sarath Babu Sarath Babu is in the Industry for few decades now >> Read More... and Rama Prabha She was born on 5th may 1947 in a town named madan >> Read More... :
Sarath Babu and Rama Prabha have been supporting actors for numerous movies and they were destined to fall in love with one another during the shoot for the movie Pelledu Pillalu.