Some people consider marriage as a tradition and follow it seriously, whereas some view it as an entertainment and if it doesn't entertain them, they throw it and get a new one. Besides this, some people adjust in their marriage life, even if they didn't get a proper one. People, who couldn't adapt with their life partner, change them by divorcing and marrying a person who matches their taste. When the rule on single marriage was not imposed, many people had married twice and thrice. Although many people had done this, when a celebrity marries for more than once, it comes to the limelight. Here are some of the celebrities, who married more than twice.
Gemini Ganesan Born in 1920, Gemini Ganesan, originally known as >> Read More...
Gemini Ganesan was the popular actor during 50s to 70s. In those days, he was fondly called as Kadhal Mannan (King of Love). Besides acting as the romantic hero on the screen, he had been a real Romeo. He had married thrice. His first wife Alamelu alias Bobji has four daughters and second wife Pushpavalli has two daughters and his third wife, actress ' Savitri Click to look into! >> Read More... ' has a daughter and a son. It is also said that he married a lady named Juliana when he was 78.
Karunanidhi Karunanidhi, the Indian political leader, was born >> Read More...
...
'Karunanidhi' is the Chief of DMK party and former Tamil Nadu Chief Minister. He is an excellent creator of words. He is well versed in Tamil literature. His screenplay and dialogues in Tamil films were highly lauded. He had also been successful in his political life. He married Padmavathy. The couple has a son M. K. Muthu. After Padmavathy's death, Kalaignar Karunanidhi married Dhayalu Ammal and they had three sons and a daughter. M. K. Azhagiri, M. K. Stalin, M. K. Tamizharasu and Selvi are the children of Karunanidhi and Dhayalu. Without divorcing Dhayalu Ammal, he married Rajathi and the couple has a daughter named Kanimozhi.
Kamal Haasan Kamal Haasan is the most versatile actor that Indi >> Read More...
...
Although we call Kamal Haasan as the Universal Hero, he was earlier called as Kadhal Ilavarasan. He possesses all the talents relating to the field which he belongs to. Kamal is a versatile actor, singer, lyricist and dancer. He married Vani Ganapathy Vani Ganapathy is an Indian Tamil classical dancer >> Read More... . Vani is a danseuse. Their marriage lasted for ten years (1978 - 1988) and Kamal married ' Sarika Sarika Thakur, better known as Sarika is an Indian >> Read More... ' in 1988. It is heard that he married Sarika after his first daughter Shruti Haasan Shruti Hassan is an Indian film actress born on 28 >> Read More... was born. Sarika and Kamal has two daughters Shruti and Akshara Haasan Akshara Haasan is an eminent Indian screenwriter, >> Read More... . The couple divorced in 2004. Later, Kamal was in a live-in relationship with actress Gautami Tadimalla Gautami Tadimalla is an actress who had a lot of c >> Read More... from 2005. In 2016, the couple got separated.
M G Ramachandran M G Ramachandran was a demigod for his fans. And h >> Read More...
...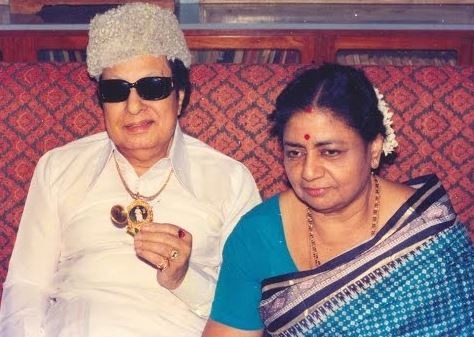 'M G Ramachandran', the former CM of Tamil Nadu and former hero of Tamil cinema is still living in the hearts of the Tamil people. He had been the CM of Tamil Nadu thrice. MGR is being lauded for his good deeds. He married Bhargavi alias Thangamani. She died due to some health issues in 1942. Later, he married Sadhanandhavathi. She died in 1962, after suffering some health issues. After her death, he married VN Janaki alias Janaki Ramachandran V.N.Janaki or more noteworthily known as Janaki Ra >> Read More... , an actress, who resembled his first wife.
...
Lakshmi Narayan Lakshmi or Lakshmi Narayan is an Indian film actre >> Read More...
...
Lakshmi is one among the few actresses, who could perform any roles with ease. She made her debut as an actress at the age of fifteen. Lakshmi married Bhaskaran, an employee of Insurance Company. The couple has a daughter named Aishwarya Bhaskaran Aishwarya Bhaskaran or Shanta Meena Bhaskar in rea >> Read More... . Due to some personal issues Lakshmi divorced Bhaskaran. In 1975, she married Mohan Sharma Mohan Sharma is a prominent Indian film actor, pro >> Read More... , an actor. Later, she divorced him in 1980. She married actor cum director ' Sivachandran Siva chandran is a Tamil Actor. Some of the works >> Read More... ' in 1989 and their relationship is going smoothly.
Sarath Babu Sarath Babu is in the Industry for few decades now >> Read More...
...
Sarath Babu is popular for his majestic look and style. He married his co-star Rama Prabha She was born on 5th may 1947 in a town named madan >> Read More... in 1981 and the couple had a steady relationship for a few years. In 1988, he divorced her. Later, Sarath married Snehalatha, daughter of veteran actor 'M. N. Nambiar'. They divorced in 2011. It is rumored that he had married a journalist at his 61.
Pawan Kalyan Pawan needs no introduction to South Indian people >> Read More...
Pawan Kalyan, the power star of Tollywood married Nandini in 1997. He divorced her in 2007 and married his co-star Renu Desai Born on 4th December 1981, in Pune, to a Gujarati >> Read More... in 2009. They lived happily for three years. The couple has a son named Akira Nandan Akira Nandan is the proud son of the most popular >> Read More... and a daughter named Aadhya Konidela. Their marriage life ended in 2012. In 2013, Pawan married Anna Lezhneva Anna Lezhneva, known as Anna, is a Russian model a >> Read More... in 2013 and the couple has a daughter.
Radhika Sarathkumar Radhika is a famous actress in multiple of languag >> Read More...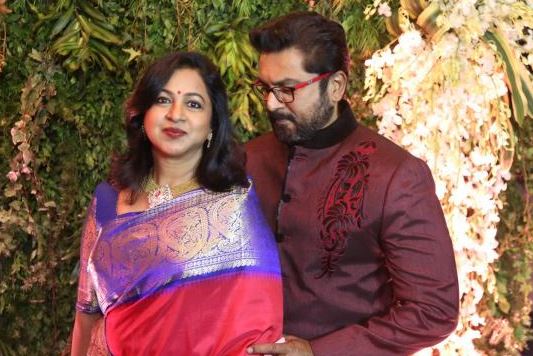 Radhika is a popular South Indian star, who is lauded for her excellence in handling different roles simultaneously. She married actor cum director 'Pratap K. Pothen' and their marriage was lasted for a short term. They divorced soon and had been single for a few years. In 1990, Radhika married a London based guy named Richard Hardy. The couple has a daughter Rayane Sarathkumar Rayane Sarathkumar is a south Indian celebrity dau >> Read More... . It was also a short lived relationship. Later she married 'R. Sarathkumar' and the couple has a son Rahul Sarathkumar.
Yuvan Shankar Raja Yuvan Shankar Raja is the popular music composer, >> Read More...
Born in a musical family as son of 'Ilayaraja', Yuvan Shankar Raja had married thrice. In 2005, he married his longtime girlfriend, Sujaya Chandran. The couple divorced in 2008. Later, he was in a live-in relationship with Shilpa Mohan and then married her in 2011. This relationship didn't last for long. Later, he converted his religion from Hinduism to Islam and married Zafroon Nisha in 2015. Now, the couple is blessed with a girl baby.