1) Sana Amin Sheikh Sana Amin Sheikh born on August 10, 1989 is an In >> Read More... and Aijaz Sheikh
Actress Sana Sheikh and TV show director, Aijaz Sheikh, got married on 14th January 2016. They were dating each other from last three years and had met each other during the shoot of a daily soap where they fell in love. The marriage was a private ceremony where small screen actors Pallavi Gupta Pallavi Gupta is an Indian television actress. She >> Read More... , Digangana Suryavanshi Digangana Suryavanshi was born on 15 October 1997 >> Read More... and Aniruddh Dave came to bless the newly-weds. Sana resumed shooting for her television series ' Krishnadasi Krishnadasi is a Tamil television serial. This Tel >> Read More... ' on the very next day after the wedding.
2) Karan Singh Grover Karan Singh Grover is a famous Indian actor who is >> Read More... and Bipasha Basu Bipasha Basu, born in January 7,1979 in Delhi, is >> Read More...
Actress Bipasha Basu married TV actor Karan Singh Grover on April 30, 2016. Bipasha Basu is a well-known actress and we know Karan Singh Grover as the doctor in 'Dil Mil Gaye.' The wedding was a private affair, but their reception was a grand one. Many stars like Amitabh Bachchan, Aishwarya Rai Bachchan, Abhishek Bachchan, etc. were present at the function. They met each other during the shoot of 'Alone' and are in love since then. It is also being called the best attended Bollywood memory.
3) Asin Thottumkal Asin Thottumkal more famously known as Asin, is a >> Read More... and Rahul Sharma This Hindustani musician was born on 25th Septembe >> Read More...
Actress Asin and Rahul Sharma got married on Jan 19 in a private, yet grand ceremony. Rahul Sharma is the founder of 'Micromax' and also won the 'Data Quest IT person of the Year' trophy. Asin has recently played a role in ' All Is Well Click to look into! >> Read More... '. She is from Kerala. Many Celebrities like Shilpa Shetty A model turned actress, producer, entrepreneur and >> Read More... , Raj Kundra Raj Kundra, a business magnet from London, United >> Read More... , Preity Zinta Preity, also known as Preity Zinta is a famous Act >> Read More... , Manish Paul Manish Paul is an Indian television actor, host an >> Read More... and ' R Madhavan R Madhavan is a popular film actor in Tamil and Hi >> Read More... ' were present at the reception in Mumbai. The couple got married according to Christian and Hindu rituals both.
4) Abish Mathew Abish Mathew, a stand-up comedian filled with humo >> Read More... and Archana Kavi Archana Kavi's real name is Archana Jose Kaviyil. >> Read More...
Actress Archana Kavi got married to stand-up comedian Abish Mathew on 23rd January. They got engaged on 31st October in New Delhi Click to look into! >> Read More... . They were born and brought up in New Delhi. They both went to the same school. Archana Kavi was the lead actress in over 20 movies such as To Noora With Love, Abhiyum Njanum and "Mummy & Me". The wedding was held in Kochi and only family members and a few friends were invited.
5) Sanaya Irani Sanaya Irani is an Indian actress who majorly acts >> Read More... and Mohit Sehgal Mohit was born on 3rd December 1985 in Chandigarh, >> Read More...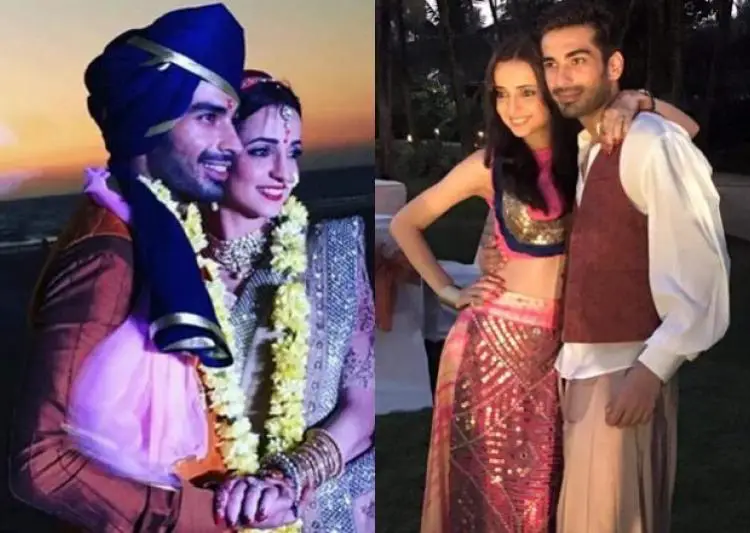 TV actors Mohit Sehgal and Sanaya Irani got married on 25th January in Goa. They fell for each other five years ago. Many TV personalities attended the do including the likes of Raqesh Vashisth Another hotty in the town. He is one of those acto >> Read More... , Kinshuk Mahajan Kinshuk Mahajan is a TV actor and model that raise >> Read More... , Barun Sobti Barun Sobti is a Commercial Model, Film and TV act >> Read More... , Drashti Dhami Drashti Dhami is a Bollywood model and television >> Read More... and Arjun Bijlani Arjun Bijlani is an Indian Television Actor. Arjun >> Read More... . Sanaya worked with Mohit in 'Miley Jab Hum Tum'. They have been dating since then. They are known as the most loved and fun couple of television.
6) Irfan Pathan Irfan Pathan, born on October 27, 1984, has a half >> Read More... and Safa Baig
Cricketer Irfan Pathan married a Jeddah-based model Safa Baig earlier this year in Mecca. They met in Dubai two years ago and had been dating since then. They got engaged about three months ago. According to reports, Safa is 21-years-old and currently works with a public relations company. It was a private affair with only close friends and family present. There were no celebrities at the ceremony. There was no grand celebration. After the wedding, a dinner party was held at a luxury hotel at Al-Hindawiyah on Thursday night. After the marriage, Irfan Pathan posted a picture, with his wife in Mecca and thanked everyone for their wishes and blessings.
7) Arya Babbar and Jasmine Puri
Veteran actor and politician Raj Babbar's son Arya Babbar married his longtime girlfriend Jasmine Puri on 22nd February. They were dating for quite some time. Arya has been seen in several Punjabi and Hindi films, while Jasmine works with a productions house. Arya Babbar has recently played a role in 'Chalk And Duster'. They met at work and after two years of dating, they decided to get married. They got married according to Sikh traditions. The couple shared their pictures on Twitter and Instagram.
8) Binny Sharma Born on May 10th, 1987, Binny Sharma or Binny Bish >> Read More... and Akshay Gupta
TV actress Binny Sharma and actor Akshay Gupta tied the knot on January 20 in Ahmedabad. Only a few people attended the wedding. The newlywed couple celebrated their honeymoon in Bali and Singapore the next month. Binny was previously seen in the show ' Sanjog Se Bani Sangini Sanjog Se Bani Sangini is a typical Indian drama s >> Read More... ' and was later seen playing Pratibha in ' Hello Pratibha Hello Pratibha is one of the finest serial being t >> Read More... '. Akshat played a role in a TV serial ' Do Dil Bandhe Ek Dori Se Do Dil Bandke Ek Dori Se is an Indian drama series >> Read More... '.
9) Bobby Darling Although there have been films in which transsexua >> Read More... and Ramneek Sharma
Bobby Darling married her boyfriend, a Bhopal-based man, Ramneek Sharma on February 11. The wedding happened in Bhopal in the presence of close friends and family. Later, Bobby changed her name to Pakhi. Their wedding happened at Gayatri temple in the MP Nagar area of the groom's city. She also played the role of Kiran in Ekta Kapoor's 'Kya Kool Hai Hum'.
10) Urmila Matondkar Urmila Matondkar is an Indian actress born on 4th >> Read More... and Mir Mohsin Akhtar
Urmila Matondkar exchanged wedding vows with Mohsin Akhtar Mir, who is a model, at a small ceremony in Mumbai, earlier this year. Mir is ten years younger to the ' Rangeela Click to look into! >> Read More... ' actor. It was a private celebration with only a few people present. The only celebrity guest at the wedding was the designer Manish Malhotra            Manish Malhotra, is an Indian fashion d >> Read More... . They tied the knot according to the Hindu rituals. Mir is Mr. India runner-up of 2007.
11) Robin Uthappa Robin Venu Uthappa is a famous Indian Cricketer bo >> Read More... and Sheetal Goutham
Robin Uthappa, the famous cricketer of India, got married to Sheethal Goutham, who was a tennis player, in Bangalore. Uthappa and Gautham were engaged last November after a long courtship. They've known each other since school. In attendance was Juhi Chawla, Irrfan Khan. Irfan Pathan played one of Robin's groomsmen. Robin's teammates and other cricketers like Erapalli Prasanna, Roger Binny, Anil Kumble Anil Kumble is a former cricketer who played for I >> Read More... , Rahul Dravid Born in Indore in 1973, Rahul Dravid had been a su >> Read More... and RP Singh were present at the reception.
12) Mohit Sharma Mohit Sharma is a supporting actor in English TV s >> Read More... and Shweta Jaiswal
Indian cricketer Mohit Sharma married his longtime girlfriend Shweta in Delhi on March 10. Mohit Sharma proposed to Shweta in January 2016. They got married in March. Cricketers Unmukt Chand, Virender Sehwag Born in a joint family of a grain merchant, Virend >> Read More... , Parvinder Awana and Joginder Sharma attended the ceremony. Shweta originally belongs to Kolkata.
13) Akriti Kakkar      'Akriti Kakkar' was born on August 7, 1986. S >> Read More... and Chirag Arora Chirag Arora is a short film producer and director >> Read More...
Akriti Kakkar, the Bollywood singer, married Chirag Arora, a director from Delhi. They both currently reside in Mumbai. The wedding function was held on March 5. Prakriti, who is Akriti's younger sister, showed her love by posting a picture on her Instagram account. Akriti Kakkar always wanted a huge wedding. They went to Europe in April for their honeymoon.
14) Varun Aaron and Ragini Singh
India pacer Varun Aaron married childhood sweetheart Ragini at a Jamshedpur court on February 1. They got married in the court with only a few close friends present. A more formal ceremony took place later. Varun is 26 years of age and has participated in nine ODIs and nine Test matches for India post his international debut in the year 2011.
15) Shubhi Mehta an Indian Television and Movie. She has given a ph >> Read More... and Apoorv Bajpai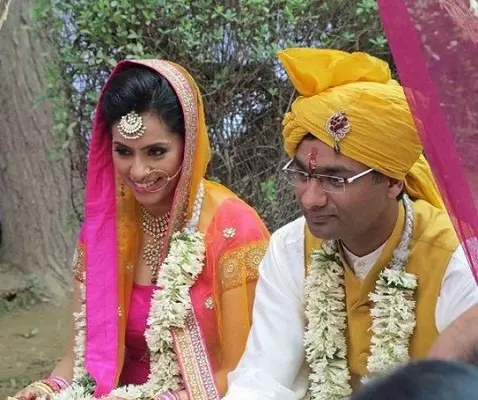 Shubhi Mehta, best remembered from the movie 'Chak De India' married fellow experiential educator Apoorv Bajpai in Delhi. They live in Gurgaon. The whole Chak De India team was seen at the wedding to bless the couple. Chitrashi, Arya Menon Arya Menon is an actress and costume designer. The >> Read More... and Shilpa Shukla Shilpa Shukla came into the limelight for her role >> Read More... were present at the ceremony.
16) Jaswir Kaur and Vishal Madani
Jaswir Kaur, the TV actor, married Vishal Madani, her longtime boyfriend, on March 7. Actors Arti Singh, Avika Gor Avika Gor is an Indian Television Actress who was >> Read More... , Ajay Singh Choudhary and Manish Raisinghan Manish Raisinghan was born on July 22, 1979 in New >> Read More... , came to bless the couple. They fell in love two years ago. The wedding was a small ceremony, and only close friends and family attended it. Apart from them, other small screen actors also came to bless the couple.
17) Durjoy Datta Durjoy Dutta wears multiple caps, and he is best k >> Read More... and Avantika Mohan Avanthika Mohan is an Indian Malayalam actress and >> Read More...
Indian author Durjoy Datta, who has written many romantic bestsellers, finally married his girlfriend, Avantika Mohan earlier this year. He calls Avantika the source of inspiration for all the female protagonists that he writes about in his novels. He proposed to her on social media where all of his fans supported him.
18) Sunayana Fozdar She is an Indian actress. She was born in Mumbai, >> Read More... and Kunal Bhambwani
Sunayana Fozdar married her boyfriend, Kunal Bhambwani, earlier this year. Sunayana has played many roles in TV shows like Qubool Hai Qubool Hai is an Indian TV opera soap regarding th >> Read More... , Humse Hai Life, and Yam Hain Hum 'Yam Hain Hum' is an Indian fantasy situation come >> Read More... . They had been dating for 3-4 years now. Kunal is a businessman and is not a part of the TV industry. The entire team of Humse Hai Life was present at the ceremony.
19) Preity Zinta and Gene Goodenough
Preity Zinta tied the knot with her boyfriend, Gene Goodenough on February 28, 2016. The couple married according to Hindu rituals in Los Angeles with only family and very close friends present. They later hosted a grand party in Mumbai. Gene is currently working in NLine Energy Inc., a renewable energy development company in LA, where he is the Senior Vice President.
20) Ali Merchant Ali Merchant is a popular TV actor. He was born on >> Read More... and Anam Merchant
Ali Merchant got married to his long-time girlfriend, Anam. He had tied the knot during Bigg Boss Show Story Coming Soon... >> Read More... with Sara Khan Sara Khan is a popular Indian TV actress. She won >> Read More... . After getting divorced, he got married again in a secret ceremony. Anam is an investment banker. Ali has also hosted few episodes of Nach Baliye Season 5. Only a few people attended the wedding. Some of the people from the industry who got invited were Rohit Khurana Rohit Khurana was born on 20th November, 1983 and >> Read More... , Kunal Verma Kunal Verma is a leading actor in Hindi TV Serial. >> Read More... , and Vishal Aggarwal. Preity Zinta also attended Ali Merchant's wedding.