Television is mainly a source of entertainment and recreation. After a busy day of work, it feels great to unwind with a funny TV show. Comedy serials are the best form of entertainment as they keep the mind fresh and heart happy. Throughout the years, many shows have come and gone. But some shows strike such a chord with the audience that they stay in our hearts for a long time. Let us look at ten such comedy serials on Indian television which changed the definition of fun and entertainment.
1. Dekh Bhai Dekh One of the most popular and hilarious Indian TV sh >> Read More...
Dekh Bhai Dekh was a comedy show in the early 90s which aired on Doordarshan. Starring Sushma Seth, Navin Nischol Born on 11th April 1946, Navin Nishcol is an actor >> Read More... , Farida Jalal Farida Jalal is a veteran film and television actr >> Read More... , Deven Bhojani Deven Bhojani is an Indian TV serial actor who was >> Read More... , etc, it was based on a joint family named the Diwan family and their hilarious experiences. Dekh Bhai Dekh found humor in daily life incidents and managed to capture the attention of the audience. It was one of the best comedy serials in India.
2. Hum Paanch
...
Hum Paanch was a critically acclaimed comedy serial on Zee TV based on a middle-class family of a father and his five daughters. The antics of the daughters landed the father in funny situations and troubles. The show starred actors like Ashok Saraf Ashok Saraf was born on 4 June 1947. This popular >> Read More... , Shoma Anand Shoma Anand is a Bollywood Actress and also Televi >> Read More... , Vandana Pathak Vandana Pathak, who plays the character of Bakula >> Read More... , Priya Tendulkar Priya Tendulkar (expired in 2002 due to a heart at >> Read More... , Rakhee Tandon Rakhee Tandon first came into limelight with Zee's >> Read More... , etc. It was also the debut role of popular Bollywood actress Vidya Balan Vidya Balan is an award winning Bollywood actress >> Read More... .
3. Office Office Office- Office is a Hindi-language sitcom written >> Read More...
...
Office Office was a comedy show on SAB TV which focused on the corruption and malpractices in Indian offices in a hilarious manner. It starred Pankaj Kapoor as Mussadi Lal, a man who has to visit an office regularly to claim his rights. The other actors of the show were Asawari Joshi Asawari Joshi is an Indian actress born on May 6 1 >> Read More... , Deven Bhojani, Eva Grover Eva Grover is a well-known Indian film and televis >> Read More... , etc. This serial became so beloved that it was adapted into a Bollywood film called Chala Mussaddi…Office Office." However, the film was nowhere near as good as the serial.
4. Sarabhai vs Sarabhai
...
This show on Star One was a critically and commercially acclaimed sitcom featuring an upper-class family based in Mumbai. The characters of the series and their quirks were immensely loved by the viewers. This show became a cult classic on TV, and the viewers are waiting for a sequel even today. The show starred Satish Shah Satish Shah is a Hindi and Marathi TV actor. He ro >> Read More... as Dushyant, Ratna Pathak Shah as Maya, Sumeet Raghavan He is a TV and film actor. He was born in Mumbai, >> Read More... as Sahil, Rupali Ganguly Rupali Ganguly is a popular Indian television actr >> Read More... as Monisha, etc. It was directed by Deven Bhojani who is himself a comic actor of great stature.
...
5. Khichdi
...
Khichdi was a very famous comedy serial on Star Plus which appeared as seasons on TV. The serial was also adapted into a film called Khichdi-The Movie. It was based on a Gujarati family consisting of eccentric characters and the situations that they got into. The characters of Praful and Hansa are considered pop-culture references even today. Khichdi starred Anang Desai Anang Desai was born on May 4, 1953 at Ahmedabad. >> Read More... , Rajeev Mehta Rajeev Mehta is a famous Indian television and Bol >> Read More... , Supriya Pathak Supriya Pathak is an Indian actress who has been r >> Read More... , Richa Bhadra Richa has always been attracted to the whole artis >> Read More... , Vandana Pathak, and other such talented actors.
6. Tu Tu Main Main
...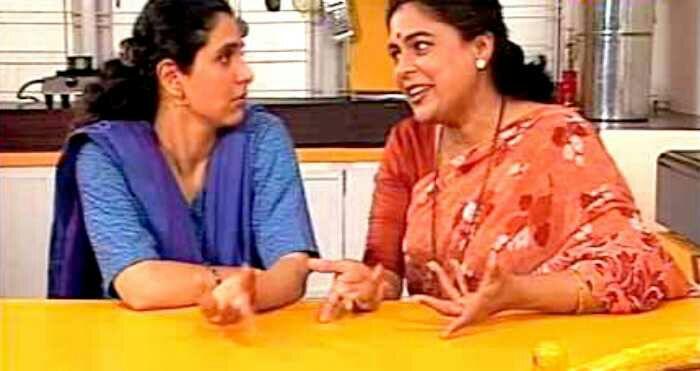 Tu Tu Main Main started on the channel Doordarshan and was later taken up by Star Plus. The show focused on the bitter-sweet relationship of a mother-in-law with her daughter-in-law played by Reema Lagoo Reema Lagoo is an Indian television and film actre >> Read More... and Supriya Pilgaonkar Supriya Pilgaonkar is best known as Supriya in the >> Read More... respectively. Their hilarious bickering amused the viewers immensely. The show was also dubbed in the Tamil language and aired on Raj TV.
7. Taarak Mehta Tarak Janubhai Mehta, better known as Taarak Mehta >> Read More... Ka Ooltah Chashmah
This comedy show on SAB TV is based on a Gujarati comic column by journalist Taarak Mehta in a magazine called Chitralekha. The show is set in a fictional society called Gokuldham located in Mumbai. The camaraderie among the residents of the society is very lovable and endearing. The serial stars Dilip Joshi Dilip Joshi, who is a film cum television actor wa >> Read More... , Shailesh Lodha A smile is what appears in your mouth, whenever y >> Read More... , Disha Vakani Disha Vakani, an Indian television and commercial >> Read More... , Neha Mehta Neha Mehta is an Indian Television actress. She is >> Read More... , etc. It is a long-running serial on SAB TV and is still loved by the viewers as much as it was when it started in the year 2008.
8. Shriman Shrimati
This sitcom was aired on Doordarshan in the year 1994. It had the actors Rakesh Bedi Rakesh Bedi along with Staish Shah can be termed a >> Read More... , Reema Lagoo, Jatin Kanakia Intro: Jatin Kanakia was one of the finest comedy >> Read More... , and Archana Puran Singh Archana Puran Singh is an Indian TV artist and pre >> Read More... as the lead characters. The story was about two neighbors who are attracted to each other's wives. These situations lead to funny instances and great situational comedy. The show revolutionized the concept of comedy and made this concept very famous on which a few futures shows were based as well.
9. Chidiya Ghar Chidiya Ghar is an Indian Hindi Entertainment Come >> Read More...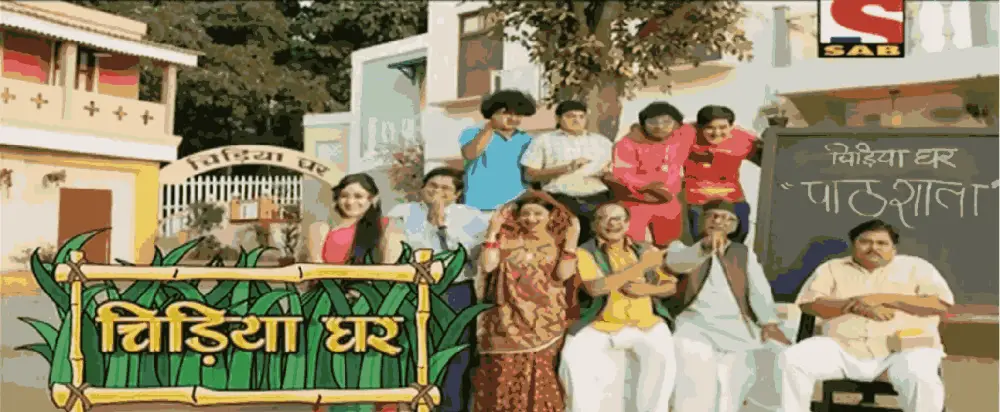 Chidiya Ghar is a comedy serial on SAB TV which has gained appreciation from the audience. The story is focused on a family of many different individuals who have characteristics of certain animals and birds. The show also teaches morals and life lessons after every episode. The main cast includes actors like Rajendra Gupta Rajendra Gupta is a veteran Indian director, theat >> Read More... , Shafaq Naaz Shafaq Naaz is an actress in the Indian TV industr >> Read More... , Saraansh Verma It is quite rare that an actor gains such wide pop >> Read More... , Paresh Ganatra Paresh Ganatra is a TV, film and also a stage acto >> Read More... , Aditi Sajwan Aditi Sajwan is an Indian TV actress who was intro >> Read More... , etc.
10. Bhabhi Ji Ghar Par Hai!
This series on &TV is based on the concept of Shriman Shrimati, featuring two neighboring couples who like each other's wives. Their competition and one-upmanship lead to funny situations and weird occurrences. This is one of the most popular comedy serials on &TV and has continued to enjoy the love and appreciation of the viewers till today. It stars Aashif Sheikh, Rohitash Gaud Popularly known by his character name, Mukundilal >> Read More... , Shubhangi Atre Poorey Shubhangi Atre Poorey is a well-known face in the >> Read More... , and Saumya Tandon Saumya Tandon is a popular Indian tv host and actr >> Read More... in the lead roles.