1) Anushka Sharma Born in an army family to Col. Ajay Kumar and Ashi >> Read More... and Zoheb Yusuf
Anushka never aspired to become an actress. She always opted to become a model and hence went to Mumbai to progress with the same along with her boyfriend Zoheb Yusuf, a ramp model whom she dated during her modeling days. Luck smiled at Anushka, and she got to work in the film " Rab Ne Bana Di Jodi Click to look into! >> Read More... ", with Shah Rukh Khan Shah Rukh Khan or also known as SRK is a prominent >> Read More... , but unfortunately, luck did not favor Yusuf, his patience fell-off, and he returned to Bangalore which led to the end of their relationship as of many other long distant relationships.
...
2) Ranbir Kapoor Ranbir Kapoor is a noted Indian film actor. He was >> Read More... and Avantika Malik Khan Avantika Malik Khan is the wife of the famous Boll >> Read More...
Bollywood Casanova Ranbir, before his entry into Bollywood,was found dating Avantika Malik, who played the lead role in the serial, " Just Mohabbat Just Mohabbat was a typical Indian Soap Opera/Roma >> Read More... ". Ranbir had a huge crush on Avantika in his adolescence and went on to visit her regularly during her shoots. But no sooner did Ranbir got into movies, they called off their long five years of relationship as it seemed that both lost interest in each other. As of now, Avantika is married to Imran Khan Imran Khan is an Indian film actor, who is famous >> Read More... .
...
3) Deepika Padukone Deepika Padukone is an Indian actress and model. S >> Read More... and Nihar Pandya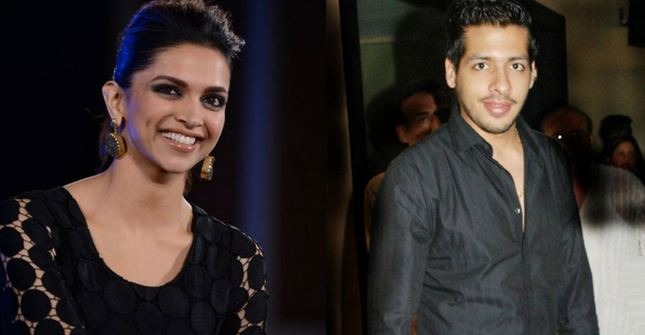 ...
Deepika, before making into Bollywood was heard sharing a live-in relationship with Nihar Pandya. Their relationship started in an acting school in Mumbai in 2005 and lasted for approximately three years, though she never accepted their relation. But after Deepika entered Bollywood and started taking steps towards stardom, she eventually dumped Nihar Pandya and went on with Ranbir Kapoor. Nihar, then was completely heart-broken, and as news flashed, he cried his heart out in media.
4) Priyanka Chopra Born on 18 July 1982, Priyanka Chopra is an establ >> Read More... and Aseem Merchant Aseem Merchant is an Indian film actor and former >> Read More...
...
The internationally streaming actress, Priyanka, during her modeling days dated Aseem, a not so famous actor. She found love in him and went on to date him. But as stardom stroke her after winning Miss World title, she eventually ditched him and moved on to make her career in Bollywood.
5) Alia Bhatt Alia Bhatt is a trendsetting actress from Mumbai, >> Read More... and Ali Dadarkar Bio coming soon... >> Read More...
...
Alia had been dating Ali since childhood i.e. since the eighth standard. They shared a very close relationship but after school, as Ali flew abroad for further studies and Alia stayed back for her acting career, unfortunately, distance parted this young love-birds. With time, Alia became busy with her acting, and finally, they decided to call off their relationship.
...
6) Abhishek Bachchan Abhishek Bachchan, or Abhishek Srivastava, is a ve >> Read More... and Dipannita Sharma Dipannita Sharma is an Indian supermodel cum actre >> Read More...
...
It was in 2002 when Big B announced his son, Abhishek Bachchan's engagement with Karisma Kapoor Karisma Kapoor is a well known face from the famil >> Read More... . But they, unfortunately, called off their engagement, Abhishek's uncertain acting career being the reason. After this, Model-turned-actress Dipannita Sharma entered his life. Dipannita's friends said that Abhishek persuaded her to get into a relationship with him while she always resisted. But after many such denials, finally, they dated each other. Things were good between them until Abhishek signed the film " Umrao Jaan Click to look into! >> Read More... " where he met Aishwarya Rai Bachchan Aishwarya Rai Bachchan is a popular Indian actress >> Read More... and got attracted to her and started avoiding Dipannita and on his birthday, Dipannita came to know about Abhishek and Aish and thus parted from him.
7) Lara Dutta Lara Dutta is an Indian actress, model, movie prod >> Read More... and Kelly Dorji Kelly Dorji is an actor and model well known for h >> Read More...
Lara and Kelly met each other when Lara was struggling to win fame in the glamor world while Kelly was already the winner of the Gladrags male model contest. They shared a cozy relationship and stayed together. But soon after Lara won the Miss World title and entered B-town, insecurities started spoiling their relationship. Though the couple tried hard to maintain their relation inspite of many controversies, they could not hold it for long. They started fighting every now. Kelly disliked Lara's openness with her co-stars. Also, rumors popped out about Lara and Dino Morea Dino Morea is a die-hard Bollywood actor and a for >> Read More... , who was a close friend of Kelly getting close which destroyed their healthy relationship.
8) and Adhyayan Suman Adhyayan Suman is a well-known Indian actor, who >> Read More...
After Kangana left home and came to try her hand at modeling, she befriended Adhyayan Suman, ' Shekhar Suman Born on 14th June, 1960, Shekhar Suman is a well k >> Read More... 's son. They met in 2008 during the shoot of "O Jaana" song from "Raaz 2". Eventually, they came close and started dating each other. But as time flew, things started changing, and Kangana started torturing Adhyayan in various ways. She even abused his father with slang words. After one long year of such mental tortures, one-day Adhyayan ended off their relation and asked her to leave him for good.
9) Sonakshi Sinha Sonakshi Sinha is a well-known Indian Actress. She >> Read More... and Aditya Shroff Aditya Shroff is an investment banker and the owne >> Read More...
Sonakshi shared a love relationship with Aditya Shroff for almost two years. But after returning from the shoots of her debut film, ' Dabangg Click to look into! >> Read More... ', Sonakshi started avoiding Shroff's family, and as a result, they drifted apart. Media also revealed that the reason for their break-up was a huge fight over some internal problem. Also, Sonakshi said that she did not want her personal life to affect her acting career.
10) Hassan Bin Rashid Al Khalifa and Jacqueline Fernandez Jacqueline Fernandez is one of the top actresses i >> Read More...
The couple separated after rumors popped out about Jacqueline and Sajid Khan Sajid Khan is a Bollywood director, producer and e >> Read More... being together. Jackie and Hassan, a Bahraini prince, had been together for two years, but after Jackie's venture into Bollywood, they started drifting apart. Jackie stopped paying attention to Hassan as they were in a long-distant relationship. In the beginning, Jacqueline made time for him, but slowly it seemed she lost interest in him. Though the couple thought to tie the knot, Jackie's behavior towards him brought an end to their relationship.