Television is an integral part of everyone's life and there are many Hindi entertainment channels among which there are only a few channels which are watched. Some of the famous channels are Sony Sab, Star Plus, Zee TV, Sony Entertainment Television, Life OK, Colors TV, Channel V, E24 and Bindass. To keep the audience engaged, new characters and twists are introduced as a tactic to increase TRP. After a time, the serials do come to an end and here is the list of a few Hindi serials that ended after a long time. The number of episodes show the popularity of the serial and thus, had to go on for so many episodes.
1.
...
The show was first aired on 21st July 2008 on Colors TV channel and continued for 8 years with 2245 episodes. The serial is set in rural Rajasthan and revolves around a child bride, Anandi played by Avika Gor Avika Gor is an Indian Television Actress who was >> Read More... . The show with its new concept won many hearts and the acting of the child artists was praised. The first few seasons focused on the child marriage and later the focus moved on to Anand's daughter. The show reflects the struggle a child goes through when forced into marriage and the how it effects his/her life. The show came to an end on 31st July 2016
2. Kyunki Saas Bhi Kabhi Bahu Thi
...
Kyunki Saas Bhi Kabhi Bahu Thi first aired on July 2000 on Star Plus. The story revolved around an ideal daughter-in-law of a Gujrati family, Tulsi played by Sriti Irani. This serial's TRP increased every day and after 8 years, the show went off-air on 6th November 2008.
3. Kahaani Ghar Ghar Kii
...
Kahani Ghar Ghar Ki started on 16th October 2000 on Star Plus. The serial was about an ideal couple, Om and Parvathi, played by Sakshi Tanwar Sakshi Tanwar is a leading Indian television and f >> Read More... and Kiran Karmakar. The serial revolves around the Agarwal family and their struggles. The show had to come to an end on 8th October 2008 with 1661 episodes.
4. Uttaran
...
Uttaran was aired on Colors TV on 1st December 2008. The story revolved around two friends from two different backgrounds. Tapasya played by Rashmi Desai, was from a prosperous family and Ichcha, played by Tina Dutta. The ups and downs they go through in their relationship and life is portrayed in the serial. The show came to an end on 16th January 2015 after 1549 episodes.
...
5. Diya Aur Bati Hum
...
The show started on 29th August 2011 on Star Plus. The story was about Sandhya, who wants to be an IPS officer but gets married to Sooraj from a traditional family. It shows how the family does support her and then the way she manages her life between being a daughter-in-law and an IAS officer. The show came to an end on 10th September 2016 after 1457 episodes.
6. Kumkum
...
The show started on 15th July 2002 on Star Plus. The show was among those four daily soaps which received the highest TRP. The serial was the story of Kumkum, the ideal Daughter-in-law of Wadhwa family who is married to Jatin, who dies due to brain tumour. Sumit, Jatin's younger brother is forced to marry Kumkum and soon both fall in love. The story revolves around this family and the hardships. The show came to an end on 13th March 2009 afte 1449 episodes.
7. Pavitra Rishta One of the popular Hindi serials, Pavitra Rishta >> Read More...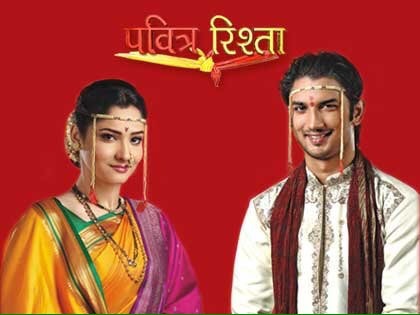 Pavitra Rishta first aired on Zee TV on 1st July 2009. The serial is a love story of the couple, Manav and Archana. Manav, played by Sushant Singh Rajput Sushant Singh Rajput is one of the famous Indian t >> Read More... and Archana, played by Ankita Lokhande Ankita Lokhande was born on 19 December, 1984, in >> Read More... . The story revolves around their life when married and after separation. The show ended on 24th October 2014 after 1424 episodes.
8. Kasautii Zindagii Kay Now this is something very BIG. Here we are talkin >> Read More...
The show aired on Star Plus from 29th October 2001 and telecasted 1423 episodes. The show revolved around the lives of Prerna, played by Shweta Tiwari Shweta Tiwari is the well known face of Indian Tel >> Read More... and Anurag, played by Cezanne Khan Cezanne Khan was born in Mumbai on 28 December 197 >> Read More... . Prerna and Anurag wished to be united all their lives but are always separated due to misunderstandings. The serial ended on 28th February 2008 showing that Prerna and Anurag's souls were united in heaven.
9. Bhabhi
The serial first aired on 18th March 2002 on Star Plus. The show focussed on Saroj's life to accept the position of Pushpa Bhabhi in Tilak's family. Neha Mehta Neha Mehta is an Indian Television actress. She is >> Read More... played the role of Saroj. The show came to an end on 23rd May 2008 after 1328 episodes.
10. F.I.R.
The first episode was aired on 31st July 2006 on Sab TV. Kavita Kaushik Kavita Kaushik is an Indian Television popular act >> Read More... played the lead role of Inspector Chandramukhi Chautala. The show is funny as Chandramukhi tries to solve the cases coming to Imaan Chowki with her three assistants. The show came to an end on 23rd January 2015 after 1323 episodes.