1. 'Panakkaran':  
Muthu (' Rajinikanth 'Rajinikanth' is the name that is known in >> Read More... ') who is of the poverty line and works in a rich man's place earns money and gives it to his abusive father who takes it and gets drunk. One day, Muthu does not give him the money, and he starts beating him up. Muthu is heartbroken, he figures out that his parents were great singers and the man he works for is his father who has a second wife now. Sumathi ( Gautami Tadimalla Gautami Tadimalla is an actress who had a lot of c >> Read More... ) is his lover who helps him by supporting him to find his parents. P. Vasu directed the film and released it in 1990.
2. Kizhakku Vasal Kizhakku Vasal is a Tamil serial that aired on the >> Read More... :
' RV Udhaya Kumar RV Udhaya Kumar was born in Coimbatore, Tamil Nadu >> Read More... ' directed the film and released it in 1990 starring ' Revathi Karan, an easy-going 25-year-old party animal livi >> Read More... ' and Karthik Muthuraman Karthik Muthuraman is an Indian politician, film a >> Read More... . Ponnurangam (Karthik) is a village singer who keeps traveling to places and entertains people by singing songs. He meets Thaayamma (Revathi) who is the slave of a village chief, and he molests her after her mother. Ponnurangam falls in love with her on seeing her be courteous to him. He gets to know of how she is being molested and saves her from him.
...
3. 'Thalapathy': 
...
Thalapathy is a movie directed by Mani Ratnam Mani Ratnam is an Indian filmmaker deeply rooted t >> Read More... . A film that everybody loves for the purity of friendship witnessed in the story between ' Mammootty Muhammed Kutty Ismail Paniparambil is the original >> Read More... ' and Rajinikanth. Rajinikanth is an Orphan and Mammootty befriends him from the time they were young. Their friendship amidst all odds still stays the same
4. 'Rudhra':  
...
Rudhra (Gautami) gets falsely accused of a murder case committed by Mayandi and gets penalized with a death sentence. She tries her level best to escape and the only person who is aware of this is the Lady police Vijaylakshmi. Rudhra escapes from jail and meets ' K Bhagyaraj K Bhagyaraj is the name well known to all the film >> Read More... ', who is a lawyer and he is the one who proves that she is falsely accused after multiple trials in the court and Rudhra gets released. Sasi Mohan Sasi Mohan, also known as Dinesh, was an Indian mo >> Read More... directed the movie, and it released in 1991.
5. 'Roja':  
...
Roja is a Romantic film directed by Mani Ratnam in 1992 starring ' Madhoo Madhoo is indeed a cute and bubbly actress, oozing >> Read More... ' and Arvind Swamy Arvind Swamy is one of the finest actors from Indi >> Read More... . The story is about Roja (Madhoo) who is the daughter of a rich man and she meets Rishi (Arvind Swamy) who falls deeply in love with her. He proposes her and her father finds out about this and sends his fellow men to beat him up as he is a man without any status regarding money.
...
6. Thevar Magan: 
...
Kamal Haasan Kamal Haasan is the most versatile actor that Indi >> Read More... and ' Bharathan Born on 14th November 1946, Bharathan was an India >> Read More... ' directed the film and released it in 1992. The story is about Shakthivel (Kamal), the son of the village chieftain who goes to London to do his higher education and falls in love with Bhanu (Gautami) who he meets in London. He returns to the village on having big plans to set up a cluster of business in Chennai. His father, however, does not allow him to marry her or take up the business, but rather help in the improvement of the village people.
7. 'Kadhalan':  
Shruthi (' Nagma Nagma is an Indian actress with versatile credenti >> Read More... ') is the daughter of a business tycoon. Prabhu ( Prabhu Deva Story soon >> Read More... ) is the chairman of an arts college and he decided to invite him for their annual day function. He meets his daughter and falls in love and Shruthi notices him in her dance class and starts liking him. The nation is in the threat of Terrorist attacks, and Shruthi's father gets worried about her safety and asks her to stay home, and he figures out about their relationship and restricts her from seeing him any further. Prabhu is into a situation of winning her and protecting the nation as well. ' S Shankar S Shankar is one among the populous directors who >> Read More... ' directed the film, and it released in 1994.
8. 'Jeans':  
Ramu and Visu ( Prashanth Thyagarajan Prashanth Thyagarajan is an Indian actor. He works >> Read More... ) are twins and the sons of Nachiappan (' Nassar Nassar is one of the multi talented actors in the >> Read More... ') who is very determined to get them married to the family with twin sisters. Visu, who is a doctor treats Madhumitha's ( Aishwarya Rai Bachchan Aishwarya Rai Bachchan is a popular Indian actress >> Read More... ) Grandmom Krishanaveniamma. He saves her life and Madhu instantly likes him, and they become friends and fall in love. Visu goes to his father and says that he has invited a family to their restaurant and Nachiappan is excited to see that they are Indians. The families get along well, and Visu tells his father that he loves Madhu. Nachiappan tells him that she has got to be a Twin. He goes tells her and Krishnaveniamma about this. Krishnaveniamma makes Madhu disguise as Vaishu, an imaginary twin of Madhu and arranges the meeting with Nachiappan's family. Ramu meets her and he is smitten to see her who is very traditional. The truth gets revealed that Madhu acted as Vaishnavi to marry Visu somehow. Visu is heartbroken to see her break his trust and leaves her. The rest of the movie is about how they get married amidst all the chaos. Shankar directed the film and released it in 1998.
9. Natpukkaga:
It released in 1998 and ' K S Ravikumar Director KS Ravikumar(KSR), started his career in >> Read More... ' directed it. The story is about a common man named Chinnaya ('R. Sarath Kumar') who works as the servant for ('Vijayakumar') who is a rich and a down to earth person in the village. They share a brotherhood bond more than an employee and employer. Vijayakumar has two daughters. ' Sithara Sitara-Vish ya Amrit is an Indian-Hindi language t >> Read More... ' is the elder daughter who he does not like much. Prabhavathy ('') is his youngest daughter who has returned home from the US after her studies. She begins to like Chinnaya, whereas Chinnaya does not agree to her proposal as it would betray his friend and employer Vijayakumar. Prabhavathy gets angry and puts Chinnaya guilty for trying to rape her and her father sends him out of the house. The rest of the story involves flashbacks and how Prabhavathy and Chinnaya get married.
10. 'Mudhalvan':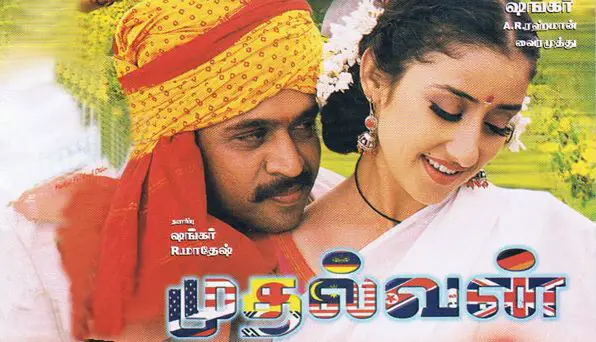 Mudhalvan is that cinema which will remain in every Tamilian's heart for its unique story. What would happen if a state had a Chief Minister for one day? This film motivated the hearts of every youth who watched the movie to enter politics and change the fate of their state. The actors were Arjun Sarja Arjun Sarja was born as Srinivasa Sarja. He is an >> Read More... , Manisha Koirala Manisha Koirala, is a Bollywood actress of Nepales >> Read More... , and ' Raghuvaran Raghuvaran was an Indian actor and has given two a >> Read More... ' and it released in 1999.