1. Kadhal Kottai: -
The movie revolves around the story of Surya ( Ajith Kumar Ajith Kumar is a prominent Tamil film actor, model >> Read More... ) and Kamali (' Devayani Devayani, born as Sushma Jayadev on June 22, 1974, >> Read More... ') who fall in love through means of letters and phone calls. Kamali's bag gets looted in Madras which Surya finds it and mails it to her after seeing her address and her University certificates. They fall in love by getting to know each other and Kamali stitches a sweater for Surya and sends it back to him. It's a Long Distance Relationship where they have not met, and they eventually meet in the railway station where Kamali saw the Sweater on Surya's body and decided to approach him. ' Agathiyar Click to look into! >> Read More... ' is the Director of the film, and it released in 1996.
...
2. Kandukondain Kandukondain Click to look into! >> Read More... : -
Ajith in the story plays one among the lead role as ' Tabu Tabu is a wonderful gift to the Indian cinema. She >> Read More... 's lover who is a director. The movie is about two sisters who fall in love and undergo the difficulties of a relationship. ' Mammootty Muhammed Kutty Ismail Paniparambil is the original >> Read More... ' loves Aishwarya Rai Bachchan Aishwarya Rai Bachchan is a popular Indian actress >> Read More... , who loves ' Abbas Looking at the initiation into showbiz of the popu >> Read More... '. He cheats on her by marrying a minister's daughter for money. Mammootty comes to console her and loves blooms between them. Tabu strives to get a job, and when she does, Ajith starts liking her and tries to talk her into marriage. Tabu after reading a magazine post on Ajith having a relationship with the heroine of his film is heartbroken. It released in 2000 and Rajiv Menon Rajiv Menon is one of the most acknowledged, talen >> Read More... directed the movie.
...
3. ' Citizen Click to look into! >> Read More... ': -
...
It was directed by Saravanan Subbaiah in 2001. The story is probably inside every Tamilians heart for the impact it created in the society. A lost village called Athipatti where thousands of lives got lost due to the inefficiency of the Politicians and Collectors in their work. Anthony (Ajith) who lost is his parents in the tragic are the sole survivor of that terrible incident, and he grows up to take revenge on them by killing them. ' Nagma Nagma is an Indian actress with versatile credenti >> Read More... ' is a CBI officer who investigates this issue and brings into light the overnight suffering and death of thousands of people.
4. Poovellam Un Vasam: -
...
What's more enlightening than marrying your childhood sweetheart. Chinna (Ajith) and Chella ( Jyothika Saravanan Jyothika is a highly famous Indian cinema artist. >> Read More... ) are family friends who are neighbors. They go to the same school and grow up to being adults together. They have shared everything together from sorrow to happiness and known each other's deepest secrets. The film is then about how Chella proposes her inspite of the conflicts between the family and they get married towards the end. It released in 2001 and ' Ezhil Ezhilmaaran, famous for his stage name Ezhil, was >> Read More... ' directed the film.
5. ' Vaali Born on 29th of October in 1931 is our lyricist Va >> Read More... ': -
...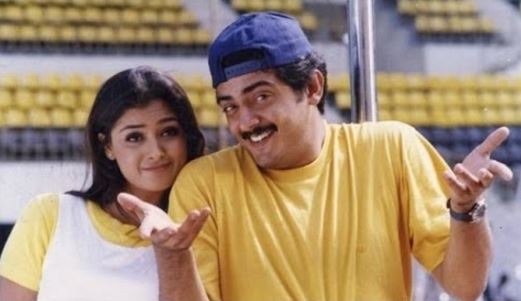 The Director of the film is 'S. J. Surya' who released it in 1999. In the story, Ajith played a double role as a brother. Deva and Shiva (Ajith) are sibilings who end up getting attracted to Priya (''). Deva is mute and half-deaf who lives with Shiva in his house and goes to work. Shiva proposes Priya, and they get married, on seeing Priya, Deva starts liking her and tries to gain her at any cost and tends to act as Shiva on her first night as Shiva would be getting late from work. Priya on figuring out that its Deva, hits him hard and shoots him for trying to harass her.
...
6. '': -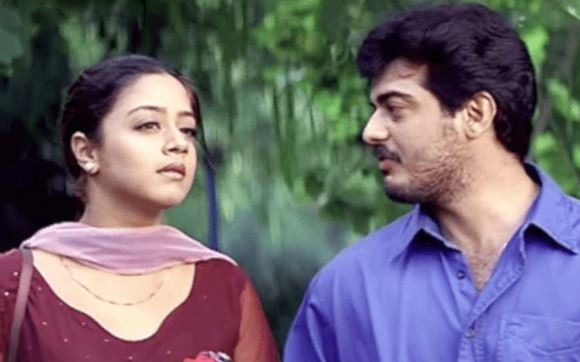 ...
The story is about Sridhar (Ajith) who struggles all through his life to become a singer and enter the film industry after facing many difficulties. He gets rejected in many places after performing his singing. He falls in love with a girl named Viji (Jyothika) and she helps him achieve his dream by supporting him amidst all the troubles and keeps motivating him each day never to give up. V.Z. Durai is the director of the film who released it in 2000.
7. ' Mankatha Click to look into! >> Read More... ': -
Ajith gave a comeback after nine years with this classic movie directed by Venkat Prabhu Venkat Prabhu is a multifaceted and multitalented >> Read More... , and it released in 2011. A film about bookies and money mafia Vinayak (Ajith) is a dismissed police officer who joins a gang of four and gets himself involved in cricket betting and looting money from a minister. Ajith then makes the minister's daughter fall in love with him and eventually after stealing the money, breaks her heart.
8. ' Arrambam Click to look into! >> Read More... ': -
Ajith's next comeback which served him a great hit in the industry is Arrambam directed by Vishnuvardhan Kulasekaran Vishnuvardhan is an eminent director who is famous >> Read More... and it got released in 2013. He maintained his Salt and Pepper look and acted as a police officer in the film along with Rana Daggubati Rana Daggubati is a famous Indian actor. He was bo >> Read More... (Sanjay), Arya (Arjun), 'Nayantara' (Maya) and Taapsee Pannu Taapsee Pannu is an actress and model of Indian or >> Read More... (Anitha). The story is on how corrupt the police department is after planning to certify the life jackets as Bulletproof for the sake of money. The government ties hands with a terrorist group who plan to kill the army, and figuring out the mystery behind the death of his best friend, Sanjay.
9. ' Billa Click to look into! >> Read More... ': -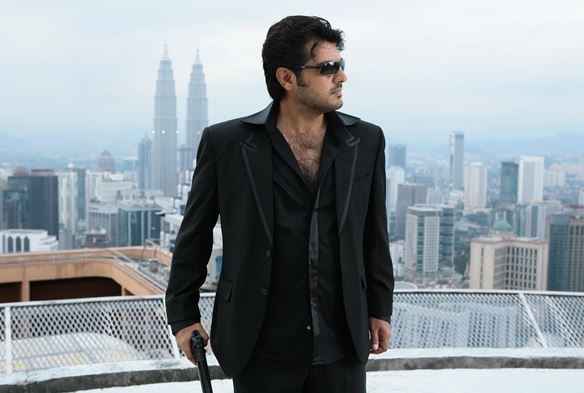 Billa is though a remake of the ' Rajinikanth 'Rajinikanth' is the name that is known in >> Read More... 's film in the 90's it impressed the public with Ajith's acting and the storyline. The story is about Billa, a gangster who lives by certain principles and involves himself in all illegal businesses and manages to keep himself out of the clutches of the police. Vishnuvardhan is the director, and he released the movie in 2007.
10. ' Vedalam Click to look into! >> Read More... ': -
Vedalam is a film directed by Siva in 2015, in which Ajith (Ganesh) lives a life without any meaning as a gangster who would do anything for money without any morals in life. He then meets Lakshmi Menon Films came to Lakshmi Menon at an age when she had >> Read More... (Tamil) who saves him after being injured and tells the hospital that she is his sister. She then leaves after paying the expense one day her parents gets killed in front of her, and she falls unconscious, and Ajith saves her, and they start having a brother-sister relationship since then, and he protects her from everything and continues doing his job.