1. Shanthanu Bhagyaraj: -
Shanthanu is the son of the renowned Actor, Director, Producer, and script-writer ' K Bhagyaraj'. He played the role of a son at the age of 12 to Bhagyaraj in the film "Vaettiya Madichu Kattu". His sister Saranya Bhagyaraj was also an actress and he was the assistant director of the film. Shanthanu acted his first lead role in the movie 'Sakkarakatti', and it scored a hit. He also acted in many other films like Siddhu +2, Amali Thumali, 'Kandaen', Ammavin Kaipesi, and Aayiram Vilakku. He made it into the Tamil Industry being the son of K Bhagyaraj.
2. ' Vijay': -
Vijay is a very promising and loved actor in the Tamil Industry who had a rough journey in cinema. He quit studies with 10th grade and forced his father S.A. Chandrasekar to let him pursue acting. S.A. Chandrasekar is a famous film director who has produced many films like Sattam Oru Iruttarai, Naan Sigappu Manithan, Once More, 'Rasigan', 'Periyanna', and 'Aathi'. He let Vijay act in his movies in the beginning and was proud to see him do well. His first movie with Vijay was Naalaiya Theerpu which was a decent hit. Vijay was a child artist in his father's movies.
3. ' Prabhu': -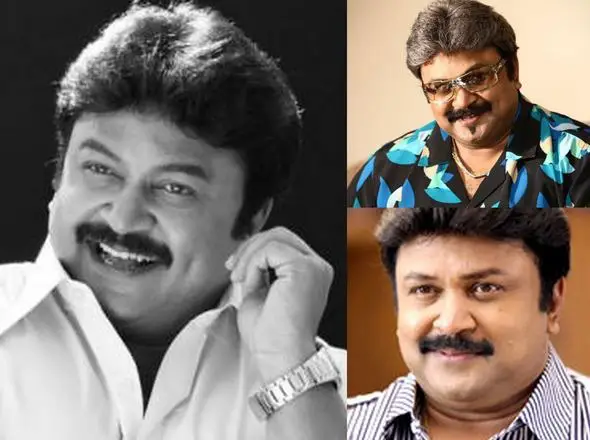 There would not be anything more convincing than being the son of an actor like Nadigar Thilagam ' Sivaji Ganesan'. Prabhu made his first appearance in the movie 'Sangili' and then acted in various other cinemas. His father, however, in the initial stages did not like Prabhu becoming an actor he then motivated him along with Prabhu's mentor and relative V.C. Shanmugam. Prabhu became a famous actor with the public as everybody loved him for his acting skills and his jovial nature. He acted in various movies like Chinna Thambi, Guru Shishyan, Agni Nakshatram and Yen Thangachi Padichava.
4. Suriya Sivakumar: -
He is the Son of the 80's and 90's actor ' Sivakumar'. His father made his profession in acting successfully by being a hardworking person and impressing the public with his expressions that were unmatched. Sivakumar's notable films are Sindhu Bairavi, Rosapoo Ravikaikaari, Saravanan Sivakumar who is known as Suriya acted in his first film debut in the movie Nerruku Ner which was directed by Vasanth. He has featured in various movies over the years like 'Nandha', 'Gh Ajini', 'Perazhagan', Khakka Khakka, Vaaranam Aayiram, "7aam Arivu", ' Ayan', and 'Singam'.
5. 'Prabhu Deva': -
Prabhu Deva is the son of the Dance Master Sundaram who is close to a legend for his skills. He has worked with several great directors as the choreographer in their movies. Prabhu Deva has also inherited his talent and acted in films and choreographed it as well. He made his debut in the Tamil cinema with the film ' Kadhalan' and made a huge impact in the industry around the 90's and the early 2000's. He is now a film director in Tamil and Hindi Industry and an appreciated Dance Choreographer. His notable films are Ullam Kollai Poguthae, Minsara Kanavu, Kaathala Kaathala, Vaanathaippola and ABCD series.
6. Gautham Karthik: -
Gautham is the son of Karthik Muthuraman; he was a famous actor in the 80's and 2000's. Karthik is that celebrity who featured mostly in Romantic/Comedy films and entered the hearts of audience easily with his acting and jovialness. Gautham made his debut with the cinema ' Kadal' that was directed by Mani Ratnam.
7. Premgi Amaren: -
Premgi is the son of the great playback singer Gangai Amaren. Premgi entered the industry with his father's reputation initially as a playback singer and then went into acting. He has always worked in the movies directed by is brother Venkat Prabhu. Premgi is a singer, film composer, song-writer and an actor. His first film "Chennai 600028" gave a good amount of success. Venkat Prabhu gives Premgi Comical appearances in his films that gained Premgi a fair amount of fame. His other movies include ' Goa', 'Saroja', ' Mankatha', 'Biryani', Santhosh Subramaniam and Mass.
8. ' Silambarasan': -
Silambarassan is the son of the most appreciated actor, Director, Lyricist T.R. Rajendran. Simbu is known for his dance and acting skills which the audience love as he has inherited it from his father. Simbu made his first child appearance in his father's movie Uravai Kaatha Kili. He then acted in many other films and made a name for himself in the Tamil cinema. His famous films like Kaadhal Azhivathillai, 'Kovil', 'Kuthu', 'Manmadhan', ' Vaanam', 'Osthe' and Vinnaithaandi Varuvaayaa gave him a good hit. He expertise's in singing, Music direction and is a Lyricist.
9. ' Jai': -
Jai is a Young aspiring actor who is also the Nephew of the Music Director Deva. He made his first appearance in the movie 'Bhagavathi' playing the role of Vijay's younger brother. He also acted in films like 'Vaamanan', Thirumanam Ennum Nikkah, Raja Rani and Engaeyum Eppodhum.
10. Vikram Prabhu: -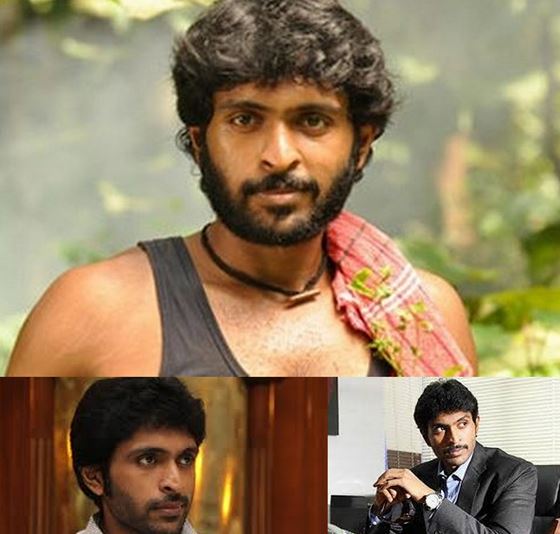 The name says it all; Vikram Prabhu is the son of Prabhu; his son is keeping the generation going with three successful actors in the Tamil Industry. His first film itself gave him a big hit and he acted in the movie ' Kumki' directed by Prabhu Solomon. His other films include Idhu Enna Maayam, Arima Nambi, Ivan Veramathiri and Veera Sivaji.