The Great Indian Kitchen
Written and directed by Joe Baby, the vast Indian kitchen follows the story of a newlywed lady who struggles to become the docile woman of the house her husband expects her to be. At the start, the exceptionally crafted film leading Nimisha Sajayan Nimisha Sajayan is an Indian Actress. She works in >> Read More... , Suraj Venjaramoodu Sooraj Venjaramoodu was born on 30th June, 1976 in >> Read More... , T Suresh Babu Bio coming soon... >> Read More... , Ajitha VM, Ramadevi, and Kabani was streaming on Neestream. The film's digital rights were bagged by Amazon Prime Video three months after being released on the Malayalam OTT platform. The film got released on January 15.
Drishyam 2
Sequel to the 2013 film Drishyam, the crime adventure story garnered considerable attention once released on Amazon Prime Video on February 19, entirely because a Mohanlal-starrer was finally cathartic when an extended hiatus. Not simply that, the success of its initial installment also had compelled the audiences to witness its sequel. However, many fans were sad because the film star their beloved Lalettan was releasing while not much fanfare on an OTT platform, the reviews, and word of mouth regarding Drishyam 2 had cheered them up. The film gets directed by Jeethu Joseph Jeethu Joseph is a Malayalam film screenwriter and >> Read More... , Meena Sagar, Esther Anil Baby Esther, is an actress in Indian cinema who ha >> Read More... , and Ansiba Hassan Ansiba Hasan is an upcoming actress in the south I >> Read More... .
...
Joji
The crime drama starring Fahadh Faasil Born in 1983, Fahadh Faasil is known for his works >> Read More... was his third OTT adventure after CU Soon and Irul. Directed by and written by Syam Pushkaran T Sivakumar is an indian actor and a visual artist >> Read More... , the film's story gets inspired by William Shakespeare Macbeth's play Baburaj, Joji, Sunny, Unnimaya, Shammi Thilakan Son of the late actor Thilakan, Shammi Thilakan is >> Read More... , Basil. Joseph is the other actor in the film. Joji launched on Amazon Prime Video on April 7.
...
Sara's
Anna Ben Anna Ben Nayarambalam, popularly known as Anna Ben >> Read More... 's recently released film made a lasting impression on audiences thanks to its quirky story that explores issues such as peer pressure on women and misogyny. The film is brave, light-hearted, and a must-see. Joseph, the film also stars , Benny P. Nayarambalam, Mallika Sukumaran Mallika Sukumaran is a yesteryear actress who debu >> Read More... . The film premiered on July 5 and is available on Amazon Prime Video.
...
Malik
Fahadh's fourth OTT release Malik grabbed an excellent deal of attention, particularly for the actor's characterization that needed him to play a role from 3 completely different timelines. The heroic political tale written and directed by Mahesh Narayanan Mahesh Narayanan is an Indian writer and film edit >> Read More... is based on the 2009 Beemapally police shooting. that includes a promising star cast including Nimisha Sajayan, Vijay Fort, Salim Kumar Salim Kumar is a person who deserves the title of >> Read More... , and Joju George Joju George was born on 22nd October in 1977. He w >> Read More... ; the Fahadh Faasil-starrer got released on July 15. The film is out there on Amazon Prime Video.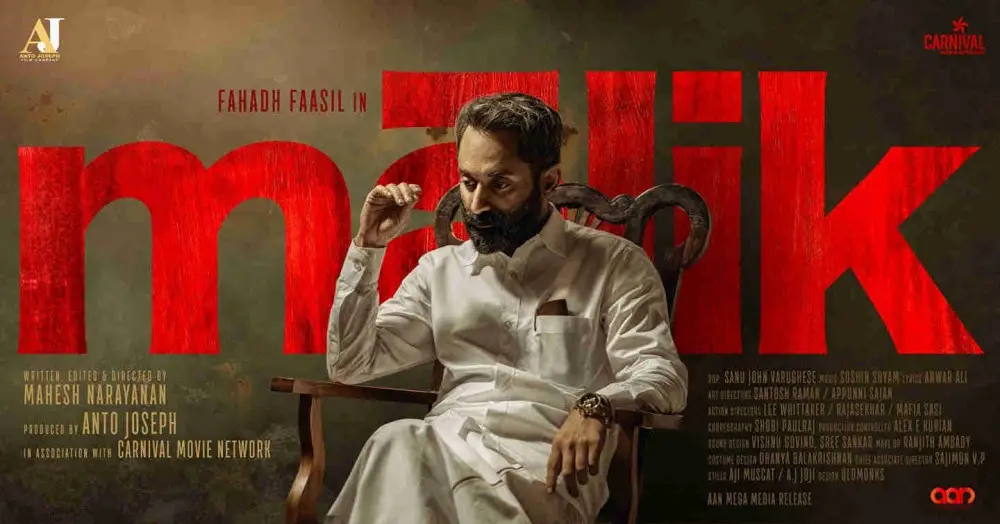 Home
Oliver Twist's (Indrans) family comprises of his spouse Kuttiyamma ( Manju Pillai Manju Pillai famous for her comic role in Malayala >> Read More... ), his maturing father (Kainakari Thankaraj), and children Antony ( Sreenath Bhasi Sreenath Bhasi is a heart throb of many girls. He >> Read More... ) and Charles (Maslen). Antony, a one-movie old chief, is battling to complete his subsequent content. He inclines toward remaining in the city yet gets back to dispose of his imaginative square. Charles, then again, is a blogger. The film centers around innovation tested Oliver's battles to stay aware of his well-informed children.
...
Kuruthi
Karachi is a 2021 Malayalam drama moving picture, directed by debut Manu Warrier Manu Warrier is a director and writer who works pr >> Read More... and created by Supriya Menon Supriya Menon is a fiery Indian journalist on BBC >> Read More... . The movie stars Prithviraj Sukumaran Prithviraj Sukumaran is one among the bubbly actor >> Read More... , Murali Gopy Murali Gopy is a very revered name in the Malyalam >> Read More... , Roshan Mathew Roshan Mathew is a young Indian actor who made his >> Read More... , and Shine Tom Chacko Shine Tom Chacko is a renowned film actor in the M >> Read More... within the lead roles. As per the director, Karachi will be a heroic socio-political tale with a few drama, action, and thrilling elements. The movie has its script enclosed by Anish Pallyal Bio coming soon... >> Read More... and motion-picture photography by .
...
Kappela
Kapela is the directorial debut of the great actor Mohammed Mustafa. The film revolves around a poorly chosen phone call that leads to a lovely love affair. Jessy (Anna Ben), who accidentally dials the wrong number, shows the story to Vishnu (Roshan). Mathew), a motorist, both began to love each other and decided to meet in Kozhikode. The unexpected appearance of Roy (Sreenath Bhasi), a stranger from Kannur in Kozhikode, changes their life. Great experience watching the movie.
...
C U Soon
Taking advantage of the confines of this pandemic to create a movie that will show on all screens turned out to be an excellent idea for Mahesh Narayanan. Jimmy Kurian (Roshan Mathew) met Anu Sebastian ( Darshana Rajendran Darshana Rajendran is a Theatre Artist and an actr >> Read More... ) through an online dating app and wanted to marry her soon. Jimmy's cousin Kevin (Fahadh Faasil) asked to check Anu's background by sniffing into his social life. When all went well, Anu suddenly disappeared. This film was made a success only by these three lead actors whose performance gets recommended.
...
Irul
Irul that interprets to 'Darkness' in English could be a heroic crime tale of a few couples who take a no-cell-phones vacation wherever things go dreadfully wrong. Their automobile breaks down an exceedingly in a very} small space and that they need to take shelter at an eccentric man's house. Fahadh Faasil aces the portrayal of the weird house owner, whereas Soubin Shahir Soubin Shahir is a well-known actor and an assista >> Read More... and Darshana Rajendran provide convincing performances because of the couple. One in every of the few Malayalam movies of 2021, it had a right away OTT unharnesses on Netflix.