In a country where millions come to the dream city of Mumbai to fulfill their dreams, and roughly one thousand movies release every year, what decides if a movie is hit or flop in Bollywood? Is it a good script, or an A grade cast? The story plus the box office collection and when it's about India, ironically luck plays a greater role than hard work. Here is a list of the biggest flops of the Hindi cinema.
1. Ram Gopal Varma Ram Gopal Varma is a famed Indian film director an >> Read More... Ki Aag
...
What is the term used for making a remake of a superhit movie resulting in a huge failure? It is known as RGV Ki Aag. We wonder what inspired Ram Gopal Varma to work on the project and pay one million INR fine for copyright infringement as ordered by the Delhi High Court. Amitabh Bachchan, who was a protagonist in Sholay played the antagonist in the latter. The movie is one of the lowest grosser of all time and also received negative public reviews.
2. Tees Maar Khan Click to look into! >> Read More...
...
Farah Khan Farah Khan is an Indian film actress, producer, di >> Read More... believed SRK to be her lucky charm, and Happy New Year Click to look into! >> Read More... was a project that she had announced sometime in 2005, but due to some reasons, the project shelved and she made Om Shanti Om Click to look into! >> Read More... with him. After the movie, the relations between the two became bitter and she signed for her next film. The only hit thing about this was the item song Sheela Ki Jawani, and we guess she decided to patch up with SRK since then.
3. Drona
...
It is the story of an orphan ( Abhishek Bachchan Abhishek Bachchan, or Abhishek Srivastava, is a ve >> Read More... ) who later comes to know that he belongs to the dynasty of ancestral warriors and he begins his journey to pay his role in saving the kingdom, and in the process meets his partner, played by Priyanka Chopra Born on 18 July 1982, Priyanka Chopra is an establ >> Read More... . The fantasy film received poor critics and public reviews. It was one of the lowest ranked movies on IMDb.
4. Guzaarish
...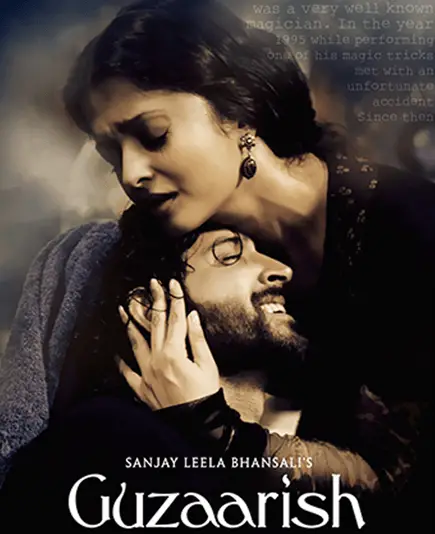 After a controversial lip-lock in Dhoom 2 which the Bachchans were not very happy about, Hrithik Roshan Hrithik Roshan with his unimaginable dance moves i >> Read More... and Aishwarya Rai appeared together again in Sanjay Leela Bhansali's directorial Guzaarish. It centered on a handicapped magician Ethan Mascarenhas, who appealed for euthanasia in the court. Although SLB does not have a good equation with flops, this one could not perform well in spite of having a good story.
...
5. Roop Ki Rani Choron Ka Raja
...
This 1993 movie directed by Satish Kaushik An active actor, filmmaker & producer as well. He >> Read More... after Shekhar Kapur Shekhar Kapur is a renowned Indian actor, director >> Read More... left the direction mid way. It featured Anil Kapoor Anil Kapoor was born on 24th December 1956 in Mumb >> Read More... , Jackie Shroff Intro: Jackie Shroff is a well known Bollywood act >> Read More... and Sridevi in the lead, and Anupam Kher Anupam Kher is a very popular actor, director, and >> Read More... played the antagonist who was in a double role. The story was based on a typical 90s masala movie track, where two brothers, one inspector and one rowdy are unaware of each other's identity, and they unite to kill the villain in the climax. In spite of having A-list actors, the film could not manage to make box-office collections.
6. Raavan
...
This action thriller movie was directed by Mani Ratnam Mani Ratnam is an Indian filmmaker deeply rooted t >> Read More... , and featured Abhishek Bachchan as an antagonist (compared to Raavan) cum protagonist , who kidnapped Aishwarya Rai Bachchan Aishwarya Rai Bachchan is a popular Indian actress >> Read More... (compared to Sita) to seek revenge on her sister's death. The two gradually fall in love, although she was a married woman. The movie was compared to Ramayana in a politically wrong way, thus with poor critic reviews, the film failed at box-office too.
7. 2050
Priyanka Chopra and then boyfriend Harman Baweja Born on 13 November 1980, Harman Baweja is the son >> Read More... appeared together on-screen for the first time in a science fiction movie, directed by latter's father. The film showed the story of a boy, who travelled in the future in search of her lost love. The debut of the actor turned out to be a disaster at the box-office and received negative critic reviews.
8. Himmatwala
This action comedy was the official remake of 1983, Jeetendra starred movie with the same name. With the regular 80s track, the actress, who is the daughter of the antagonist falls in love with the simplicity and bravery of the hero, when he saves her life. The two plot against the villain and he apologizes to everybody for his past deeds in the climax. The original version was a blockbuster, but Sajid Khan's experiment failed.
9. Bombay Velvet Click to look into! >> Read More...
It is a period movie set up in the 60s that showed the love story of a street fighter Johnny ( Ranbir Kapoor Ranbir Kapoor is a noted Indian film actor. He was >> Read More... ) and jazz singer ( Anushka Sharma Born in an army family to Col. Ajay Kumar and Ashi >> Read More... ) and the rich villain, Kaizad Khambatta ( Karan Johar Karan Johar is one among the top ten celebrities i >> Read More... ) who exploits the poverty of the protagonist in order to proceed his illegal business. We all have seen KJo create magic with his direction, but his debut as an actor probably did not go well for him. The movie was a critical and commercial disaster.
10. Karzzzz
It is a risky job if you announce a remake of a blockbuster movie because the expectations are too high with the remake. The same happened to Satish Kaushik's directorial Karzzzz, which was conceived from Subhash Ghai's Karz. The story of re-incarnations did not work well for Himesh Reshammiya Intro: Himesh Reshammiya got his stardom after win >> Read More... . The movie received harsh critics' reviews and failed at box-office too.
11. Tera Suroor
After succeeding as a singer and doing few music videos, Himesh Reshammiya tried his hand in acting with 'Aap Ka Suroor' which to everyone's surprise, turned out to be a hit. The actor went on to film a sequel, Tera Suroor and it turned out to be a critical as well as a commercial flop.
12. No Smoking Click to look into! >> Read More...
Anurag Kashyap Born on 10th September 1972, Anurag Kashyap has es >> Read More... in an interview confessed, "I don't have connection with high box-office collections." This is true in his case. If we take a look at his history, the results haven't been impressive. The same happened with his John Abraham Like some of our sexy stars, John Abraham has had >> Read More... and Ayesha Takia Ayesha is a Bollywood film actress, born on 10th A >> Read More... starred No Smoking that centered on a narcissist who joined the rehabilitation centre to save his marriage. The movie performed badly commercially, although it had a good story line.
13. Neel 'n' Nikki
When Uday Chopra's performance was not appreciated in his debut, daddy Chopra came up with another movie that was the debut for Taneesha Mukherjee. It was a happy ending romantic movie with a few twists and turns. The movie was a disaster critically as well as commercially since it was said to violate the Indian cultural valuesbecause the movie involved intimate scenes that were not shown in a major Bollywood movie before.
14. Joker
Sirish Kunder's directorial Joker turned out to a commercial and critical disaster. The movie starred Akshay Kumar and Sonakshi Sinha Sonakshi Sinha is a well-known Indian Actress. She >> Read More... in the lead and centered on a scientist who reaches his village and rumors about the existence of aliens, but in the climax, they actually turn up and rid the place of the depravity of oil. The science fiction lacked a few elements that stopped it from doing well.
15. Jaani Dushman
A protean snake ( Armaan Kohli What Lady Luck had in store for Bollywood supersta >> Read More... ) and his girlfriend (Manisha Kohirala) seek revenge of her death on a group of friends who were accidentally present there at that time. This multi starrer movie with an unreal story line failed to impress the critics as well as the audience.
16. Asoka
We all know the greatness and bravery of Emperor Ashoka who ruled the Indian region in the third century. The same, rather the youth phase of his life was depicted in the historical drama movie that was directed by Santosh Sivan Santosh Sivan (born 8 February 1964) is a film dir >> Read More... and featured Shah Rukh Khan Shah Rukh Khan or also known as SRK is a prominent >> Read More... and Kareena Kapoor Khan Kareena Kapoor is a super hit actress working in I >> Read More... (not Khan then) in the lead. The movie did a little well overseas but faied to impress the Indian critics and audience.
17. Rascals
This action comedy movie that released in 2011 was directed by David Dhawan Born on 16th of August 1955, David Dhawan has alwa >> Read More... . It cast Ajay Devgan Ajay Devgn is an Indian film actor. He is perhaps >> Read More... , Sanjay Dutt July 29, 1959, was the day when the two legends of >> Read More... and Kangna Ranaut in the lead. It follows two cons that rob each other and become sworn enemies. They both fall in love with the same girl and play tricks to win her heart. She ultimately turns out be the girlfriend of the guy they had initially robbed. The movie had a strong opening but eventually turned out to be a flop.
18. Rudraksh
This one was loosely inspired by Ramayana. It featured Sanjay Dutt, Suniel Shetty Suniel Shetty, a renowned Bollywood actor, was bo >> Read More... , Bipasha Basu Bipasha Basu, born in January 7,1979 in Delhi, is >> Read More... and Isha Koppikar Isha Koppikar is a Model and an Actress. She has >> Read More... in the lead and was directed by Mani Shankar Mani Shankar, born on 3rd August in 1957 is from G >> Read More... . It follows a paranormal researcher who meets a man with extra ordinary power of healing others' pain by absorbing them and into the further comes across the devil side of it. The critics as well as the audience panned the movie.
19. Naksha
This 2006 film was conceived from the Hollywood movie The Rundown and featured Sunny Deol Sunny Deol is a film actor, director and producer. >> Read More... , Vivek Oberoi Vivek Anand Oberoi's birth was on 3rd Septembe >> Read More... , Jackie Shroff and Sameera Reddy Sameera Reddy was born on December 14, 1980, in Ch >> Read More... in the lead. It was about two half-brothers who look for an ancestral treasure with the help of a map made by their father and seal it to avoid any destruction. It failed to impress the audience as well as the critics and got a low score of 3 on IMDb.
20. Jism 2
The movie was an erotic thriller based on a porn actress and a story of love and mistrusts. The film got an A certificate from the censor board and went through a series of protests before its release. It, however failed at the box-office after a high first day collection because of poor critic reviews.