Throughout the years, Hindi movies have had songs which become chartbusters and are played in discos, nightclubs, and other functions. In the wedding department too, Bollywood is not too far behind. There are numerous Bollywood songs which have gained popularity as wedding numbers and are a regular fixture in the playlist of an Indian sangeet ceremony. Let us look at ten such Bollywood songs which were shot in the context of weddings and have attained wide popularity as wedding songs in India.
1. Joote Do, Paise Lo
...
Sooraj Barjatya's family film Hum Aapke Hain Koun was an entire offering based on weddings, engagements, baby showers, and other family functions. Featuring Madhuri Dixit and Salman Khan Salman Khan is a very famous Indian actor and a pr >> Read More... , the film became a huge hit. That happened mostly due to its celebratory songs. Its iconic song "Joote De Do, Paise Le Lo" is a wedding song based on the Indian tradition of stealing the groom's shoes during the wedding ceremony and asking money to return it. The song is a delight to watch, mainly because of the playful chemistry between the lead actors. The song was rendered by Lata Mangeshkar Lata Mangeshkar, the veteran playback singer had >> Read More... and S. P. Balasubrahmanyam.
2. Mehendi Laga Ke Rakhna
...
Dilwale Dulhaniya Le Jayenge is Aditya Chopra's cult romantic film with Kajol and Shah Rukh Khan Shah Rukh Khan or also known as SRK is a prominent >> Read More... in the central roles. Its song "Mehendi Laga Ke Rakhna" is an epic wedding song. The song was picturized in the film during an engagement ceremony and is a song of celebration and love. It was sung by Udit Narayan One of the famous playback singers of Indian Film >> Read More... and Lata Mangeshkar. The song is quite popular during weddings and engagement functions in India even today. It celebrates love, marriage, and togetherness. The charm of SRK and the vibrancy of Kajol made the song even more special.
3. Bole Chudiya
...
Karan Johar's multi-starrer drama Kabhi Khushi Kabhie Gham was a movie of grand proportions. It had a star-studded cast of , Shah Rukh Khan, Hrithik Roshan Hrithik Roshan with his unimaginable dance moves i >> Read More... , Kajol, Kareena Kapoor, and Jaya Bachchan Born on 9th April 1948 Jaya Bachchan is an Indian >> Read More... . All of them appeared in the song Bole Chudiya. This song was picturized for the occasion of "karva-chauth", a traditional Indian fast that married women do for the well-being of their husband. The song has a festive feel, made even grander by Kareena's dance and the beautiful setting of the song. It was sung by Alka Yagnik Alka Yagnik is a very popular playback singer of t >> Read More... , Kavita Krishnamurthy Kavita Krishnamurthy is the female playback singer >> Read More... , Sonu Nigam Sonu Nigam is a renowned Bollywood singer and comp >> Read More... , Udit Narayan, and Amit Kumar Being the offspring of a famous parent is always >> Read More... .
4. Maahi Ve Maahi Ve is a Punjabi family drama TV serial aired >> Read More...
...
The song Maahi Ve from the film Kal Ho Naa Ho was set at the engagement ceremony of the protagonist Naina ( Preity Zinta Preity, also known as Preity Zinta is a famous Act >> Read More... ) and her friend Rohit (). Aman (Shah Rukh Khan) is also seen dancing in the video. This is a typical wedding song, comprising of praise for the bride, hopes for her future, and the sadness of her mother on thinking of her impending departure from her childhood home. The song is aptly suited for sangeet ceremonies and other wedding functions as it captures the emotional roller-coaster of the entire family during their daughter's marriage.
...
5. London Thumakda
...
Vikas Bahl's film Queen starring was the story of a shy and dependent young woman who goes on a journey to rediscover herself after her fiancé leaves her at the altar. The film got a wonderful response from the critics and the viewers. A song in the film, London Thumakda, was picturized in a wedding function with all the relatives and friends dancing happily. The song amazingly captures the happiness and spirit present in a house a day before the wedding. It was sung by Sonu Kakkar Indian playback singer and album artist Sonu Kakka >> Read More... , Neha Kakkar Neha Kakkar is a prominent Indian comedian and pla >> Read More... , and Labh Janjua Labh Januja is a talented Bhangra singer. Born in >> Read More... . The composer was Amit Trivedi Amit Rivedi is a phenomenal musician of the Bollyw >> Read More... .
6. Gal Mitthi Mitthi Bol
...
Rajshree Ojha's film Aisha was based on Jane Austen's novel, Emma. It starred Sonam Kapoor Sonam Kapoor, Daughter of Anil Kapoor and model Su >> Read More... and Abhay Deol Abhay Deol is an actor and director of the TV indu >> Read More... in the central roles. The song, Gal Mitthi Mitthi Bol, appeared at the film's end at the wedding ceremony of two of the characters. The entire cast is seen dancing and enjoying with the lively beats of the song. The song was composed by Amit Trivedi and Tochi Raina An Indian singer, Tochi Raina is a notable playbac >> Read More... sung it. The song has a peppy Punjabi feel to it and is perfectly suited to be played at weddings and family functions. The video of the song was a delight to watch.
7. Ainvayi Ainvayi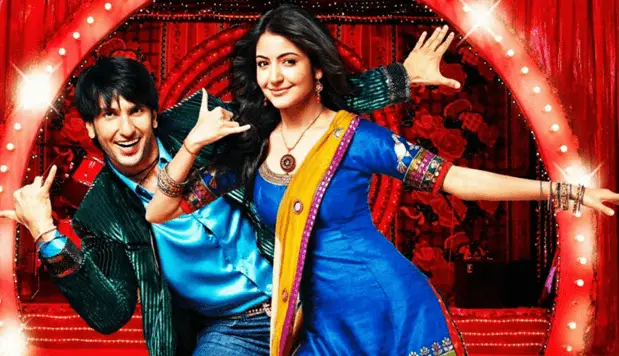 This song belongs to Ranveer Singh Ranveer Singh Bhavnani is an Indian movie actor wh >> Read More... 's debut film, Band Baaja Baaraat Click to look into! >> Read More... . The entire film revolved around marriages as the two lead characters, played by Ranveer Singh and Anushka Sharma Born in an army family to Col. Ajay Kumar and Ashi >> Read More... , were professional wedding planners. The song, Ainvayi Ainvayi, happens at a wedding party planned by the protagonists. The song was sung by Salim Merchant Salim Merchant is a mesmerizing Music director, pl >> Read More... and Sunidhi Chauhan Sunidhi Chauhan, a very famous Indian playback sin >> Read More... . It has a young and playful rhythm, with rhythmic beats and a fun vibe. The song became extremely famous upon release and is still very much played at wedding functions.
8. Radha Teri Chunari
Student of the Year was Karan Johar's youth-oriented film of 2012 starring Varun Dhawan Varun Dhawan, a new comer entered Bollywood with h >> Read More... , Siddharth Malhotra, and Alia Bhatt Alia Bhatt is a trendsetting actress from Mumbai, >> Read More... . The soundtrack of this film became very famous for its catchy songs. One such song is Radha, performed by Alia's character at the wedding party of the brother of Varun's character. The song gives a youthful spin to the naughty love story of Radha and Kanhaiya. It was sung by Udit Narayan, Vishal Dadlani Vishal Dadlani mostly known by duo name Vishal She >> Read More... , Shreya Ghoshal Shreya Ghoshal, one of the most famous singers in >> Read More... , and Shekhar Ravjiani Shekhar Ravjiani is a renowned Indian music direct >> Read More... . This is the first song where we come across Alia Bhatt's dancing skills.
9. Banno
The film Tanu Weds Manu Click to look into! >> Read More... Returns is the sequel to the 2011 film Tanu Weds Manu. It starred Madhavan and Kangana Ranaut in the lead roles. The music director of the film is Krsna Solo Krsna Solo is an Indian music composer, songwriter >> Read More... , and the music album had an earthly feel to it. However, one of the songs called Banno was composed by Tanishk Bagchi Tanishk Bagchi is an Indian music composer and sin >> Read More... and Vayu. The song was sung by Brijesh Shandllya and Swati Sharma Bio coming soon... >> Read More... . The song can be considered a modern day version of the typical wedding song. As its lyrics suggest, there is a brand new attitude and spark in the bride as she is preparing for a new journey. Kangana did a great job and made the song memorable too.
10. Dilliwali Girlfriend
This movie by Ayan Mukherji had quite a few songs picturized in wedding functions as the film celebrated friendship and love against the backdrop of a grand Indian destination wedding. This song was chosen to be a part of this list due to its upbeat nature and playful spirit. In the film, this is set in the sangeet ceremony of one of the characters. The shot has been shot in the form of a dance number to which the entire cast is having fun. It is perfect for performing at a wedding function. This film starred Ranbir Kapoor Ranbir Kapoor is a noted Indian film actor. He was >> Read More... , Aditya Roy Kapur Aditya Roy Kapur, a young and successful actor wa >> Read More... , Deepika Padukone Deepika Padukone is an Indian actress and model. S >> Read More... , and Kalki Koechlin Kalki Koechlin is a famous film actress, model and >> Read More... in the lead roles.