1. ' Amrita Arora Amrita Arora was born on 31st January 1981 in Chem >> Read More... ' And ' Shakeel Ladak Shakeel Ladak was born in Hyderabad, and is the ow >> Read More... '
Malaika Arora Khan's baby sister tied the knot with her long time beau Shakeel Ladak in 2009. Shakeel belongs to an affluential family with huge stakes in the construction business. Since Amrita is half Catholic and half Punjabi herself and Shakeel is a Muslim, their wedding was a blend of all three cultures. The guest list included the entire Salman Khan Salman Khan is a very famous Indian actor and a pr >> Read More... family and Kareena Kapoor Khan Kareena Kapoor is a super hit actress working in I >> Read More... .
...
2. ' Genelia DSouza Genelia Dsouza is a popular Indian actress who has >> Read More... ' And ' Riteish Deshmukh Riteish Deshmukh is the son of a politician, late >> Read More... '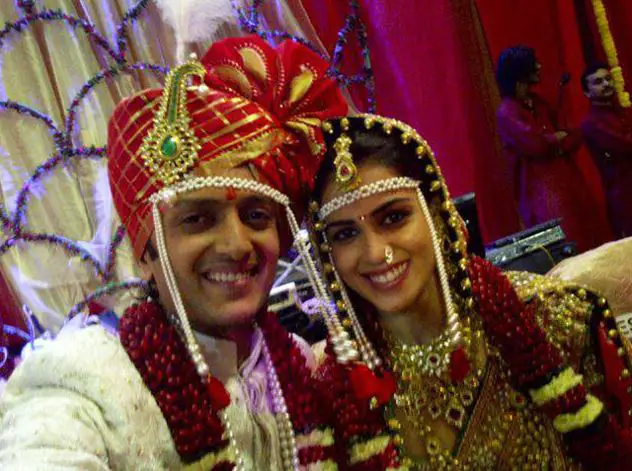 Genelia started dating Riteish at the age of 18. According to Riteish, it was a love at first sight for him. They got married in 2012. While Genelia is a Catholic, Riteish happens to be a Marathi. Owing to different cultural backgrounds, the couple had a Christian wedding as well as a Marathi one.
...
3. ' Arjun Rampal Amit Rampal is an Indian Actor, Host, Producer and >> Read More... ' And ' Mehr Jesia Mehr Jesia also called Mehr Jesia Rampal is an Ind >> Read More... '
...
Arjun and Mehr both belonged to the modelling world, and while Arjun catapulted his career into Bollywood, Mehr remained loyal to modelling. Arjun is a Hindu and Mehr a Parsi. The duo got married in 1998. They have two beautiful daughters, Mahika and Myra.
4. ' Farhan Akhtar One of the most recognized young director of India >> Read More... ' And ' Adhuna Akhtar Adhuna Akhtar or also known as Adhuna Bhabani is >> Read More... '
...
Singer, composer, director, actor and many more talents under his belt, Farhan Akhtar, met his wife Adhuna on the sets of his movie Dil Chahta Hai Click to look into! >> Read More... . They soon began dating. The couple got married in 2000. Adhuna is a Hindu and Farhan is a Muslim, but that never stopped the couple from expressing their love for each other. They both have two children together. Sadly, they parted ways in 2016.
5. ' Farah Khan Farah Khan is an Indian film actress, producer, di >> Read More... ' And ' Shirish Kunder Shirish Kunder is an Indian Film producer, directo >> Read More... '
...
Choreographer turned director Farah Khan is a self-proclaimed Muslim motor-mouth. She met the Hindu film editor, Shirish Kunder on the sets of her directorial debut Main Hoon Naa. Sparks flew, and they fell in love. They got married in a very low-key wedding ceremony, and the couple has triplets.
...
6. ' Hrithik Roshan Hrithik Roshan with his unimaginable dance moves i >> Read More... ' And ''
...
Hrithik Roshan married his teenage sweetheart Sussanne Khan in 2000. She was a Muslim girl and he, the son of a Hindu heartthrob of the 90s. They defied all social norms and got married. They have to sons, Hrehaan and Hridhan. Unfortunately though, they filed for divorce in 2014.
7. ' Aamir Khan Aamir Khan or Mohammed Aamir Hussain Khan is Bolly >> Read More... ' And ' Kiran Rao She is an Indian film producer, screen writer and >> Read More... '
Aamir Khan divorced his wife Reena Dutta From producing high-profile blockbusters like the >> Read More... and found love in a geeky assistant director on the sets of Ashutosh Gowariker's 'Lagaan'. Aamir, a Muslim married Kiran Rao, a Hindu girl. They both had a son through surrogacy and named their son Azad, according to Kiran's wish.
8. '' And 'Kareena Kapoor Khan'
The Nawab of Bollywood divorced Amrita Singh Amrita Singh is an Indian film and TV actress. She >> Read More... and dated a slew of women before finally settling for another stellar beauty, Kareena Kapoor. They lived-in together for five years and then got married in a very private and closely guarded ceremony. Kareena went on to take Saif's surname and became, Kareena Kapoor Khan.
9. ' Arbaaz Khan Born in a family that has strong ties in the film >> Read More... ' And 'Malaika Arora Khan'
This leggy lady married a Khan, despite being a Catholic-Punjabi. She chose love over religion and married Arbaaz in 1998. They both have a son together, Arhaan Khan Arhaan Khan is an Indian actor who was born on Nov >> Read More... . Of late, there are rumours of trouble in their paradise and that the couple is headed for an amicable divorce.
10. ' Shah Rukh Khan Shah Rukh Khan or also known as SRK is a prominent >> Read More... ' And ' Gauri Khan Born on Ocotber 8 1970, Gauri Khan (originally kno >> Read More... '
The most iconic of all the love stories of Bollywood is that of King Khan's. He pursued a Hindu girl from a neighbouring school for eight years. And then when the girl finally said yes, her parents disapproved of the boy's religion. Not someone to give up on love, Shah Rukh pushed his plea for marriage. Another hindrance to their marriage was Shah Rukh's unstable career. He put all that to rest and got married to Gauri after renting a 2 BHK in Mumbai. And the rest, as they say is history!