The plot is an integral factor in the success of any movie. In Bollywood as well, films often become memorable due to unforeseen plot twists. If the film-makers can keep the audience clueless about the twist till it happens, it proves to be a huge advantage for the film. Several films in Bollywood throughout the years have had wonderful plot twists. Here is a list of ten such Bollywood films which have had legendary plot twists that have totally surprised the viewers. In case you haven't watched any of these yet, spoiler alert!
1. Kaun
...
This 1999 psychological thriller film was a unique project in Bollywood. Directed by Ram Gopal Verma, the movie depicted a young woman ( Urmila Matondkar Urmila Matondkar is an Indian actress born on 4th >> Read More... ) alone in a house listening to the news about a serial killer on the loose. Throughout the film, we see the poor, helpless woman being scared of strangers knocking on her house's door looking for a person called Mr Malhotra. At the end of the movie, the twist comes when we find out that the woman is mentally ill and delusional who has been killing other people throughout. This film features one of Urmila's best performances.
2. Gupt
...
The Hidden Truth Directed by Rajiv Rai Rajiv Rai is a multifaceted legend in the field of >> Read More... , Gupt is one of the best suspense thrillers of Bollywood. It starred Bobby Deol Bobby Deol was a treat to watch when he walks to t >> Read More... , Manisha Koirala Manisha Koirala, is a Bollywood actress of Nepales >> Read More... , and Kajol. Sahil, Bobby Deol's character, is implicated in a murder, and he is on the run. His childhood sweetheart, Isha (Kajol), and new friend, Sheetal (Manisha Koirala), believe in him. After an action-packed storyline, the climax reveals the biggest twist of all. The murderer was Isha all along, driven by her jealousy and love for Sahil. Kajol won a lot of accolades for this role.
3. Kahaani
...
Sujoy Ghosh's Kahaani is a thriller which was critically and commercially acclaimed after its release. The plot of the movie is about a heavily pregnant young woman, Vidya Bagchi, roaming in Kolkata to find her missing husband who has suddenly vanished from all Government records. The climax takes away the breath of the viewers. Vidya turns out to be a widow whose husband was killed in a terror attack, causing her to lose her unborn child in shock. She faked her pregnancy and came to Kolkata to search for her husband's killer whom she is able to defeat at the end.
4. Talaash
...
The Answer Lies Within Talaash is a supernatural thriller directed by Reema Kagti Reema Kagti is an assistant director, director and >> Read More... . In the movie, a cop, Surjan Shekhawat ( Aamir Khan Aamir Khan or Mohammed Aamir Hussain Khan is Bolly >> Read More... ), is investigating the mysterious death of a famous actor, Armaan Kapoor. Surjan is mentally disturbed by the death of his son which also affects his relationship with his wife, Roshni (Rani Mukherji). In his investigation, he is helped by a mysterious escort named Rosie (Kareena Kapoor). The mystery unravels, and we find out that Rosie is the spirit of an escort killed due to the actions of Armaan Kapoor and his friends; who was helping Surjan uncover the truth.
...
5. Drishyam
...
Drishyam is a brilliant film directed by Nishikant Kamat Nishikant Kamat is a famous director of Indian fil >> Read More... and starring Ajay Devgan Ajay Devgn is an Indian film actor. He is perhaps >> Read More... , Tabu, and Shriya Saran Shriya Saran, the timeless beauty, is a much loved >> Read More... . The movie is about a man and his family who get involved with the police when they kill a policewoman's son in self-defense. The man tries his best to save his family from going to jail by concocting an elaborate lie and religiously sticking to it. Throughout the film, the corpse of the boy remains missing. The end shows that Devgan had hidden the corpse under the newly constructed floor of the police station, thereby making it impossible to find.
6. Bahubali 
...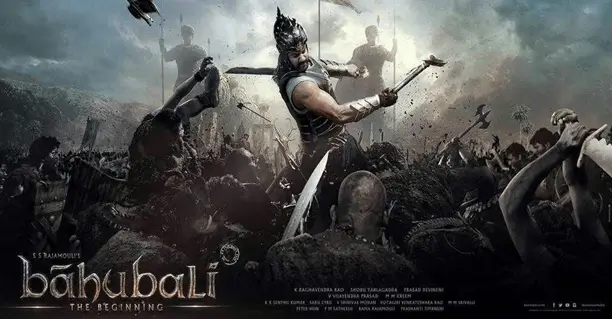 The Beginning Baahubali is an epic fiction film directed by S.S. Rajamouli and starring Prabhas, Tamannaah, Rana Daggubati Rana Daggubati is a famous Indian actor. He was bo >> Read More... , Anushka Shetty Anushka Shetty is the popular South Indian star wh >> Read More... , etc. The twist in this movie has left the viewers waiting desperately for the sequel. The story is about Mahendra Baahubali who is late King Amarendra Baahubali's son from the kingdom of Mahishmati. Baahubali I's loyal servant Kattappa tells us the history of the kingdom. Kattappa's loyalty to Baahubali touches everyone's hearts until he reveals in the climax that he had killed Amarendra Baahubali. The reason of his deed will be revealed in the sequel.
7. Dhoom 2
The sequel to hit movie Dhoom, Dhoom 2 released in the year 2006 with a cast including Hrithik Roshan Hrithik Roshan with his unimaginable dance moves i >> Read More... , Abhishek Bachchan Abhishek Bachchan, or Abhishek Srivastava, is a ve >> Read More... , Aishwarya Rai, Uday Chopra Born on 5th January, 1973, This actor is the son o >> Read More... , and Bipasha Basu Bipasha Basu, born in January 7,1979 in Delhi, is >> Read More... . In a scene in the movie, we see that Jai, the cop, shoots the thief, Aryan after which he falls from a cliff. Everyone assumes him to be dead, including the viewers. In the movie's last scene, it is revealed that Aryan had faked his death along with partner Sunehri to escape the cops and start a new life. Jai catches up to him but decides to let him go as he has reformed himself.
8. 3 Idiots
3 Idiots is a comedy and drama film by Rajkumar Hirani Rajkumar Hirani is one of the ace director, screen >> Read More... . It starred Aamir Khan, Madhavan, and Sharman Joshi Sharman Joshi was born in Mumbai, Maharashtra to a >> Read More... as students in an engineering college dealing with the pressures of a strict curriculum and their personal lives. Aamir Khan's character, Rancho, teaches the viewers a lot of things about the ideal motive of education. The film packs in a huge twist at the end when we find out that Rancho is actually a guy called Phunsukh Wangdu who was studying with another identity to get a degree for his master's son. Now, he has become a great scientist and teacher.
9. Wazir
Wazir, released in 2016, is a crime thriller starring , Farhan Akhtar One of the most recognized young director of India >> Read More... , , and Aditi Rao Hydari As her title may be suggesting, Aditi the talente >> Read More... . The film depicts the bond between an old man and an ATS officer who are embroiled in a huge conspiracy. The old man, Pandit, is supposedly attacked by an assassin named Wazir. After Pandit dies in a bomb blast, Daanish gradually realises that Wazir was a completely fictional character made up by Pandit to trap Qureshi, an evil minister who had killed his daughter Nina. He had sacrificed his life so that the truth could come out.
10. Bodyguard
Bodyguard, starring Salman Khan Salman Khan is a very famous Indian actor and a pr >> Read More... and Kareena Kapoor, is a romantic Bollywood film about bodyguard Lovely Singh and Divya, who pretends to be Chhaya on the phone to distract Lovely from his duties. The two fall in love without Lovely knowing that Chhaya is indeed Divya, the woman whose bodyguard he is. The film presents a huge twist towards the end when Divya's friend Maya, who is aware of the entire situation, betrays her best friend by pretending to be Chhaya herself and eloping with Lovely. The film has a happy ending as Lovely finds out the truth and eventually unites with Divya.