Music is an integral part of films nowadays. Be it any movie, it is incomplete without songs to express its situations and moods. Good music can make or break a film. Hence, millions are spent on good music and its presentation. New singers, composers, and song-writers have emerged, who make both soulful and rhythmic music.
Let us look at the movies of this year and the past year which had brilliant soundtracks to complement them.
1. " Ae Dil Hai Mushkil"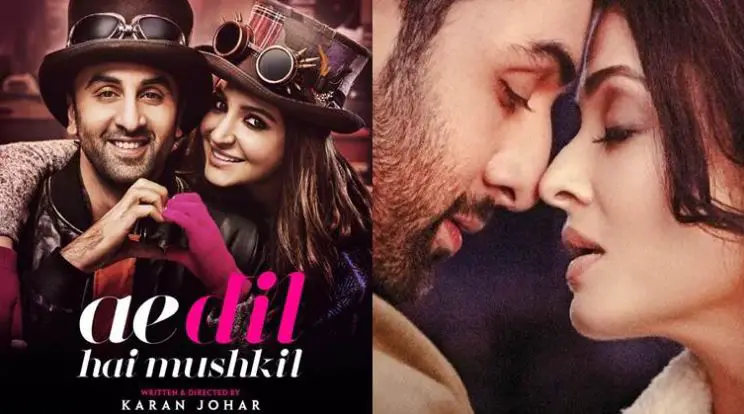 This film, starring Ranbir Kapoor, Anushka Sharma, and Aishwarya Rai Bachchan has perhaps the best soundtrack of 2016. The music composer is Pritam Chakraborty, and the lyricist is Amitabh Bhattacharya. The soundtrack includes peppy numbers like "The Breakup Song", "Cutiepie", and "Alizeh", along with soulful songs like "Bulleya" and "Channa Mereya". The most loved song of this album is its title track, "Ae Dil Hai Mushkil", sung by Arijit Singh.
This movie was about a dysfunctional family yearning for happy moments amidst all the drama. It starred Sidharth Malhotra, Alia Bhatt, Fawad Khan, and Rishi Kapoor. Each actor of this movie did a great job and made it a delight to watch. The soundtrack enriched the movie even further. The music composers were ' Badshah', Amaal Mallik, Tanishk Bagchi, and Arko Pravo Mukherjee. The song, "Ladki Beautiful", became an instant party favorite. The other gems of this album are "Bolna", "Buddhu Sa Mann", etc.
3. Sanam Re
Sanam Re is one such film where the songs became more popular than the film itself. Starring ' Pulkit Samrat', Yami Gautam, and Urvashi Rautela, this is a story of unfulfilled love. The title track, "Sanam Re", touches the soul. Some other good songs include "Hua Hai Aaj Pehli Baar", "Tere Liye', and "Tum Bin". The music was given by 'Mithoon', Amaal Mallik, Epic Bhangra, and Jeet Ganguly.
4. ' Fitoor'
Fitoor was ' Abhishek Kapoor's version of Great Expectations, a novel by Charles Dickens. It had the actors ' Tabu', Aditya Roy Kapur, and Katrina Kaif. The movie was much hyped before its release and the songs contributed a lot to that. Though the movie failed to live up to its expectation, the soundtrack did not disappoint. Composed by Amit Trivedi and penned by Swanand Kirkire, the songs had a poetic quality about them. The two tracks, "Yeh Fitoor Mera", and "Pashmina", especially stand out.
5. ' Sultan'
Sultan was one of the most successful films of 2016 and it starred Salman Khan and Anushka Sharma. It had a steadiy gripping soundtrack containing songs like "Jag Ghoomeya", "Baby Ko Bass Pasand Hai", and "440 Volt". Its title track was also quite inspiring. The album had a song for every mood. The music composer for this movie is Vishal Dadlani - Shekhar Ravjiani. Irshad Kamil is the lyricist.
6. ' Roy'
Roy failed to perform well at the box office but its songs became a rage all over the country. The lead actors of this movie are Arjun Rampal, Ranbir Kapoor, and Jacqueline Fernandez. Ankit Tiwari, Amaal Mallik, and Meet Bros Anjjan composed songs for this film. All the songs of this film are worth remembering. Tracks like "Sooraj Dooba Hai", "Tu Hai Ki Nahi", and "Chittiyaan Kalaiyaan" became super-hits and are still played frequently all over.
7. ' Khamoshiyan'
Khamoshiyan was a horror film by the Bhatts. Needless to say, it had great music like every other Mahesh Bhatt movie. It starred Ali Fazal, Gurmeet Choudhary, and Sapna Pabbi. The songs of this movie were composed by Jeet Ganguly, Ankit Tiwari, Navad Zafar, and Bobby Imraan. The lyricists are Rashmi Singh and Sayeed Quadri. The title track of the film is quite appealing. So are the songs "Baatein Ye Kabhi Na", "Tu Har Lamha", and "Bheeg Loon".
8. ' Badlapur'
Badlapur is a revenge drama starring Varun Dhawan, Yami Gautam, and Nawazuddin Siddiqui. The music composers are Sachin Sanghvi - Jigar Saraiya and the lyricists are Dinesh Vijan and Priya Saraiya. It was a very hard-hitting movie and proved successful at the box office. Its songs expressed the theme of this movie very nicely. It had a romantic song, "Jeena Jeena", a sad song, "Judaai", and a passionate song, "Jee Karda". There were no shortcomings in this album.
' Sanjay Leela Bhansali's grand presentation, Bajirao Mastani, was grand in every way. From costumes to sets to the music, Bhansali left no stone unturned to impress the audience. He composed the music for the film himself. The album is full of gems like "Aayat", "Deewani Mastani", "Malhari", "Pinga", etc. The songs brought out every emotion associated with the film and presented them beautifully in front of the audience.
Starring ' Emraan Hashmi' and Vidya Balan, this was a tragic love story. The emotions were deep in this movie and it required an appropriate soundtrack to bring out its essence. The music was composed by Jeet Ganguly, Amit Mishra, and Mithoon. Songs like "Humnava" and "Hasi" became love anthems and the title track a popular sad song for Hindi movie lovers.