These days, an old trend has again gained prominence, where actors are asked to do double roles in their shows. Sometime they are their siblings, but mostly they play their own child. This is one of the techniques that the writers use to add something fresh to the show and add some complications
1. Jamai Raja
Ravi Dubey hit jackpot when he got himself a role in this show. His character is the most important character and when the show took a leap, his was the only character that stayed. He is playing the role of his and Roshni's son, Satya, who has the same sassy personality as him and has fallen in love just as madly as him.
2. ' Uttaran'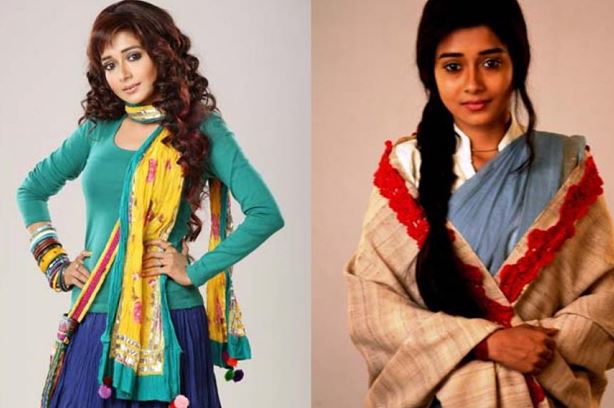 Tina Dutta played a double role in the show, where she played herself and her daughter. Post the 22 year leap in the show, the actress played her old character, Iccha, and her daughetr, Meethi. Although getting in and out of the character of an old woman and the prosthetics required for it was quite a task for the actress, she took it all quite well.
3. Qubool Hai
In Qubool Hai, actress Surbhi Jyoti played so many characters, it is hard to keep count. First she played Zoya, then she also played Zoya's twin daughters, Saman and Seher. These two sisters were raised away from each other and were given different upbringing, so while Saman was an Indian traditional girl with grounded values, Seher was a more modern girl who lived with the changing times.
4. ' Naagin'
The first season was more successful than anything has ever been on television. Mouni Roy played the role of Shivanya then, who is a shapeshifting snake. Now, in the second season she has returned as herself and her daughter Shivangi, who is unaware of her reality. The show has only aired a few episodes until now but it has become clear that second season is also enjoying just as much popularity as the first season did.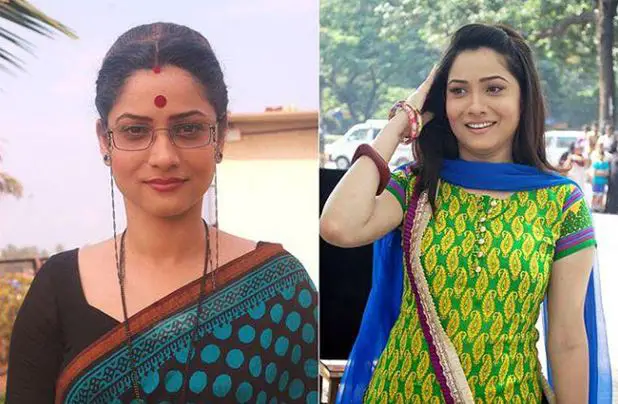 The show remained popular for a long time, and a lot of the credit goes to Ankita Lokhande, who was the lead character of the first generation of the show. When the second generation was shown growing up, the show took a leap and Arjun and Poorvi stepped in played by Asha Negi and Rithvik Dhanjani, they quickly made the limelight shine on them, which did not go well with Ankita. So, another leap was planned, and the characters changed and new actors came in, but Ankita Lokhande returned as her own grand daughter, and the entire focus shifted on her character, so Ankita Lokhande portrayed Archana and Archana's grand-daughter.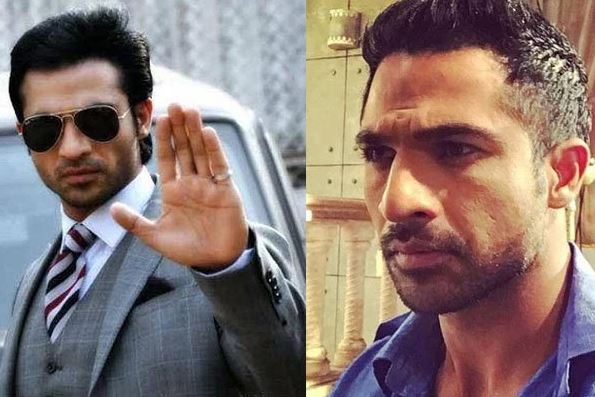 Mohammad Nazim who used to play the role of Aham, Gopi's husband before his death has now returned as Jaggi, who was first hired to help the Modi's but is now in love with Gopi. The show has been on air for several years, but has always received a lot of love from its audience. However, when Aham died, the fans could not digest the shock and the TRPs began to dip. However, with the return of Jaggi, the show has again become just as popular.
Mohammed Iqbal Khan is a very handsome man with an attractive personality and a beautiful voice. He worked as the male lead in the show Tumhari Pakhi, where his character, Anshuman eventually falls in love with Pakhi after the both of them go through a lot of trials and tribulations. However, later he re-enters as a goon who pretends to be his lost brother, Aryaman. Both the characters had to come to end when Aryaman kills Anshuman, so Aryamann was sent to jail and Anshuman to heaven.
8. Dream Girl
In this show, the role of the villain was played by Shraddha Arya, where she plays Ayesha Sareen. She works hard to eliminate any competition who might take away her position of being the best heroine in the industry, often resorting to treachery, murder, theft and so on. She is later confronted by the battle of hiding her sister who looks exactly like her but is a simple girl with no treachery in her heart.
9. ' Rang Rasiya'
In the show Rangrasiya, the chemistry between Paro and Rudra was pretty intense. The fans of the show were loving it but the writers decided to bring on a huge change, where they killed off ' Sanaya Irani's character, Paro. However, she later returned as a city girl who needed a bodyguard. ' Salman Khan's ' Bodyguard' had just released back then and Ashish Sharma, the male lead of the show donned a similar look.
10. Madhubala - Ek Ishq Ek Junoon
Vivian Dsena played three characters on this show. First he played the superstar RK, who was rich, spoilt brat. Then he played his look alike KRK, who was a simple, village boy. Then, when the show took a leap, he also played KRK's son. The makers had earlier decided to get done with Vivian Dsena's character but due to popular demand, he was asked to return.
11. " Pyaar Kii Ye Ek Kahaani"
One of the first shows with supernatural elements, this show had vampires, werewolves, and what not! Sukirti Kandpal played the role of an innocent college girl who falls in love with the dangerous bad boy, who is also a vampire. This character was portrayed by Vivian Dsena. His character was a century old, and had a past in which he had fallen in love with a girl with the same face as Piya, which was the name of Sukirti's character.
12. ' Beintehaa'
The lead character portrayed by Harshad Arora never actually had a double role, but more often than not he was seen conversing with his conscience, especially when it was time for him to profess his love to his wife. His conscience would address him phattoo, meaning coward, since he could not master up the courage to express his love. This went for quite a while and Aliya, his wife, actually started to doubt his sanity when she would frequently catch him talking to himself.
13. Siya Ke Ram
A lot of the characters played double roles in this show, as they had to show the past births of the characters. Ashish Sharma, who plays the male lead Ram, has to often dress up as Vishnu as Ram is his incarnation. Sita too sometimes has to dress up as Lakshmi, as she is her incarnation, but perhaps the most memorable instance of double role occurred when Sita played the role of Kali, who destroys the more evil side of Raavan.
14. Hitler Didi
In the show, ' Rati Pandey's first character Indira disappears mysteriously. Then enters Zara, whose husband was a cruel and cunning man and who herself fell into the darker side when it came to character. Ultimately, we see her falling for Rishi, only to be spurned by the return of Indira.
15. Devon Ke Dev - Mahadev
The show gained a lot of fan following because of how good looking Mohit Raina and how well he played the character of Shiva. At one point during the show, the actor was seen fighting himself, or rather, Jalandar, who was evil and wanted to destroy and replace Mahadev. As is the norm, good defeated evil and peace was restored.
16. Sasural Simar Ka
The second sister, Roli in Sasural Simar Ka died an unexpected death, but viewers knew she was going to return, and she did as Jhumki, who was completely opposite to the previous character. Although the switch was not an easy one, Avika Gor managed it pretty well being the seasoned actress that she is.
17. " Yahaan Main Ghar Ghar Kheli"
Karan Grover, while shooting for the show Yahaan Main Ghar Ghar Kheli, where he was the male lead, was given the extra challenge of playing his character, Karan and of Karan's brother Ranchod who was physically disabled. This character was completely immobile and polar opposite to the character of Karan, but Karan Grover did justice to both the roles.
18. Chotti Bahu
The serial was a hit from the very start. Rubina Dilaik played the female lead Radhika. Radhika was happily married to Dev, when Barkha stepped in. Initially, the character was played by Benaf Dadachandji, but when the character was set to return on the show, the writer believed that making Rubina play the role would add an extra twist to the show. The track used was the clichéd Plastic surgery, but it added a lot of new challenges for Rubina.
19. Piya Ka Ghar
Although now it is hard to spot Narayani Shastri on television, there was once a time when she was among the top actresses of the Tele world. In her show Piya Ka Ghar, she played the female lead Rimjhim. With the turn of the century, the show took a leap and her role also changed, and she had to portray her own daughter Megha along with playing her old character.
20. " Meri Aashiqui Tum Se Hi"
This show added another feather to ' Ekta Kapoor's cap. Ranveer, the lead character in the show played by Shakti Arora is faced by his look alike, who is bitter and cunning and tries his best to take over his life. However, eventually the good wins over evil.