The films in Bollywood are there to earn money. It is a rich industry and the people are rich. But they are rich because their films work, and their films work because they connect with the audience. Different films go well with different people, but one category of films that are bound to do well at all costs are the films that focus on families. These films are multi-starrers a lot of times and almost always earn the maximum amount of films. These movies bring tears to our eyes and play on typical Indian emotions that play a huge role in their success.
The following are 20 such movies that teach proper family values to their audiences.
1. "Hum Saath Saath Hain"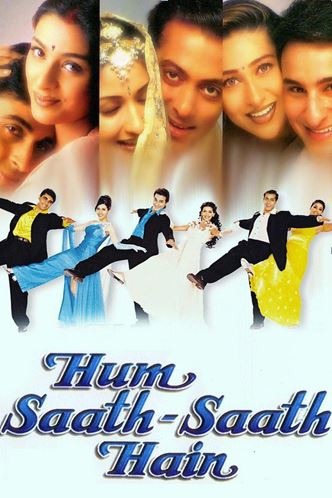 A multi-starrer film, the film did not have a lot of content, but it touched a lot of issues and had family at its core. The family is constantly celebrating, then there is a minor family disagreement, after which the family celebrates again. They teach love and living together for love rather than for blood relations, along with acceptance.
2. "Kabhi Kushi Kabhie Gham"
Another film with a huge star cast, this film by Karan Johar Karan Johar is one among the top ten celebrities i >> Read More... focuses on a rich family that has adopted a child who falls in love to a girl who they do not approve of. What follows is a tale of changing times, changing relationships, along with ultimate acceptance and the spirit of love conquering all difficulties.
3. "Hum Aapke Hain Kaun"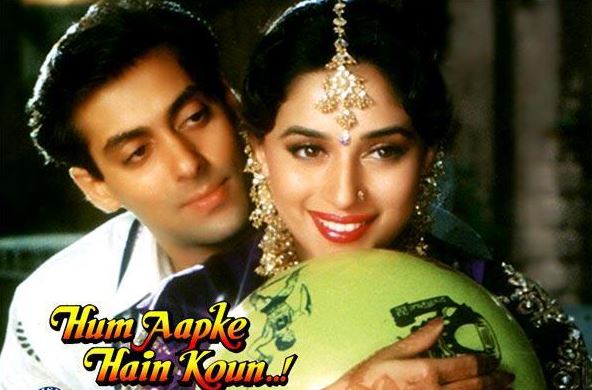 The film stars Salman Khan Salman Khan is a very famous Indian actor and a pr >> Read More... , Madhuri Dixit Madhuri Dixit is not just known as the also a smil >> Read More... and Anupam Kher Anupam Kher is a very popular actor, director, and >> Read More... among others. When Salman's sister-in-law dies, his family ask his sister-in-law's sister Madhuri to marry Salman's brother so they can take care of his child. Salman and Madhuri are in love with each other, but for the child, they agree on giving up on this love. Although all works out in the end, the extent to which people go for love is truly inspiring.
4. Do Dooni Chaar Click to look into! >> Read More...
The film had Rishi Kapoor Rishi Kapoor is an actor born in the prominent Kap >> Read More... and Neetu Singh TV actress Neetu Singh is a popular face on Indian >> Read More... lending it their superior acting skills. Rishi Kapoor played the role of a government school teacher who goes through daily trials with his students and his teenage children. The fact that they must speculate so much before buying a car is moving considering how hard a teacher works, for children who never truly learn to appreciate them.
5. ' Anand Click to look into! >> Read More... '
The film starring Amitabh Bachchan Amitabh Bachchan was conceived on October 11, 1942 >> Read More... and Rajesh Khanna Born as Jatin Khanna on 29th December 1942, the ch >> Read More... . With Amitabh Bachchan narrating the story of a man who had cancer, was dying, but still chose to stay among his friends, help them, make them realize the value of love and of life. He makes them understand that they must value whatever time they have on the earth and not lose themselves in pessimistic thoughts.
6. ' Anjali Indian top model and Telugu and Tamil star Anjali >> Read More... '
The films revolves around a child; who must accept the fact that their child who they thought is still alive, but they will have to go through the pain of her death all over again, this time united as a family. They learn trust and understanding and the importance of standing with each other through thick and thin.
7. Amar Akbar Anthony
The tale of three brothers, raised separately but united by blood and friendship, became a mass hit when it was released. The people were touched, they were saddened when the family separated and mad with happiness when they united. The actors, Vinod Khanna Vinod Khanna, the name of the tinsel town, is alwa >> Read More... , Rishi Kapoor and Amitabh Bachchan were already pretty famous, which also took the film higher.
8. Kya Kehna Click to look into! >> Read More...
The film succeeded in making every middle class family in the country uncomfortable. The female lead become pregnant with a child before marriage and the child's father refuses to accept them. Distraught, the mother willdecide to still give birth to the child, even though her family disowns her. The family soon comes along, and the woman chooses to live a safe, and independent life with the man who truly loves her.
9. " Prem Ratan Dhan Payo Click to look into! >> Read More... "
One of Sooraj Barjatya Sooraj Rajkumar Barjatya, also known as Sooraj Bar >> Read More... recent films, the film deals with a royal family who has issues that they cannot resolve because of their ego issues. However Prem, whose face is identical to the king's face fills his place when he is attacked on by his enemies.. Without the royal ego, he mends all of his relationships and makes him return to a better family, which is united and stands with him, rather than standing against him as they did previously.
10. ' Baabul Click to look into! >> Read More... '
The film brings forward many good points. First the relationship between Salman Khan and his father, played by Amitabh Bachchan is unique and fresh. But the bond between Amitabh Bachchan and Rani Mukerji Rani Mukerji is one of the most celebrated Indian >> Read More... is even more unique where Amitabh and Hema Malini Hema Malini is perhaps the only dream girl of the >> Read More... truly accept Rani Mukerji as their daughter and look after her happiness by marrying her off again to a man who they are sure truly loves her, even though it means that they must live alone.
11. English Vinglish Click to look into! >> Read More...
The movie is about appreciating the women in our family who are often ignored and overlooked. The woman, played by ' Sridevi Sridevi is an Indian an actress renowned for her w >> Read More... ', whose family is embarrassed of her because she cannot talk in English. The woman, for her self-respect, learns to talk in English and when she has the option of choosing a much better man than her husband, she sticks to her husband and the family learns to appreciate her.
12. ' Piku Click to look into! >> Read More... '
In a world where people constantly talk about how the sons are going to support the parents, we see a film about a woman who takes of her father, is ready to sacrifice her life for her father and stays with him through his illness. She takes him when he wants to go on a long journey and makes him see sense when he starts to throw tantrums.
13. Haathi Mere Saathi
The story revolves around loving all those who love us, irrespective of whether they are humans or any other beings. In this movie, a child is protected by four elephants, he grows up with them, he makes money and becomes a rich man with them while still being best friends with Raju, who is his favourite among all his animals. Problem arises when he gets married and his wife does not approve of his attachment to Raju. She learns how honest the animal is only when he lays his life for them.
14. ' Swades Click to look into! >> Read More... '
The movie became a hit ever since it was played in the theatres. It focuses on Shah Rukh Khan Shah Rukh Khan or also known as SRK is a prominent >> Read More... , who comes back from NASA to look for his family and take them back to USA. But when he comes back to his village, he sees how much his family is working towards the development of the people and he finds love while working for his country and his people.
15. ' Baghban Click to look into! >> Read More... '
The film has been a favorite among the older generations since the day it released. The romance between Amitabh Bachchan and Hema Malini played a huge part, but a bigger part was played by the way they suffer at the hands of their sons, only to be put together by the son they had adopted years ago, played by Salman Khan. The shame and the greed of the blood related sons of the couple is another integral part of the movie.
16. Taare Zameen Par Click to look into! >> Read More...
The film portrayed a young child struggling with a disease who the world refuses to understand. His parents love him, but they ask for too much without giving him what he really needs, and understanding. When he finds a teacher who truly understands him, he blossoms into the brilliant, intelligent child that he is.
17. Ghar Ghar Ki Kahaani Click to look into! >> Read More...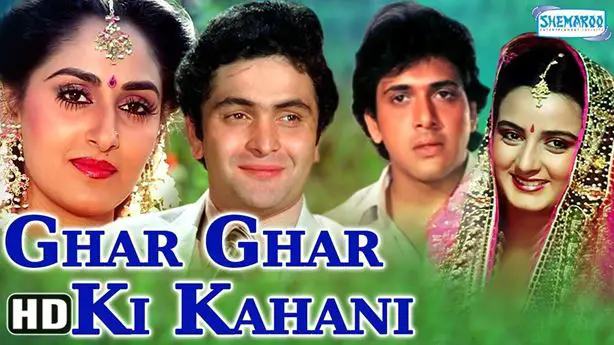 The story is seriously important in a country where middle class households struggle each day to manage their monthly budget and not over-spend. A man who has a good job but not a good enough salary fulfill his children's demands. When the kids become stubborn, he gives them his salary and asks them to handle the expense. All hell breaks loose then, and the children realises how hard their father must work in order to fill their stomachs.
18. " Dilwale Dulhania Le Jayenge Click to look into! >> Read More... "
When two people fall in love, they ask for their parents' permission and then get married. However, with the younger generation getting more and more impulsive these days, people prefer to run away, leaving behind friends and family, believing that they can live without their parents for the rest of their life. But here the children struggle for their parent's approval. They wait for them to approve of them and only then did they get together.
19. " Main Hoon Na Click to look into! >> Read More... "
An army officer put behind everything to protect his senior's daughter. Then he mends his own relationship with his step-mother, his step–brother and tries to make them understand how much he loves them. He also mends his senior's relationship with his daughter and finds himself a bride while fighting terrorists and finding love for his younger brother.
20. 'Kahaani'
The movie takes a very important step in changing how the world views woman. Vidya Balan Vidya Balan is an award winning Bollywood actress >> Read More... fights to give justice to her husband and fights when she is pregnant, which is the state in which women are believed to be most vulnerable.