TV shows become a real hit when they make you excited, grab a bowl of snacks, and drag your whole family in front of the TV even before it starts. There have been many legendary shows which did that, and it only gets better every year. New concepts keep emerging and never fail to entertain us. Here are the top 10 Tamil TV shows of this year.
#1 The Wall Click to look into! >> Read More... - VIJAY TV
...
As a spin-off of the American TV show, The Wall, Vijay TV has cracked its audience in this nail-biting and educative quiz game. The ingredient that makes this show glue the audience to it and encourages more people to participate is money. The game involves a hug wall with seven holes through which a ball is released. The team of 2 players who play this game will be asked a question, and depending on the correctness of their answer, the color of the balls changes between red and green. The bottom of the wall has some columns with prize money written on it. In the event of a ball landing in one, the money mentioned in that column goes to the participant, provided the answer is right. Otherwise, the money will be deducted from the total. Unlike the other game shows that keep increasing prize money as level proceeds, the instability of the grand total makes this show a never-miss.
#2 Start Music Start Music is a Malayalam celebrity game show tha >> Read More... - VIJAY TV
...
Who doesn't love listening to music? But how keenly do we listen to it? This musical game show has participants in 2 teams. At the start of the round, a karaoke is played. The team that guesses the song right wins the round. In another round, the song is played, but some words would be missing in between, and the contestants have to guess the correct lyric. The crazy level is taken up a notch where a player is sent to a blind room with many boxes with prize money is written inside. If they pick the box with the right prize amount, it goes to that particular team or their cause. This is a high paced and really entertaining show that leaves our belly aching with laughter.
#3 Alex In Wonderland - AMAZON PRIME
...
This is the era of stand-ups, where comedians are on the rise everywhere. Giving a tough competition with an added talent, Alex in Wonderland has performed a two-hour long standup as a dedication to Tamil cinema but, most importantly, Tamil singers. What is so different about him? Alex is a singer and a musician. His flowing comedy that lands perfectly at the perfect time keeps the stage light. Mimicking the singers makes us laugh and also leaves us awestruck of his talent. Alex in Wonderland is a musical comedy masterpiece.
#4 ' Chithi 2 Chithi 2 is a Tamil serial that premiered in 2020 >> Read More... '- SUN TV
...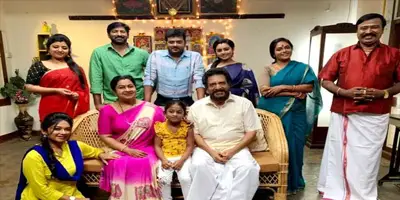 A revamp of the old super hit serial, Chithi is back in style. Radhika being the main lead and the "chithi," this mega serial is a very engaging and twisting one. She plays the role of Saradha, the wife of Shanmugam, who remarried her on the demise of his first wife, who is also Saradha's sister. She takes care of the children, and the plot goes on. Fast-forwarding twenty years, the plot revolves around her children. What is shocking is that one of them is exchanged with another kid during an accident, and this sub-plot takes a different direction when Shanmugam already knows this.
...
#5 Kalakka Povadhu Yaaru- VIJAY TV
...
Before the stand-up shows took off, this comedy show was very popular among Tamil TV channels. Many other channels tried to build their own but never quite lived up to this show's reputation. With Erode Mahesh, a stand-up comedian himself, Dhadi Balaji, a comedy actor, Mimicry Sethu Mimicry Sethu is an Indian film on-screen actor, w >> Read More... , a mimicry artist, and Priyanka, the anchor, this show brings a hearty laugh not only from the contestants but also from the judges with their hilarious comments. Participating in teams, they engage in a joke fight for the KPY champions title.
#6 Metti Oli 'Thirumurugan' directed Metti Oli and it i >> Read More... - SUN TV
...
What do Basha, Ayirathil Oruvan Click to look into! >> Read More... , and Metti Oli have in common? Yes, these are movies and TV shows that are loved by so many people that even a re-release will have hundreds of thousands of viewers. Metti Oli, which was aired and completed by 2005, has been aired again in 2020. The story revolves around Chidambaram and his five daughters. The fights, the sentiments, the hardships, and the tragedy that happens in and around their lives make this TV series.
#7 Super Singer- VIJAY TV
There is not a person in the world who doesn't enjoy good music. Super Singer brings to you the young voice bearers who want to make their future in playback singing. Divided into teams, with the greatest singers mentoring them, they get to polish their voice and make it record worthy. The notable judges are Unnikrishnan, Benny Dayal Benny Dayal is an Indian Pop-Singer. Born in Kolla >> Read More... , Anuradha Sriram Anuradha Sriram is a well known playback singer an >> Read More... , and Swetha Mohan. The show's hosts, Priyanka and Ma Ka Pa bring, comedy to this already musical entertainment with their counter targeted humor. Super Singer is definitely the full package.
#8 Solvathellam Unmai- ZEE TAMIL
As a supporting role actor, Lakshmy Ramakrishnan The shift from acting to direction is becoming mor >> Read More... did a good job but got only mediocre popularity. This reality show made her mark in the Tamil TV world. The production has a team that brings people with their disputes, ranging from family disagreement to marriage failure, out into the stage. Lakshmi analyses their problems and helps them resolve these disputes. The TRP this show received smashed the records with a shattering spike. The response of the guilty person, the idea that such people exist makes us keep watching the show episode after episode.
#9 Cooku With Comali Cooku with Comali is an Indian fun cookery televis >> Read More... - VIJAY TV
Food and humor, all mixed in this delicious and hilarious comedy cooking show. What's better than watching home cooks cook? Watching home cooks cook with amateur comedians with zero cooking knowledge. The comedians not knowing what to do in the kitchen, creating havoc even to those who cook, make this show a never miss. The home cooks are also TV celebrities who have cooking experience at home. The judges are Damu and Venkatesh Bhat, who is also impressed by their attempts at cooking. Watching this show, we can learn what to do but, most importantly, what not to do and how not to screw up in the kitchen.
#10 ' Naagini 4 Naagini 4 is the Tamil dubbed version of the popul >> Read More... ' - ZEE TAMIL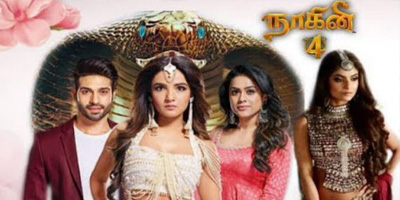 The gorgeous lady who plays the main lead made this show popular amongst the youngsters. This is a fantasy drama serial that has made a lot of seasons because of its fan following. The main storyline is around a couple who are shapeshifters. Their murder is the main rope that spins the wheel of this series. Shivanya is the daughter of this couple who takes the shape of a snake to avenge her parents. She ends up marrying a guy who is the murderer's son. There is a moral battle in her mind on whether she should like her husband knowing his background or avenge the entire family for destroying her own.