Kollywood industry is studded with gems of directors. Many movies are national award-worthy. They are spread over a wide genre range and most importantly concentrating on drama. With their rich screenplay, these movies rightly deserve national recognition. Here are the best Tamil movies that earned the national award.
#1 Kannathil Muthamitaal (2002)
...
Mani Ratnam's classic, this movie takes us through a very emotional journey. Touching all the speckles of life, this movie is a war drama. Amudha, played by Keerthana, is the young lady around whom the story yarns. Amudha's ninth birthday gives her a shocking surprise as her parents reveal that she is adopted. The feelings the family goes through are beautifully captured by the film; the daughter's differences with her siblings, distancing herself from her mother, taking out her emotions on others, and a strong urge to meet her birth mother. The most sentimental scene of this movie is the instance when Amudha meets her birth mother, and she asks her questions that she had noted down to ask her. Every word is sculpted into the scene, and the actors have done a remarkable job. This movie is a feather in Mani Ratnam's cap.
#2 Mahanadhi (1992)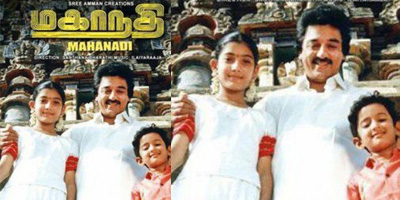 ...
Kamal Haasan Kamal Haasan is the most versatile actor that Indi >> Read More... was inspired to write this story after hearing about his house's helpers' life. A simple villager's life, his struggles, hardships are captured in this movie. Krishna, the lead, has two kids and stays along with his mother in law in a village. He meets with a chit fund company and moves to the city as he wanted to live a luxurious life. His life takes a tragic twist when he gets cheated in the chit fund fraud. He is sent to jail with no fault of his own. During his stay, his whole family is shattered to pieces with the demise of his grandmother. He loses his two children. This movie makes even the rock hearts shed a tear.
#3 Mouna Ragam Mouna Ragam is a Tamil soap opera which is a dubbe >> Read More... (1986)
...
One of the best romantic movies of all time, Mouna Ragam, captures the emotions of an arranged marriage. A character is well written when he or she is liked by everyone alike and is memorable even today. Such is the character of Manohar, played by Karthik Muthuraman Karthik Muthuraman is an Indian politician, film a >> Read More... . He dies in an accidental fire by a police officer. This shocks Divya, played by 'Revathi.' She is in secretive mourning when she is forced to marry Chandrakumar, played by Mohan. The intricate expressions on their faces, when their marriage rollercoaster slides, make this movie award-worthy.
#4 (1985)
...
'Bharathiraja's Mudhal Mariyadhai is a movie that was very bold and ahead of its time as it was taken in a period where love marriages and extra-marital friendships were condemned. Taking on this brave project, Sivaji Ganesan The Honorable Mr. Ganesan was the second son in hi >> Read More... has done an excellent job. He even had to change his method of acting. Perfectly complementing his role, Radha plays Kuyil, who is a young, free-spirited lady of the village, and she has a crush on Malaichami. Malaichami is in an unhappy marriage with Ponnatha. The entire village criticizes their friendship. The movie has a melancholic start with the demise of Malaichami. 'Ilaiyaraja's tune just elevates the aesthetics of this movie.
...
#5 'Psasanga' (2009)
...
It is a very simple story of a village and two families. '' takes us on a fun and romantic journey about a kid's life in school. With hearty humor, this film leaves us reminiscing about our school life. Anbu, the lead of this movie, is a proficient student who aspires to be the Chief Minister someday. His rival, Jeeva, hates that Anbu is getting all the attention and tries to damage his reputation. This coming of age movie portrays how the two kids end up being friends.
#6 Thevar Magan (1992)
...
The epitomes of acting, namely, Kamal Haasan and Sivaji Ganesan; what more does a movie need to bag the national award? The simplicity of the story engages us and our attention. The innocence of 'Revathi's character and the benevolence of Goutami's role make their scene "once more" worthy. The village drama and rivalry that forces an educated, ignorant heir of the village head to take up arms for justice is notable. Sometimes, indefinitely violence creeps into human nature. This moral battle is cast in an unforeseen plot.
#7 Vaagai Soodava (2011)
This movie times its line of the story in the '60s. Velu is a government job applicant who teams up with an NGO and is deployed in a village as a teacher for extra social credit. He notices that most of the village children work for a brick factory. While forcing them into school, he notices that the owners are cheating the workers of their money owing to their illiteracy. He informs of this injustice to the innocent people of the village. But the owner turns the villagers claiming that Velu is an outsider who is trying to defame him. How the villagers finally understand this and turn their life around is the rest of the movie.
#8 Vaaranam Aayiram (2008)
Suriya Sivakumar Suriya Sivakumar is undoubtedly the biggest star i >> Read More... , in every dimension of this movie, is the living example of hard work. Be it his acting, his morphing of the body to suit his roles, there is his sweat in every bit of this movie. This is a coming of age movie of the character Surya. The story takes us on the journey of Surya through his first love, father's sentiment, college life, lover's death, drug abuse, rehabilitation, marriage, his firstborn, and eventually, ends with his father's death.
#9 Vazhakku Enn 18/9 (2012)
This acid attack victim's story takes us on today's spoiled teenage boys. Arthy is a schoolgirl who befriends her neighbor and classmate Dinesh. Dinesh is a rich kid who always has it his way. He manipulates Arthy to come on a date with him, takes a video of her in the restroom, and threatens her with it. When she doesn't respond to him as he wanted her to, he plans an acid attack. Jothi, Arthy's domestic help, accidentally comes in the way of the acid attack, and she is severely injured. Velu who had a crush on Jothi is arrested as the accused in this case. Dinesh using his money influence gets out of this scam unharmed. Justice is finally served when Jothi takes the matter in her own hands.
#10 'Veyil' (2006)
Veyil is the story of a boy who ran away from his home to seek a living of his own. He lives with his family of four, including his younger brother. On a fight with his father, he steals some money and takes off. He gets robbed on the way and lands a job at a theatre. He earns his living in the theatre. When that didn't work out for him, following the death of his love interest, he decides to return home after twenty years. All the oceanic emotions when he returns home is a scene to speculate.