Every movie needs its serving of drama, romance, comedy and Tamil movies get it just right. These movies have all this combined into a fine package. Be it horror or a serious melodrama, every Tamil movie has its share of comedy. It's these comedians who crack us up into laughter and their precise sense of comic timing. Comedy has become a crucial element of every movie. These are the top ten comedians of all times in Tamil cinema:
1. ' Goundamani It is difficult to make one laugh and in this rega >> Read More... ' – ' Senthil Senthil is a great comedian actor who works predom >> Read More... ':
...
Goundamani started his acting career much before Senthil but never got much accreditation for his role. His film career saw a rise in Vaidhegi Kaathirunthaal in which he was paired up with Senthil. Their genre of comedy was usually a slapstick act. After Vaidhegi Kaathirunthaal, they started performing together as a duo. Their act usually consisted of a troublesome Senthil who would annoy Goundamani. Their act had sarcastic retorts and foolery. Unfortunately, the pair had a rift in 2000 which caused their split. They started acting independently. But they could never create the same magic again. The audience of Tamil cinema coined the nickname Laurel and Hardy for them. The two may never be seen together again, but their comic timing will be etched in the history of Tamil cinema forever.
2. '':
...
Known as one of the best comedians of all time, Vadivelu began his profession with En Thangai Kalyani. He acted with Goundamani and Senthil in a supporting part. He is known for an impeccable sense of timing when it comes to humour. He usually puts up slapstick acts. He is known for his excellent dialogue delivery. He landed his first part as a lead actor in Imsai Arasan 23am Pulikecei in the year 2006. The movie did extremely well and did wonders at the box office. The humourist has performed in more than 275 films as a supporting role as well as the lead. He stepped into politics by working and battling for DMK. Vadivelu enjoyed a reprieve from films and yet is back again with Tenali Rama Tenali Rama was a 1990 Hindi TV series aired in Do >> Read More... .
3. ' Vivek Vivekanandan is the birth name of the versatile co >> Read More... ':
...
Vivek is one of the coolest comedians who conveys very significant messages through his acts. He started off his career as a stand-up comedian. He is also a television anchor. He hosted many shows and had interviewed many eminent personalities. He usually plays best friend to the hero in most films. He emerged as a very talented comedian only in the 1990's. He has won many awards for his comedy. He also takes part in social initiatives. Green Kalam, an initiative by the late president A.P.J Abdul Kalam, was launched by him. He saw his downfall around 2007-2008 when new comedians started emerging. But he is back filming many movies. We hope to see him in many more movies.
4. ' Santhanam Santhanam is a Tamil movie actor who is famous for >> Read More... ':
...
Santhanam started his career as a comedian who mainly performed on television. He got his break when he was identified for his role in Lollu Sabha Lollu Sabha is a Tamil television series. The show >> Read More... . It was around 2008 when he started gaining immense popularity for his role in Arai En 305-il Kadavul. He is usually seen with Arya, Silambarasan and Udhayanidhi Stalin Udhayanidhi Stalin is considered to be a mammoth f >> Read More... as a side-kick. He is known as the " Comedy Superstar Laughter is the best medicine. Anybody can hurt so >> Read More... " and even made it to the Forbes India list. His comic acts usually revolve around the main plot of the movie. His first film as a producer, Kanna Laddu ThinnaAasiya was declared a box office hit. He was involved in a controversy for mocking Mukesh Harane, a patient of oral cancer. The comedian has started playing the lead in quite a few movies now.
...
5. 'N. S. Krishnan'
...
The first mainstream comedian that Tamil cinema saw was N.S. Krishnan. The humourist is known as the Charlie Chaplin Charles Chaplin popularly known as Charlie Chaplin >> Read More... of India. His first movie was named Menaka. He also tried his hand at direction. He directed three movies which did pretty well. He had quite a few controversies hovering around him. He also went to prison. His comic acts always had morals which he conveyed to the public. Unfortunately, he died at the young age of 49 due to a disease.
6. ' Soori Soori is a South Indian actor in Kollywood. His n >> Read More... ':
...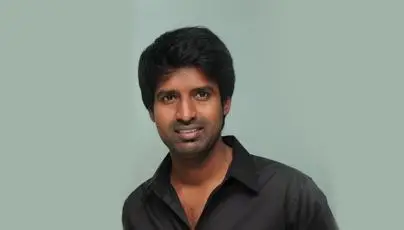 A rising comedian who started his career in 2009. But he had never been accredited for any of his roles till 2009. In a movie Vennila Kabadi Kuzhu, a famous parotta scene in which he acted, was when he was recognized. After that, he saw an exponential growth in his career. He has acted in numerous films since then. He is currently shooting for eight to ten films to be released in 2017. He has been coined the nickname Parotta Soori.
7. ' Nagesh Nageswaran C. Krishna Gundu Rao is a Tamil actor o >> Read More... ':
Cheyur Krishna Rao Nageshwaran or better known as Nagesh has acted in over 1000 films. He reached the top of his career in the 1960's. His decline started in the mid-1970s when he refused to work with a particular co-star. He also faced many family issues. But his career saw success again in 1989 when he delivered a hit. He then started acting as a supporting actor in many movies. He was a chain smoker and fell ill. He passed away in 2009 due to diabetes and coronary heart disease.
8. ' Manobala Comedy is the forte of Manobala (Manobala Mahadeva >> Read More... ':
Manobala is a very famous director and producer who started acting as a comedian. He usually plays the supporting character in a movie. He has acted in close to 700 movies. As a producer, he has financed three movies. He has directed many films and television shows. Manobala is usually praised for his unique style of acting.
9. ' Manorama Being called as Aachi, Manorama is strongly seeded >> Read More... ':
One of the very famous comedians to enter the Guinness World Records, Manorama has acted in over 1500 movies. Initially part of a drama troupe, Manorama paved her way to stardom in 1958 itself. Manorama saw a lot of struggle on her path to fame. The actress was almost always paired opposite Cho Ramaswamy The South Indian film industry has seen several co >> Read More... , Venniradai Moorthy,Nagesh, and Thengai Srinivasan Thengai Srinivasan was a South Indian actor and co >> Read More... . Manorama was a close aide to the late chief minister Jayalalitha. She passed away in 2015 when she succumbed to multiple organ failure.
10. Kovai Sarala Kovai Sarala is an actress who acted in more than >> Read More... :
Sneha Narasimhan, also known as Kovai Sarala is one of the best female comedians Kollywood could ever get. She has acted in over 750 films. She usually performs in Tamil and Telugu movies as a supporting actor. She has won many awards and accolades for her amazing performances. She is known for her different style of dialogue delivery. The actress is not married. She continues to amaze her audience with her movies.
We hope that these comedians always continue to crack us up. They say comedy is very tough. But these stars have proved that it is a piece of cake for them. These comedians will always be remembered by us for generations together.