1. Anni: -
'Anni' is a Tamil serial that got shot in the year 2003. Malavika Aravind is the lead actress in it, and the story revolves around the difficulties faced by a sister-in-law. It consisted of 339 episodes. It is a very famous serial that is in the hearts of many people.
2. Arasi: -
'Arasi' is produced by Radhika Sarathkumar, and she plays the character of a police officer.The story is about the troubles she undergoes to find her mother. It was a featuring sequel of the previous serial Selvi. It had 700 episodes.
3. Kana Kaanum Kaalangal: -
Kana Kannum Kaalangal is the story of a group of high school children who meet each other in school and battle it out with their egos and eventually become very close friends.The series is entertaining and is watchable for all age groups. The story was directed in 2006 with around 500 episodes.
4. 'Kolangal': -
The serial got directed in 2003 and ' Devayani' played the role of Abhinaya. She is a confident and an intelligent woman who manages her family she got married to, even though she had to go against her half-brother. She is fearless and accepts challenges all through her life, and this was a reason for the public to remember her character all while. The last episode was telecasted in 2009 with 1533 episodes.
5. Kalyanam Mudhal Kaadhal Varai: -
The serial is a Romantic drama telecasted in 2014. The actor goes through a divorce on figuring out his wife has another affair and tries to get custody of his son. His neighbor is a dentist who takes good care of him, and love blooms between the couple. The serial is currently featuring on Vijay TV.
6. Sindhu Bhairavi: -
Sindhu Bairavi is a Hindi dubbed serial that features in Raj TV. The plot is about two childhood friends who are more like sisters. Sindhu is the daughter of a housemaid who works at Thakur's house, and her daughter befriends Bairavi. It's a very realistic story.
7. ' Vamsam': -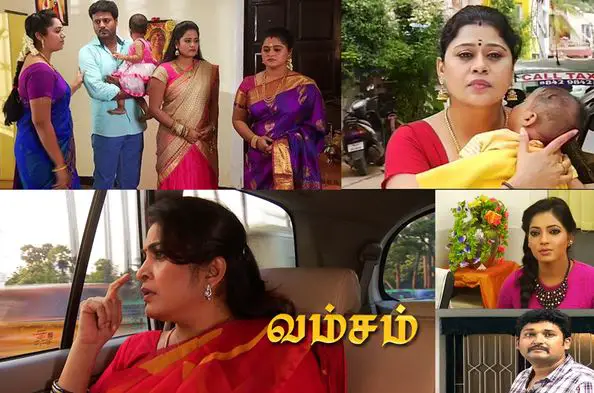 Ramya Krishnan plays a dual role in this movie as Archana and Shakthi. Archana, who is an IAS gets separated from Shakthi, who is her twin sister and takes up the identity of Shakthi after promising her sister to fight for her family from the clutches of Nagavalli in abducting her assets. The serial has many twists to it and new characters get introduced very often. At a point, Archana gets pushed to reveal her identity as her husband Ponnurangam gets convicted of killing Archana. She after telling the truth saves her husband but then gets ignored. The serial is filled with nail-biting episodes.
8. "Saravanan Meenatchi Season 1", " Saravanan Meenatchi Season 2", " Saravanan Meenatchi Season 3": -
Saravanan Meenatchi is a Romantic drama that is a continual serial every year with a different cast. It's been a successful serial since the time it started. Saravanan is deeply in love with Meenatchi, a very homely girl from Madurai and Saravanan goes off to work abroad, and Meenatchi's parents try to talk her into marrying somebody else and how the couple fights against all the odds and end up together forming the rest of story. The serial was started in 2011 and is telecasted on Vijay TV with its third season. Praveen Bennet directed it and the theme song of the serial has become a famous ringtone in Tamil Nadu.
9. ' Sorgam': -
The serial got telecasted on Sun Networks in 2003 and it went on till 2007. The lead role is played by ' Mounika' who saves the family from a woman who joins in the office of four brothers as a manager, and starts taking revenge on him claiming that she is their step-sister. The story revolves around how the she tortures him and how Mounika protects them, who is married to one of the brothers. The serial is very famous for its storyline and the powerful role played by Mounika.
10. " Pirivom Santhippom Season 1", " Pirivom Santhippom Season 2": -
This story of two childhood friends who go through color discrimination between each other through the society. Revathy grows up with her uncle who is the father of Jyothy. They learn to grow up in spite of the discrimantions, Revathy is much loved than jyothy in the family as she has no parents. Revathi gets married to Prabhu, the son of the owner of the company she works for, Jyothi's marriage gets delayed due to her looks and she falls in love with Karthik which initiates problems in the serial as Jyothy disguises herself as another girl. Her father plans to get her married to Aravind and she agrees to this as her dad is a heart patient. The Story is an interplay between love and friendship.