Several new serials are produced and aired on television every year. Some of them strike gold and become audience favourites. On the other hand, some fail to make an impression, leading to them being pulled off air sooner than expected. Often, these serials have interesting storylines but cannot succeed due to different factors. Whatever may be the reason, it is always a loss for the viewers if they miss out on a good show. Here is a list of ten such Hindi TV serials which could not strike a chord with the viewers.
1. MTV Fanaah MTV Fanaah is an Indian thriller series that is pr >> Read More...
...
MTV Fanaah was a supernatural fantasy series aired on MTV India. It featured vampires, witches, werewolves, and the lot. The series had a star cast featuring popular names on TV like Karan Kundra Karan Kundra is a dashing, handsome, sexy, stylish >> Read More... , , Chetna Pande Chetna Pande is an Indian Television and Bollywood >> Read More... , Mohit Abrol Mohit Abrol is the most popular known for his role >> Read More... , Meghna Naidu Meghna Naidu was born on 19th September 1980 in Vi >> Read More... , Rithvik Dhanjani Rithvik Dhanjani is a popular television actor, da >> Read More... , Ratan Rajput Ratan Rajput was born in Patna and came to Mumbai >> Read More... , Nikita Sharma Nikita Sharma is a famous Indian Television Actre >> Read More... , etc. The serial had two seasons, each running for roughly three months. Though it was appreciated by teenagers and young adults, it failed to find widespread acclaim. It stopped airing in January 2015, merely after six months of its inception.
2. 'Dahleez' 
...
The Star Plus show, Dahleez, began airing in March 2016. It was a romantic serial containing elements of a courtroom drama and political undertones. The star cast included Tridha Choudhury Tridha Choudhury is a Bengali and Telugu film actr >> Read More... and . The show had a very interesting premise and showed great promise at the beginning. However, it could not find a connection with the Indian audience. It stopped airing in June, after three months of being on air. Even talented actors like Meghna Malik Meghna Malik is an Indian television and film actr >> Read More... , Hunar Hali Born September 9, 1989, Hunar Hali is a famous Ind >> Read More... , Neha Bam Neha Bam is an Indian actress and model. She worke >> Read More... , etc, could not save the show.
3. Dosti… Yaariyan… Manmarziyan
...
Manmarziyan started airing on Star Plus in April 2015. It had a relatively new star cast consisting of names like Kashmira Irani Kashmira Irani is a popular Indian TV artist who w >> Read More... , Monica Sehgal Monica Sehgal, known as 'Mehak' among her >> Read More... , , , etc. The show was based on the journey of Radhika, a simple, middle-class girl, who aspires to become a writer. It depicted the friendship of Radhika and Samaira, a headstrong, independent girl who helps Radhika to live her dream. The serial had run for only four months before it was pulled off the air.
4. 'Chhanchhan'
...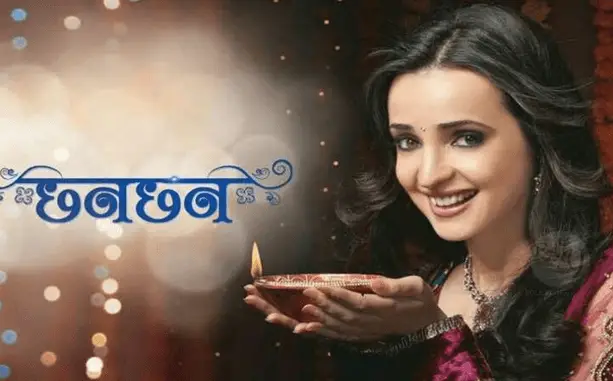 Chhanchhan was Sanaya Irani's TV serial after the immensely successful Iss Pyaar Ko Kya Naam Doon. Everyone expected Chhanchhan to be as successful as the previous show. Chhanchhan was based on the life of a modern girl named Chhanchhan who trained dogs for a living. The show also starred Farhan Khan Bio coming soon... >> Read More... , Supriya Pathak Supriya Pathak is an Indian actress who has been r >> Read More... , Anuj Sachdeva Anuj Sachveda is an Indian TV actor, born on Octob >> Read More... , Rohini Banerjee Rohini Banerjee is an Indian actress and model bor >> Read More... , etc. The show did not do well and was pulled off the air after six months. Most of the actors moved on to better projects after the failure of this serial.
...
5. Ek Ghar Banaunga Ek Ghar Banauga was a daily soap opera that went o >> Read More...
...
Ek Ghar Banaunga was a serial on Star Plus which addressed a lot of social issues. It starred Ishita Dutta Ishita Dutta is the sister of Femina Miss India Un >> Read More... , Rahul Sharma This Hindustani musician was born on 25th Septembe >> Read More... , Narendra Jha Narendra Jha is an actor from India who is best kn >> Read More... , etc. The show had quite an impressive theme and depicted the marriage between a modern, educated girl, Poonam, and a wedding planner, Akash. It also educated the viewers about the responsibilities of a girl towards her parents and the unfair practices that go on in Indian families post marriage. The show could not succeed as it did not have many big names. Also, it aired in an early evening slot which harmed its viewership to a great extent.
6. 'Krishnadasi'
...
The remake of a Tamil serial, Krishnadasi started airing on Colors TV in January 2016. It starred Shravan Reddy, Sana Amin Sheikh Sana Amin Sheikh born on August 10, 1989 is an In >> Read More... , Indira Krishnan Indira Krishnan is an Indian television actress an >> Read More... , Neha Bam, Chhavi Mittal Actress Chhavi Mittal, born in Delhi - The Heart o >> Read More... , etc. It depicted the tradition of Devadasi in Indian temples and their troubled lives, along with the rivalry between two families due to this tradition. The serial ran for nine months before being pulled off the air in the month of October in 2016. The show had the capability to do quite well, but it did not succeed in becoming popular among the audience.
7. Amita Ka Amit Amita Ka Amit was an Indian TV soap opera broadcas >> Read More...
Amita Ka Amit was a serial on Sony Entertainment Television India starring Chandni Bhagwanani Chandni Bhagwanani is a cute and a fabulous Indian >> Read More... and Nishad Vaidya Nishad Vaidya is a new Indian television actor. Ni >> Read More... . It depicted the story of a beautiful girl, Amita, who gets married to Amit. It also focused on the issues that Amita had to face in finding the perfect life partner, and the problems that came between the couple due to external factors. The serial was simple and heart-warming, yet it did not become too popular with the audience. It stopped airing after roughly ten months.
8. Kuch Toh Hai Tere Mere Darmiyaan
This show started airing on Star Plus in September 2015. The serial depicts the love triangle between three characters, Koyal, Raj, and Madhavan. The serial starred Gautam Gupta Gautam Gupta is a Television actor who works on th >> Read More... , Shritama Mukherjee Shritama Mukherjee is renowned Hindi serial actres >> Read More... , and Vibhav Roy. Later, Shritama was replaced by Asha Negi Asha Negis is Indian tv actress and model, she was >> Read More... , and Vibhav was replaced by Ali Goni. The serial was youth-oriented and targeted at the young audience. The show had a great take on friendship and love. However, it failed to do very well commercially. It stopped airing after four months, in January 2016.
9. Ek Nayi Ummeed - Roshni
Ek Nayi Ummeed – Roshni started airing on Life OK in July 2015. It was based on an honest and helpful doctor named Roshni who did her best to save the lives of others amidst the corruption and inattentiveness of the surrounding world. Most of the scenes of the serial were shot in a hospital. The show starred Pooja Gor Pooja Gor is a Hindi Television actress. She was b >> Read More... , Sahil Anand Sahil Anand is an Indian actor who has been a part >> Read More... , Amol Palekar Amol Palekar was born on 24th November, 1944 in Mu >> Read More... , Raghuvir Yadav, Himmanshoo Malhotra, etc. The show was interesting but failed to connect with the viewers. It went off the air in November 2015 after running for four months.
10. Sajda Tere Pyaar Mein
Sajda Tere Pyaar Mein started airing on Star Plus in the year 2012. It was based on the life of Aliyaa, a student in college whose life turns topsy-turvy as she encounters terrorists plotting against the country. The show touched upon the themes of passionate love, patriotism, and the life of modern women. It starred Deblina Chatterjee Deblina Chatterjee a tremendous film and televisio >> Read More... , , Rohit Roy Born on 5th April, 1968, Rohit Roy is an extremely >> Read More... , Ankita Bhargava Ankita Bhargava is a talented actress of Indian T >> Read More... , etc. The show had a unique theme and treatment, but the audience failed to connect with it. it went off the air after four months of its inception.