1.
Obviously, his name has to be on the top of the list. At the young age of 25, he achieved success which many can just dream of. Traditional outfits are his forte, and he designs beautiful sarees, lehengas, and sherwanis for Bollywood celebrities. He has dressed from everyone from ' Sridevi Sridevi is an Indian an actress renowned for her w >> Read More... ' to Michael Jackson Story soon >> Read More... .

2. Tarun Tahiliani Known for his skill to inculcate the Indian textil >> Read More...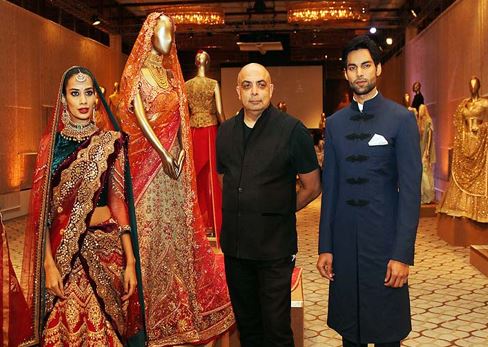 He is a well-known name in the fashion industry. He did his graduation from Fashion College of New York Click to look into! >> Read More... . India attracted him, and his exploration revealed a much needed change here, regarding style. He started by opening a boutique 'Ensemble' and since then there has been no stopping for him. So far, he has designed for almost every actor and actress in Bollywood.

3. Rina Dhaka As most of the fashion freaks know, that the very >> Read More...
...
She has many achievements under her name, and she is a well-known personality in the industry. An international designer, who has organized fashion shows in places like London, Paris, Singapore, Jakarta, Hong Kong and much more. Fusion theme and experimentation is her forte.

4. Wendell Rodricks Wendell Rodricks is an Indian fashion designer bor >> Read More...
...
He is famously known for his particular choice of the colour white in his outfits. He did not graduate as a designer but as a caterer; later his talent took him to the Fashion World and since then there is no turning back for him. He is a freelancer, writer, advertising stylist, portfolios forecaster and what not.

5.
His designs and production are unique from others, and this reason has gained him a respected stature in the industry. The best part about his outfits is the fusion of traditional and contemporary. Being a Rajasthani, its culture is imbibed in his memory, and his childhood experiences have turned into his creative inspiration now.

6. Manish Arora Manish Arora is an Indian TV serial actor who came >> Read More...
...
His talent gained him quick success, as soon as he stepped into the Fashion Industry. Besides being a designer, he is also in alliance with MAC and creates cosmetics such as lip-gloss, blush, eye liner, etc. He has represented India globally such as in the Hong Kong Fashion Week.

7. Ritu Beri Ritu Beri is a Delhi based famous fashion designer >> Read More...
...
She is a well-known name in the Fashion world, graduated from Delhi University, and then later persuaded her dream of designing. Her designs are elegant, attractive, and modish. She knows commercialization and what it takes to be a successful designer.

8. Rohit Bal Rohit Bal is an Indian fashion designer who has a >> Read More...
...
This Delhi University graduate in History Honors is one of the leading celebrity designer. There has not been a single place where he has not hosted a Fashion Show, right from India to New York to everywhere else, he is famous for his designs. His inspiration comes from villages, tradition, culture, and hand-woven things.

9. Ritu Kumar Ritu Kumar is a prominent designer from India and >> Read More...
...
Who does not know the name of this designer. Her name is synonymous with style, design, creativity, fashion, trend, and much more. She has designed the outfits for the models who participate globally in beauty pageants such as the Miss Universe, Miss World, Miss Asia Pacific and what not!

10. Abu Jani Abu Jani is an eminent fashion cum interior design >> Read More... and
These brothers are a famous duo in the Industry. They do not host fashion shows frequently, but when they do, it makes the crowd go crazy. Their forte rests on minimalism and heirlooms.