The world in general is a hard place to live in. Not only do you have to constantly think about yourself and your family's well-being, you also have to make sure that you do not hurt anyone else's sentiments. We live in a diverse world, it is impossible to understand what everyone likes or does not like, but we face several consequences if we don't think about these things. Broken friendships and relationships are just the beginning, when people involve the law, it becomes even harder to handle. While this is the story of a lot of people, it is worse for celebrities. They must entertain, within limited content and topics, but they still continuously face lawsuits, sometimes even having to go to jail. However, there are undeniably times when they are genuinely at fault or have committed crimes. The following are 20 such celebrities who have been involved in legal hassles.
1. Sanjay Dutt July 29, 1959, was the day when the two legends of >> Read More...
...
1993 was a terrible time for our country when there were serial blasts in Mumbai. When Sanjay Dutt was found guilty of possessing illegal firearms that linked him to these terrorist attacks, it was perhaps the ugliest shock to Bollywood. For 16 months, between 1994 and 1996, the actor was in jail and has only recently finished his jail term of 5 years in the Pune Yerwada Jail.
2. Salman Khan Salman Khan is a very famous Indian actor and a pr >> Read More...
...
There have been too many cases against him to start listing them. Ideally, he should either have been hanged to death or spend his whole life in jail. But thanks to his fans who treat him like God, and his lawyers, he is a free man. To name a few, the charges against him include the poaching case, and the driving under influence case where he drove his car over people sleeping on the footpath.
3.
...
Involved in one of the ugliest break-ups of the whole of film industry, Kangana accused Hrithik of unimaginable things, thereby significantly reducing her goodwill and fan following. All her charges were revealed to be false and her lawyer too washed his hands off the case after a while, as her ex-boyfriend Adhyayan Suman Adhyayan Suman is a well-known Indian actor, who >> Read More... too revealed horrifying details about her.
4. Hrithik Roshan Hrithik Roshan with his unimaginable dance moves i >> Read More...
...
The actor was dragged in an unnecessary court case slammed on him by Kangana Ranaut, who was merely hungry for attention and wanted to caress her hurt ego after rejection. The actor was accused of several things, all of which were proved to be false and many actors now swear off working with Kangana.
...
5. Kiku Sharda Kiku Sharda is a talented actor, comedian and, als >> Read More...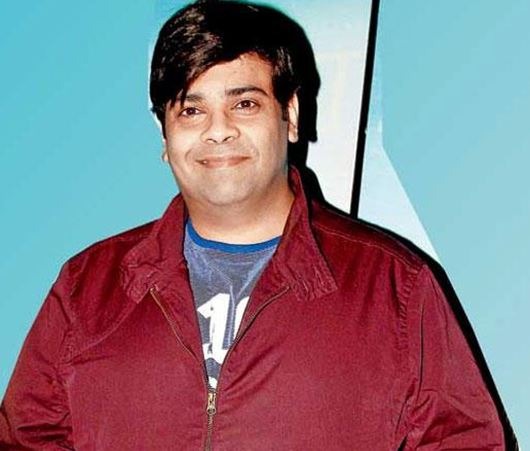 ...
He is a significant comedian in the television industry, especially since he appeared in The Kapil Sharma Show. He is talented, with perfect comic timing and has proved time and again that he deserves the place where he stands and has worked hard for it. However, at one event, while performing, he enacted the man who stars in the movie MSG, and the man and his followers collectively forced the actor into jail.
6. Shah Rukh Khan Shah Rukh Khan or also known as SRK is a prominent >> Read More...
...
Although many cases have been filed against the actor, the most popular was the case at Wankhede Stadium, and the most shocking of all the cases remains the one filed by social activists against him and his wife Gauri Khan Born on Ocotber 8 1970, Gauri Khan (originally kno >> Read More... , accusing him of getting involved in the sex determination of their third child AbRam Khan. The actor however has strictly denied the charges.
7. Ranveer Singh Ranveer Singh Bhavnani is an Indian movie actor wh >> Read More...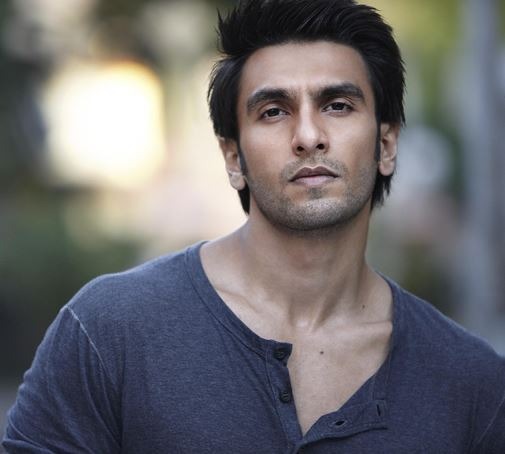 Well this one was a shocker. While he played one of the people who was getting roasted on the show, Ranveer still had to face several FIRs for being involved in the roast. It was a daring step since they got the roast comedy to India for the first time, there were numerous celebrities and they were all charged merely for laughing, but the court had none of it and ordered FIRs against all of them.
8. Arjun Kapoor Arjun Kapoor is a Bollywood star. He was born on 2 >> Read More...
He was another one of the actors who was involved in the AIB roast, being the one who was being roasted. Although he was forced to apologize, they had done it all for charity. Moreover, other actors like Alia Bhatt Alia Bhatt is a trendsetting actress from Mumbai, >> Read More... , Sonakshi Sinha Sonakshi Sinha is a well-known Indian Actress. She >> Read More... , Deepika Padukone Deepika Padukone is an Indian actress and model. S >> Read More... , were put under the radar merely for being in the audience and laughing.
9. Shiney Ahuja Shiney Ahuja was born on May 15, 1975, to Suraj Pr >> Read More...
Debate went on for quite a while on whether he was guilty, until he finally accepted his crime. Having committed the heinous crime of rape against his maid, who was later forced to pull out her charges due to pressure. However, the court found enough evidence to prove him guilty and punish him. So, even before he could establish himself as an actor, his crime finished off his career.
10. John Abraham Like some of our sexy stars, John Abraham has had >> Read More...
The fittest actor in Bollywood with perhaps the best body in the whole of Bollywood is quite fond of his big toys. So, it was not that much of a surprise when we received news that the actor had banged his motorbike, which was a Suzuki Hayabusa, into another vehicle injuring two people. Due to lack of causalities, John only had to spend 15 days in prison.
11. ' Tabu Tabu is a wonderful gift to the Indian cinema. She >> Read More... ', Neelam Kothari During the mid 80s Neelam Kothari had a successful >> Read More... and Sonali Bendre Sonali Bendre, the epitome of beauty and grace was >> Read More...
The actresses were present during the blackbuck poaching case that Salman Khan and Saif caused. Being the prime witnesses, these actresses, who were a part of 'Hum Saath Saath Hain', have to be present at every court hearing of the case.
12.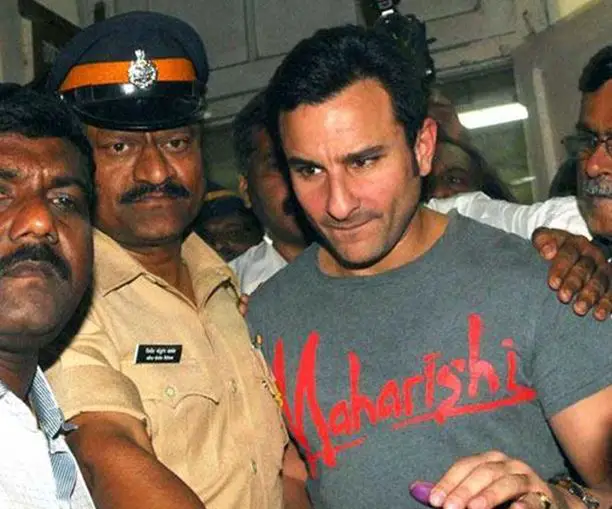 The Nawab of Pataudi and father to be, Saif Ali Khan was accused of punching and man handling a South African businessman who was seated next to his group of people that included his wife Kareena Kapoor Khan Kareena Kapoor is a super hit actress working in I >> Read More... , Karisma Kapoor Karisma Kapoor is a well known face from the famil >> Read More... , Malaika Arora Khan, Amrita Arora Amrita Arora was born on 31st January 1981 in Chem >> Read More... , and Shakeel Ladak Shakeel Ladak was born in Hyderabad, and is the ow >> Read More... , in Colaba's Wasabi Restaurant. This counted as an assault and the actor was later released on bail.
13. Monica Bedi A Punjabi girl born in small village of Hoshiarpur >> Read More...
This was one of the worst cases yet, where the actress's affair with Abu Salem, a gangster, surfaced and caused much trouble. However, things did not end there, as the actress was later also proven guilty of possessing fake documents and entering Portugal. This happened in 2006, after which she was imprisoned for two and a half years.
14. Fardeen Khan Fardeen Khan is a former film actor, known for doi >> Read More...
Not a very popular face, the actor never could make his place in tinsel town despite being the son of veteran actor Feroz Khan Feroz Khan is a legendary Indian film actor, edito >> Read More... . It got even more troublesome in 2001, when he was caught trying to buy cocaine and was proved to be battling a drug addiction. However, he pleaded guilty and showed signs of wanting to quit, so he was let off after going through a de-addiction treatment.
15. ' Govinda Govinda is a popular Bollywood star who is known f >> Read More... '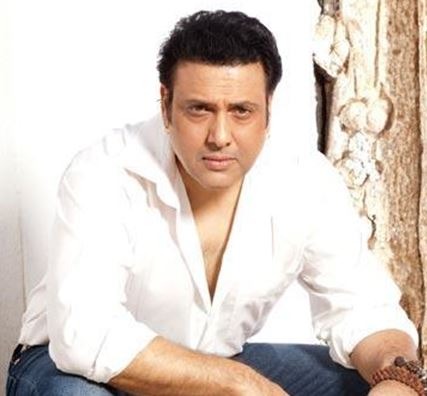 The actor was quite successful when he had started his career, having become a hit machine. He could wear anything, do anything, and the people still loved him. However, his temper troubles are no secret and in 2007, while shooting for ' Money Hai Toh Honey Hai Click to look into! >> Read More... ', he slapped a man who had come to watch the shooting. The man had allegedly been harassing girls and had trespassed. He went on to file a case against Govinda in the High Court, and when that got resolved, he tried to take it to the supreme-court, without any success.
16. Navjot Singh Sidhu Navjot Singh Sidhu was born on October 20, 1963 in >> Read More...
People today know him as the Laughing Buddha of television. He laughs the loudest and gets paid for it. However, more than 26 years ago, he had been accused by Gurnam Singh of fatal assault and he was even sentenced to a jail term of 3 years. Due to this incident, he also had to resign from the position of MP.
17. Sooraj Pancholi Sooraj Pancholi is the new chocolate face hero who >> Read More...
The actor has been mentioned in the suicide note of his ex-girlfriend Jiah Khan Jiah Khan was a British-American actress, singer >> Read More... , and he has been accused of cheating, ruining her career, spending her money without her permission, isolating her from her family, and killing the fetus in her womb without letting her go for further medical help. It comes as no big surprise that it was Salman Khan who decided to launch him in the industry while this case was going on.
18. Madhur Bhandarkar Madhur Bhandarkar is an Indian film director, writ >> Read More...
Although he has a national award to his credit, he has been accused of casting couch and rape by a struggling actress by the name of Preeti Jain Preeti Jain is a model who was born in a family wh >> Read More... . However, as is tradition, he was granted bail and still walks freely due to lack of evidence.
19. Shilpa Shetty A model turned actress, producer, entrepreneur and >> Read More...
The actress has vehemently denied charges against her and time and again asked for evidence, when a company from Kolkata claimed that Shilpa's company had cheated them of a total of 9 crore rupees that had been convinced to invest fraudulently.
20. Shruti Haasan Shruti Hassan is an Indian film actress born on 28 >> Read More...
Picturehouse media, which is a big name in Bollywood, accused Shruti of pulling out of a project without giving any reason, and merely stating that she did not have dates to give for the project which she had already committed to. So, it is not necessary that all the trouble that comes to these actors or that they invite comes from outside the industry. Some of it is just waiting for them right there.