Before diving further into the list of films, let us decipher the genre of such films. A cult film or a cult classic film forms that part of a cinematic classification which has been appealing to different generations over time. The black and white films were a series of the cult classic in the 1920s. The musical classics became a cult in the 1980s.
The Indian cinema also has a broad list of films which forms a part of this genre.
1) ' Damini Damini is an Indian Television serial broadcasted >> Read More... ':
...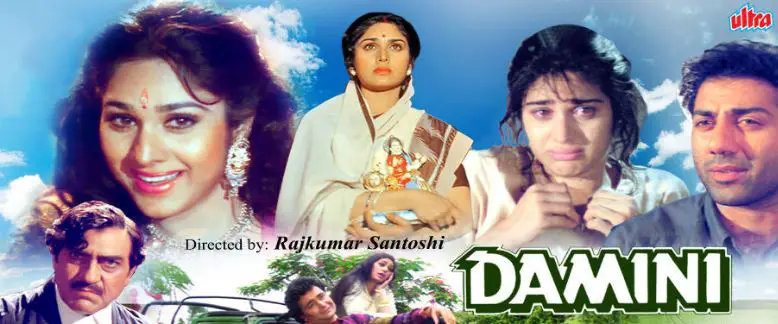 A story of innocence, justice, and love. One can call it the beginning of feminist cinema in Bollywood. It had Meenakshi Seshadri Meenakshi Seshadri was born as Shashikala Sheshadr >> Read More... in the titular role and Rishi Kapoor Rishi Kapoor is an actor born in the prominent Kap >> Read More... . It is the story of a middle-class woman Damini who has a strong sense of ethics. When she gets married into a rich household and witness a rape of a maid by her brother-in-law, she fights for justice. In the road to righteousness, she notices the brutality of the world, the failure of order, and the betrayal of her family. With an iron will and conviction she fights the entire corrupt judicial system of law that preys on the weak.
2) Andaz Apna Apna Click to look into! >> Read More... :
...
This is considered to be one of India's biggest cult comedy. Directed by Rajkumar Santoshi Rajkumar Santoshi is an Indian filmmaker who shot >> Read More... , it has an ensemble cast of Salman Khan Salman Khan is a very famous Indian actor and a pr >> Read More... , Aamir Khan Aamir Khan or Mohammed Aamir Hussain Khan is Bolly >> Read More... , Karisma Kapoor Karisma Kapoor is a well known face from the famil >> Read More... and Raveena Tandon Raveena Tandon is an Indian film actress who is kn >> Read More... . It is a story of two day-dreamers with a common goal to be rich. They fall for the same lady but end up protecting her life. One can never forget the comic villain roles of Shakti Kapoor Personal life: Shakti Kapoor was born in Delhi, In >> Read More... and Paresh Rawal The Padma Shri award winner who shot to fame with >> Read More... as Crime Master Gogo and Teja. The film has all the necessary elements to make it a cinematic brilliance.
...
3) 'Sholay':
Sholay is one of the highest grossing movie of the 1970s. Directed by Ramesh Sippy Ramesh Sippy is an eminent film director and he is >> Read More... and having an ensemble cast of great actors like , '', Hema Malini Hema Malini is perhaps the only dream girl of the >> Read More... , Jaya Bachchan Born on 9th April 1948 Jaya Bachchan is an Indian >> Read More... , Sanjeev Kumar Sanjeev Kumar was born on July 9th, 1938 in Mumbai >> Read More... and Amjad Khan Amjad Zakaria Khan was born on 12th November, 1940 >> Read More... . Sholay is the story of Jai and Veeru, two outlaws who are hired by a retired police officer to avenge the brutal murder of his family by the village dacoit Gabbar Singh Click to look into! >> Read More... . Sholay is a story of true friendship. The songs in the film are a hit even today. The dialogues of this film are often used as a reference in many action films in Bollywood .
...
4) ' Swades Click to look into! >> Read More... ':
...
This movie broke the boundaries between the East and the West. An absolute cinematic brilliance by starring Shah Rukh Khan Shah Rukh Khan or also known as SRK is a prominent >> Read More... . The film tells the story of a NASA scientist Mohan Bharadwaj Bio coming soon... >> Read More... played by Shah Rukh Khan, who arrives in a village in India to accompany his childhood nanny back to America. He is skeptical of the conditions in the rural areas but soon creates a change for the growth of the entire community. It stirs souls of the diaspora citizens. It is a story of discovering our roots inspite the glamor of the West.
5) ' Agneepath Click to look into! >> Read More... ':
...
This 2011 blockbuster remake of the 80s is a part of the action cult classic. It stars Hrithik Roshan Hrithik Roshan with his unimaginable dance moves i >> Read More... , Sanjay Dutt July 29, 1959, was the day when the two legends of >> Read More... , and Priyanka Chopra Born on 18 July 1982, Priyanka Chopra is an establ >> Read More... . Agneepath talks about Vijay Deenanath Chauhan, whose father is brutally killed by the village goon Kancha Cheena. His family relocates to Mumbai. Vijay wants to avenge his father's death and therefore becomes a part of the underworld to seek revenge. It is a story of revenge, power, and bloodshed.
...
6) ' Fashion Click to look into! >> Read More... ':
If you think this Bollywood's version of Devil Wears Prada then you are mistaken. It is one of the few Hindi films where actresses play the three leading roles. Fashion talks about a small town girl Meghna Mathur played by Priyanka Chopra who wants to be a part of the tinsel town, an eccentric, supermodel Sonali played by , and a struggling model Janet who still has her head on her shoulder. They all have different lives, but their world gets intertwined when they have to give up more than their ethics to be a part of this tinsel town. Fashion shows the dark side of the glamour industry where nothing is permanent.
7) " Dil Chahta Hai Click to look into! >> Read More... ":
This 2001 directorial debut of Farhan Akhtar One of the most recognized young director of India >> Read More... started the genre of coming of age films. It appealed to the GenX who are confused. It has an ensemble cast featuring , Akshaye Khanna Akshaye Khanna is a popular Indian film actor. He >> Read More... , and Aamir Khan, all three playing different characters- a confused lover, an artist who falls in love with an older woman, and a clueless, cynical, spoil brat. It is a journey of finding oneself, finding love and having the friends who last a lifetime.
8) Vicky Donor Click to look into! >> Read More... :
A romantic comedy of 2012 featuring fresh faces, this film was the biggest hit of the year. It talks about a lousy man who is encouraged by a doctor to become a donor. Soon his sperm becomes high in demand. The trouble brews when his wife who has no clue about his job cannot conceive and is sterile. A story of love and family and brilliant comic elements, this film is a must watch.
9) ' Kahaani Click to look into! >> Read More... ':
After a long time Bollywood found a worthy action and thriller cult film in 2012. Kahaani is a mystery set in Kolkata where a woman from London comes searching for her husband whom she considers missing. The husband has no proof of ever coming to the city. Kahaani is a journey of a woman fighting alone. The story has a classic ironic twist, and the brilliant acting of Vidya Balan Vidya Balan is an award winning Bollywood actress >> Read More... makes it worth watching.
10) Udta Punjab Click to look into! >> Read More... :
In the land of five rivers, four lives are connected by drugs. It is the story of a rockstar who is youth symbol for drugs, a migrant laborer who becomes a victim of flesh trade, a corrupt cop, and a doctor who is fighting against the drug trade. So what happens when their world collides on a high note. This 2016 film appeals to the youth of today.