The article explores the top 10 chick flicks of the decade 2007 to 2016. Chick flick is usually defined as a female-oriented, high in emotional drama and motivating. But in recent times there is a rise in these films but have been taking up different social causes rather than containing only superficial female characters and romantic storyline. The plots have become much graver, depicting close to real life characters and stand as a critique of the society.
1) Jab We Met Click to look into! >> Read More... (2007)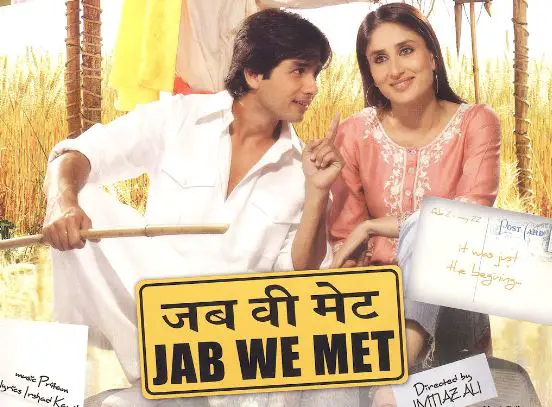 ...
One of ''s most memorable directorial ventures, the story starts with the heartbroken Tycoon Aditya happening to meet the bubbly, fun-loving Geet. They have a hell of a time, from a missing a train twice to escaping a police raid. Geet helps Aditya overcome his heartbreak throughout the journey and makes him realize his self-worth. Later on, Geet is jilted by her boyfriend, Anshuman, Aditya finds her and wins her love.
2) ' Fashion Click to look into! >> Read More... ' (2008)
...
' Madhur Bhandarkar Madhur Bhandarkar is an Indian film director, writ >> Read More... 's critique on the grim and gory fashion world, through the characters of Meghna Mathur ( Priyanka Chopra Born on 18 July 1982, Priyanka Chopra is an establ >> Read More... ), Shonali Gujral () and Janet Sequeira ( Mugdha Godse Mugdha Godse is an Indian model comes to an actres >> Read More... ) is as iconic till now as it was when it released. Meghna Mathur is a naïve girl from a small city, but she is confident enough of making it to the top, and she does. The film takes a turn when Meghna reaches the top and overthrows her competitor Shonali.
3) Jaane Tu Ya Jaane Na (2008)
...
The friendship of two Besties, Jai and Aditi are put to the test when their college gets over, and they face the real world. Each comforts the other during the time of a calamity, but soon things change as new people arrive in their life and the dynamics of their friendship change. The film depicts the survival of Jai and Aditi's friendship, and eventually them falling in love.
4) ' Aisha Click to look into! >> Read More... ' (2010)
...
For every shopaholic who dreams of being a socialite with a cause, this is THE movie. The film portrays the life of an upper-class daddy's girl Aisha ( Sonam Kapoor Sonam Kapoor, Daughter of Anil Kapoor and model Su >> Read More... ) who indulges in match-making of the innocent small-town friend Shefali ( Amrita Puri Amrita Puri was born on August 20th 1983 in Mumbai >> Read More... ). The film showcases the spontaneity of Love. The film is based on 'Jane Austen's novel ' Emma Click to look into! >> Read More... '.
...
5) Band Baaja Baaraat Click to look into! >> Read More... (2010)
...
The film shows the ambitious Shruti Kakkar ( Anushka Sharma Born in an army family to Col. Ajay Kumar and Ashi >> Read More... ) and street smart Bittoo Sharma ( Ranveer Singh Ranveer Singh Bhavnani is an Indian movie actor wh >> Read More... ) forming a team to become the best Wedding Planner in India. But their business is hit when their partnership breaks off due to Bittoo's resentment of Shruti's feelings for him. The duo reluctantly forms a team again when they both are called to plan the marriage of the daughter of a tycoon and face each other. Later, they end up marrying each other.
6) ' Queen Click to look into! >> Read More... ' (2013)
...
This film is not only a chick flick but also has a feminist narrative. The film established Kangana Ranaut's position as successful as her contemporaries in Hindi cinema. She plays the role of Rani, a shy and naive girl who is set to marry Vijay (Raj Kumar Yadav) but her world tumbles down when Vijay breaks off the marriage just a day before, justifying the cause to be Rani's middle class mentality. Surprisingly, Rani gets up and decides to go to her honeymoon trip alone. Rani meets different people throughout her travel who become her lifelong friends, and she ends up finding her confidence and voice.
7) ' Khoobsurat Click to look into! >> Read More... ' (2014)
The film is loosely based on the 1980 ' Rekha Rekha is probably among the most renowned and well >> Read More... ' starrer film of the same name. Sonam Kapoor (Mili) is a happy go lucky physiotherapist who is called for attending to the King who is left on a wheelchair after an accident. Mili's love story starts when she meets the Prince Vikram Singh Rathore (Fawad Khan), and he is a complete opposite of who she is. She still falls in love with him owing to his charming personality and charisma. The film resembles a fairy tale with a modern day twist.
8) ' Piku Click to look into! >> Read More... ' (2015)
With the change of time the narrative of chick flicks are changing for good and are concentrating on the dilemma of their female characters. Piku is such film. Piku played by Deepika Padukone Deepika Padukone is an Indian actress and model. S >> Read More... is a strong-willed, independent girl who is having a problem taking care of her stubborn father who is suffering from constipation and an irritable bowel syndrome. Equally frustrated by her demanding career, she takes on a road trip in accordance with her father's wish to visit their home-town Kolkata. The film shows the father-daughter bond.
9) ' Pink Pink is an American Songwriter, Singer, and Actres >> Read More... ' (2016)
The film is a courtroom drama, different from the prevalent chick flicks. It raises the issue of sexual harassment and the notion of modern and independent women 'asking for it' if they roam around with boys. Taapsee Pannu Taapsee Pannu is an actress and model of Indian or >> Read More... and delivered memorable characters. The film was critically acclaimed and was declared successful in box office. It takes a strong stand against sexual violence against women. The film is inspiring and voices for bringing a change in the society and stigmatizing modern working women.
10) Dear Zindagi Click to look into! >> Read More... (2016)
The recently released movie starring Alia Bhatt Alia Bhatt is a trendsetting actress from Mumbai, >> Read More... and Shah Rukh Khan Shah Rukh Khan or also known as SRK is a prominent >> Read More... in lead roles revolves around Kaira, a promising cinematographer whose life takes a downhill when her boyfriend breaks up with her. Kaira faces a lot of issues from then and suffers from insomnia. She ends up living with her parents and meets Jahangir Khan Jahangir Khan is an Indian actor. Though he has wo >> Read More... , her psychologist who treats her for insomnia. Kaira ends up falling in love with life, embracing it and countering her commitment phobia.