When it comes to grace and elegance, Madhuri Dixit Madhuri Dixit is not just known as the also a smil >> Read More... is one lady who is always there on our mind. She has ruled Bollywood in the 80s with her charisma, personality and of course, her dancing skills. And the funny part is that she is doing it in the 21st century as well and hasn't aged ever since we remember her. Madhuri Dixit has killed it with her style statement every time we have seen her.
Here are top 10 looks we adore on the actress.
#1 The 'Ek Do Teen' Look
...
This is the 'look' that defines Madhuri Dixit, she being in a timeless lehenga choli. The actress delivered what is considered the best in the song, and we love how she rocked the lehenga choli back in those days. The lehenga choli look is still not a passé and one of the most loved looks even now.
#2 The 'Dola' Look
...
Madhuri stole the show in the ' Devdas Click to look into! >> Read More... ' song 'Dola Re Dola,' and we could not stop staring at her in awe. The way she wore her red bordered cream sari in the typical Bengali way totally stunned us. The jewelry complemented the look, and it soon became a trend among women.
...
#3 Sheer Kurtis
The sheer kurta is still so desirable among women, and we are indebted to Madhuri! She set this trend years ago. The look was seen in " Dil To Pagal Hai Click to look into! >> Read More... ", and we went gaga over the girl.
...
#4 The Ritu Kumar Ritu Kumar is a prominent designer from India and >> Read More... Sari
...
Madhuri Dixit looked so elegant in this Ritu Kumar number! We love the way she carries the fuchsia silk sari with floral embroidery on it. She kept it bare at the neck, deciding to go only with a bangle and earrings. We adore how her hairstyle perfectly completes the look.
#5 The Modern Woman
...
Who said Madhuri Dixit was all about traditional and Indian outfits? If that is your thought, please have a look at her looking like a dream in this black Bibhu Mohapatra Bibhu Mohapatra is a fashion-cum-costume-designer >> Read More... number. The silver statement necklace and straight hair enhance the look making her sizzling hot.
...
#6 Aaja Nachle Click to look into! >> Read More... Woman
Honestly, I was stunned when I saw her donning this look in the title song of the movie "Aaja Nachle". The blue and black combination with all those lights and her moves- how graceful could she be? We totally adore the look on her.
#7 The Love For Sari
Madhuri Dixit and Sari go hand in hand, and there's no doubt she looks her very best in it. Take for example this one where she chose an all-white ensemble. The work on it was simply stunning and brought out the best in her.
#8 Killing It In Formals
This was one of her rare looks when she decided to wear formals and won. Pulling it with her innate elegance, she looked amazing in that red blazer combined with black trousers, pumps and a white top. Fabulous, isn't it?
#9 Oh Look It's The Sari Again!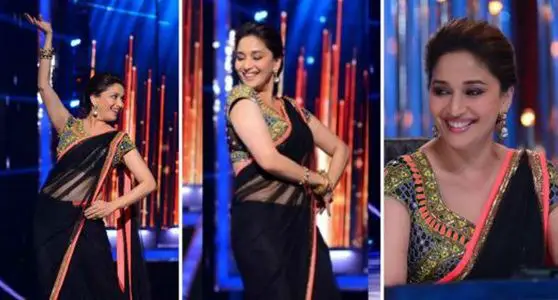 This sari is a number by Arpita Mehta that she wore on Jhalak Dikhhla Jaa stage and man, we can never get over with how beautiful she looks in saris! A black trousseau sari with neon border, paired with a mirror-work blouse did nothing but justice to this elegant lady. She went minimal with the accessories, and it only highlighted how beautiful she looked in black and neon.
#10 The Purple Anarkali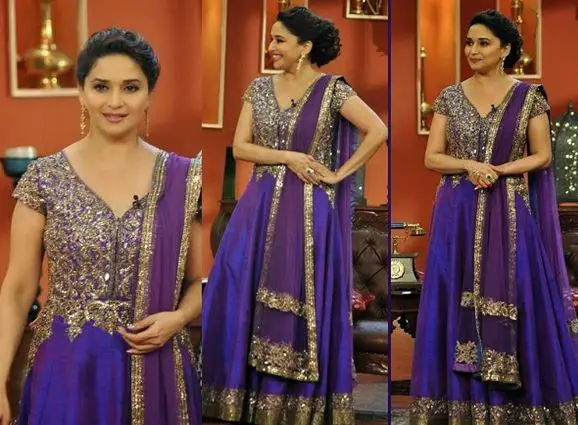 I love this one the most; a purple Anarkali suit by . Dixit was spotted wearing the dress at " Comedy Nights With Kapil Comedy Nights with Kapil or CNWK for short, is a c >> Read More... ". It is a long suit with silver embroidery on the upper torso, and we can do nothing but gaze at her as we gaze at the stars (okay, lame comparison)!