Having been launched way back in 2001 98.3 FM is growing with a strong commitment day by day. It connects with the audiences in an encouraging manner and it is nice to listen to the RJs hosting the shows. Sometimes the audiences perceive the jockeys as their family member or a close buddy. Such is their appeal. Now let's see some of the lovely RJs (who are infact the soul of their channel) of this "hot" channel.
Rj Ajai Fortunate are those who achieve their goal of beco >> Read More...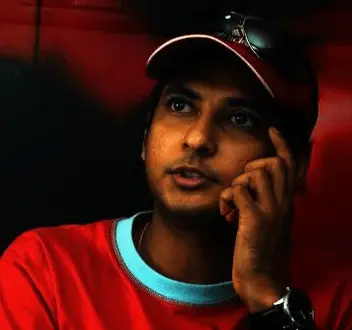 ...
R J Ajai's Rjing style is simply amazing and he has the "kolaveri" tinge to it. He has a loud voice but that doesn't hinder the reach that he enjoys. He hosts the Marina Melodies in this channel. Do you want to enjoy your breakfast? Then just listen to Marina Melodies which is a melodious treat filled with celebrity interviews. The show has dedicated itself to melody music and the hosting of Ajai adds verve to it. R J Ajai has been associated with Mirchi for over a decade and is reputed for erasing our morning blues with the hot happenings.
RJ Deva Bio coming soon... >> Read More...
...
This R J is indeed a name to reckon with in Radio Mirchi. She has been in the RJing act for over a decade and has equally shed tears and laughed with the people of Chennai. The main highlight of her is that she empathizes with the audiences, thereby gaining their fondness. She has also managed to get an award for her jockeying. She hosts a show named Devaragam that has engrossing segments including Bakthi Neram by Revathi Shankaran and astrological news by Kaliyoor Narayanan. Finally, Deva will end the show with reading the prayer wish of the audiences. Come, lift your spirits with this devotional show and start a perfect day.
...
...
A self-confessed dancer lover, RJ Shivshankari has a lovely voice and she also converses in a very amiable manner. She presents Rewind Ragam which offers a fast rewind of the golden era of 90s. Shivshankari discusses about the hot stars of that period. Well, not only the stars, but also the hot happenings of the 90s. She also presents Kadhala Kadhala Kadhala Kadhala is an India soap opera in the Tami >> Read More... by taking up the role of Dr. Love, and curing the love ailment of the listeners. This pretty RJ has a fan following in the different age groups.
RJ Nandini She belongs to Thiruvalla, Kerala, India. She is a >> Read More...
...
...
R J Nandini is always game for new happenings in life and also fun. And perhaps that's the reason she took up RJing. She has all the elements of a good RJ, and the primary one being her bubbly attitude earned her the liking of the audiences. She hosts a show named Goli Soda Click to look into! >> Read More... in 98.3 FM. Goli Soda, which discusses the city's happenings and also movie news, is indeed a refreshing show.
Mirchi Sha Saravanan Meenatchi which is still air on air on V >> Read More...
...
Well, here is another star oozing with energy in Radio Mirchi. R J Sha along with R J Vijay entertains you for a continuous period of 4 hours with their program Rettai Vaal. Anything happening under the sun….they will discuss it….you will surely have a fun ride with these sprightly "rettaivaals".
Mirchi Senthil Mirchi Senthil, born as Senthil Kumar on the 18th >> Read More...
Well, we all have the habit of listening to stories before going to bed when we were young. And now, R J Senthil gives us bedtime stories in  Radio Mirchi. He discusses stories from all over the world with ease. He presents them in a mild manner so that we are engrossed to it. The tales are also profound. One of his shows, Love Talkies, has him presenting different stories alongside playing Kollywood songs. The surprising part is that this charming RJ is reserved in real life, as he himself confesses. R J Senthil also tried his luck in the small screen and big screen, and acted in the successful Vijay TV serial Saravanan Meenatchi.
' Shiva Click to look into! >> Read More... '
Well, Sunday is our relaxing day and we want to chill our mind after long week's work. And Shiva Shiva on Radio Mirchi will only give the required "chill" factor. Presented by RJ Shiva, it takes you around the world. Shiva, with his sarcastic approach, has gained the attention of the listeners. The highlight of his jockeying is that he does comedy by maintaining his voice in a serious tone. But again, you tend to laugh!
Rj Vijay RJ Vijay is an Indian radio jockey, popular amongs >> Read More...
And yet another Sunday attracter….it's not other than R J Vijay who anchors the show Route Thala in the afternoon. A simple bus ride….and this talented RJ helps you going through the happening routes in Chennai…You will just love the bus ride, thanks to R J Vijay's compering. And not to forget Rettai Vaal that he co-anchors with R J Sha.
RJ Vaidhi RJ Vaidhi works in 98.3 situated in Chennai. He is >> Read More...
Mirchi Bazaar and Mirchi Putham Puthu Paatu  MP3 is a couple of shows that is presented by this exuberant jockey. While in Mirchi Bazaar he keeps you engrossed with the shopping locations, in MP3 Putham Puthu Paatu he co-hosts with R J Nandini about various aspects of cinema, be it Hollywood or our native Kollywood. Putham Puthu Paatu MP3 show is basically about the happening current numbers that are making waves now.
' Suchitra Suchitra is a renowned singer, who has sung popula >> Read More... '
Radio Mirchi's jockey's list would be incomplete without the reference of R J Suchi. It is a well-known fact that Suchi has a special voice. She is an outstanding jockey and has also did her best in singing and dubbing. In fact, listeners were mad over her stunning voice. Good Morning Chennai in Radio Mirchi is just one of the jewels in her crown. Now she is into playback singing. Well, Chennai people definitely miss her magnetic voice in FM. What say?