Rashmika Mandanna Rashmika became born in Virajpet, a metropolis in >> Read More... , also known as Crushmika Mandanna, has left a permanent mark in the realm of South Cinema and is now making her famous in Bollywood. From successful movies to a colossal blockbuster, it is only appropriate that we duly honour her illustrious body of work, which encompasses a plethora of captivating films.
1. Pushpa: The Rise
Pushpa: The Rise is the latest film by Allu Arjun The actor was born to producer Allu Arvind and Nir >> Read More... and Rashmika Mandanna. This flick shows Rashmika as the female lead and has emerged as a tremendous triumph at the box office. The storyline traces the journey and evolution of an underpaid worker involved in the illicit red sandalwood trade. The monetary success of this Rashmika Mandanna motion picture in India is colossal. It has garnered a multitude of accolades and prestigious recognition.
2. Geeta Govindam
The movie Geetha Govindam Click to look into! >> Read More... achieved tremendous success at the Tollywood box office, winning over audiences in 2018. Brimming with sheer brilliance, Rashmika Mandanna showcased her acting prowess in this remarkable film. She shared the screen with Vijay Devarakonda, an emerging romantic star in the Tollywood film industry. Geetha Govindam gracefully unveils the captivating tale of Vijay Govinda, a college lecturer endeavouring to capture the heart of the strong and independent Geetha. Witness how Vijay skillfully persuades Geetha to embark on the journey of matrimony with him.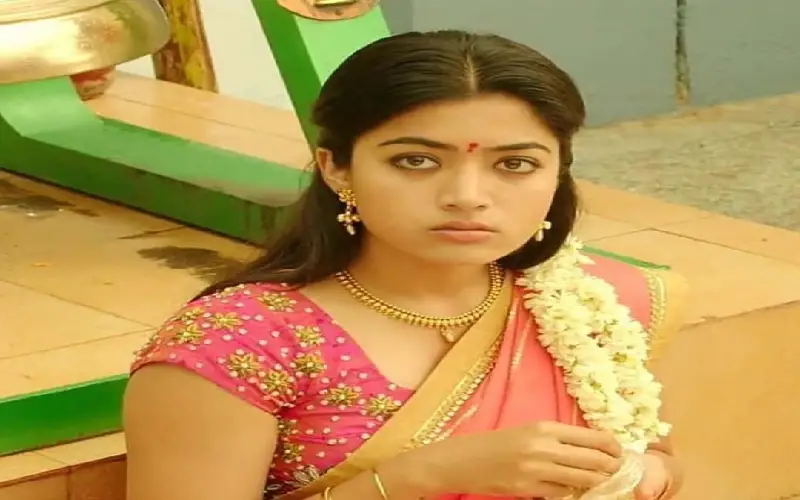 Behold the prodigious collaboration of Rashmika and Vijay Devarkonda in their second cinematic endeavour titled 'Dear Comrade'. It unravels the tale of an ardent leader within the student union, who finds themselves captivated by the enchanting Lily, a rising cricketer at the state level. Such a masterpiece has propelled Rahmika Mandanna to unprecedented fame, earning admiration across the entire nation.
...
4. Vaarisu
Rashmika Mandanna delivered a spellbound performance in this motion picture, captivating audiences with her mesmerising talent. The song gained immense popularity, owing to the perfect blend of Master Thalapathy Vijay's prowess and Rashmika's charm. Astonishingly, within the span of merely 21 days, the film emerged as a colossal success, collecting a staggering 280 crores. The Indian box office alone contributed 195 crores, while an additional 80 crores poured in from overseas.
...
5. Goodbye
It was genuinely heartwarming and emotional to see Rashmika Mandanna portray the character of Amitabh Bachchan's daughter in the movie "Goodbye". This poignant film generated a great deal of enthusiasm and expectation due to the inclusion of these highly regarded actors and its impressive ensemble cast. The way she expressed her feelings towards her mother, portrayed by Neena Gupta Neena Gupta is a very popular and well-known figur >> Read More... , was wonderfully depicted in this movie.
...
6. Chalo
The film Chalo stands out as a big shift in Rashmika's career. It serves as her introductory venture into the Telugu film realm and has emerged as a colossal hit in 2018. Notably, the film boasts an immensely talented ensemble consisting of Naga Shaurya, Vennela, Kishore, Achyuth Kumar, and Mime Gopi. This splendid production marks Rashmika's second foray into the Telugu industry.
...
Kirik Party, a Sandalwood movie, is helmed by Rishab Shetty Rishab Shetty is a Kannada film actor and director >> Read More... and commences with the introduction of Karna ( Rakshit Shetty Rakshit Shetty is a Kannada film actor and directo >> Read More... ), an engineering fresher who develops a deep affection for Saanvi (Mandanna), a senior student in his college. Nevertheless, an unfortunate incident alters his outlook on life, prompting him to transform his actions. Undoubtedly, Rashmika Mandanna excels in what can be deemed as one of her finest performances in this remarkable cinematic creation.
...
8. Bheeshma
Starring alongside Nithiin in the primary role and under the guidance of director Venky Kudumula Venky Kudumula is a very known director and is res >> Read More... , Bheeshma narrates the tale of an individual who excels in creating amusing memes and consciously chooses to enjoy a single life. However, his life takes a sudden turn when he encounters Chaitra, who happens to be employed at an organisation dedicated to organic farming. As his curiosity towards this field gradually grows, complications arise with the launch of a questionable new product by her company.
...
In the vast realm of the Tollywood industry, a splendid narrative unfolds, showcasing the journey of a valiant Army major. Marking its place as the third creation of Rashmika, this captivating film found its way onto the silver screens in the early days of January 2020. Stepping into the spotlight, the esteemed Mahesh Babu Born on 9 August 1975 in Chennai, Mahesh Ghattaman >> Read More... , alongside the talented Rashmika Mandanna, took on the roles of prominence in this cinematic gem. Its resounding impact reverberated throughout the Tollywood box office, with its earnings soaring to an impressive milestone of over 200 crores. Such an extraordinary accomplishment truly solidifies the movie's place among the chronicles of Tollywood's grand legacy.
10. Mission Majnu
In the film Mission Majnu, as the title suggests, Rashmika is portrayed as the beloved of a brave warrior, played by Siddharth Malhotra, who valiantly laid down his own existence for his adored Laila, embodied by Rashmika. This incredible masterpiece has garnered an astounding 60 crore rupees and can now be enjoyed on the popular streaming platform Netflix.