1. Baahubali: The Beginning (2015): ₹650 crores (US$97 million) 
A historical fiction, the Queen of Mahishmati adopts Shivudu as her son and when he learns the truth about his roots, Shivudu prepares himself to face it. S.S Rajamouli's creativity and the CGI used gave a new definition to Indian Cinema.
...
2. Kabali (2016): ₹350 crores (US$52 million)
Superstar Rajinikanth in a different avatar, raising his voice for the Tamilians in Malaysia working as laborers. Kabali gets an impression for a quarter of a century and later comes out to retaliate for their sufferings. It is one of the rarest films whose box office collection crossed ₹200 crores in the pre-bookings.
...
3.  Enthiran (2010): ₹289 crores (US$43 million)
...
Shankar's Enthiran starred Rajinikanth as Dr.Vasikaran who produces a robot programmed with the sensations of a Homo Sapiens, which is distinct from the other robots. Dilemmas occur when the robot Chitti gets infatuated towards Sana.
4. I (2015): ₹240 crores (US$36 million)
...
A successful model develops a hunch-back due to an injection that he is forced to take, which ruins his career. The plot revolves around seeking revenge from the people responsible for it.
5. Vishwaroopam (2013): ₹220 crore
...
Kamal Haasan Kamal Haasan is the most versatile actor that Indi >> Read More... as Viswanathan, a simple man who teaches Kathak is married to Nirupama ( Pooja Kumar Pooja Kumar, is a renowned American actress,who i >> Read More... ), who is pursuing her Ph.D. in the USA. Nirupama has an affair with her boss and she feels a need to annul their married state. However, her boss is linked with terrorists and her husband is more than just a dance teacher.
...
6. Dasavathaaram (2008): ₹200 crores (US$30 million)
...
A vector-virus (biological weapon) is developed by a bio-scientist, to use for mass destruction. The scientist faces tough challenges when an ex-CIA officer tries to misuse the weapon. The versatile Kamal Haasan plays ten different characters in the film, which does not usually happen in Indian cinemas and it provoked the audience to watch the movie.
7. Theri (2016): ₹156.23 crore (US$23 million)
The film features Vijay, and Samantha Ruth Prabhu. Upon losing his wife an ethical police officer protects his daughter from three different people. The box office collection of this movie was quite impressive in North America and UK.
8. Lingaa (2014): ₹154 crores (US$23 million)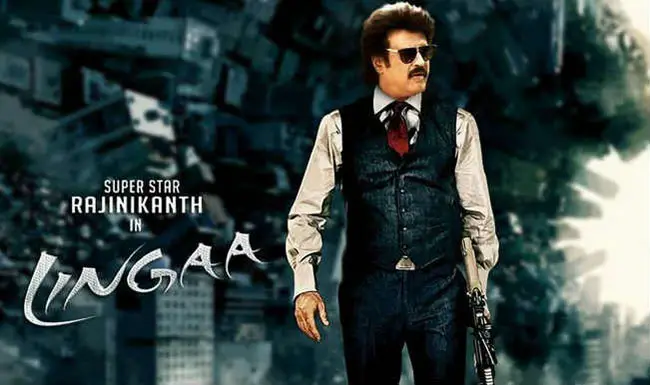 Lingaa, a petty thief learns about his grandfather's deeds and also his effort behind constructing a dam for the people effected by scarcity of water. Lingaa steps forward to protect the dam from the unscrupulous ministers. The film made the highest box office collection on its first day among the south Indian films.
9. Sivaji (2007): ₹148 crores (US$22 million)
A software engineer decides to invest his capital for the goodwill of the Indian citizens and he faces hindrances by dishonest politicians. With superstar Rajinikanth in the lead, the audience were inspired to watch the film multiple times. 
10. Veeram (2014): ₹130 crores (US$19 million)
A short-tempered man, Vinayagam and his brothers often get into trouble with the law. The brothers try to hook up Vinayagam with someone. The movie released on 24 screens in the United Kingdom and minted money world-wide during the first two weeks of its release.