'N S Krishnan' – Nagercoil Sudalaimuthu Krishnan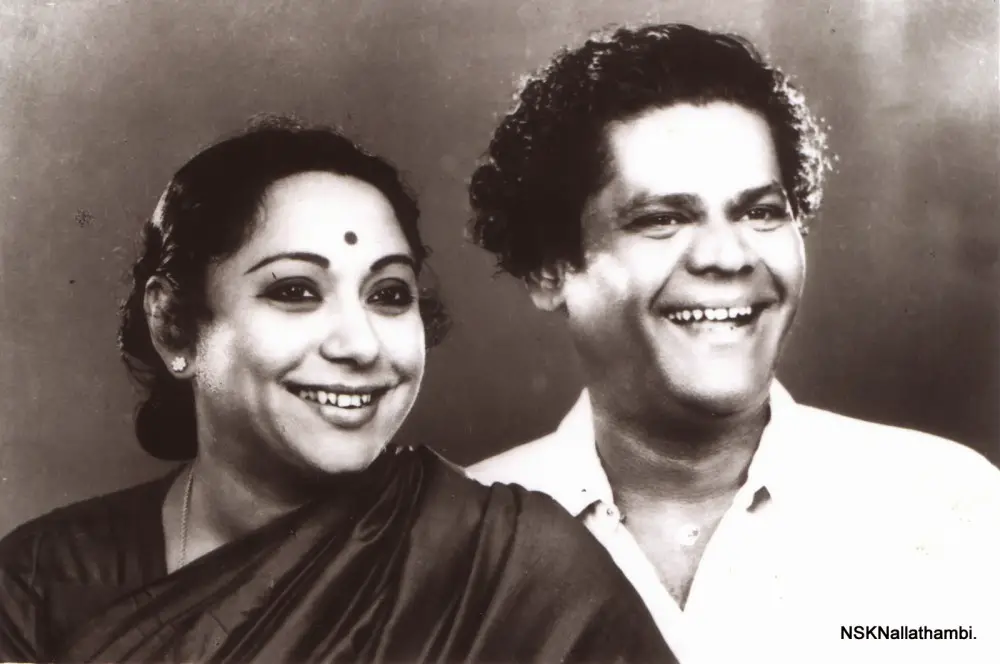 The Charlie Chaplin of India was born on 29 November 1908 at Oluginasery, Nagercoil.  NSK at first was a Villu Paatu artist and later got involved in Tamil films and emerged as one of the leading comedians ever with his unique style and talent.  Sathi Leelavathi was his debut movie.  When a journalist asked Kalaignar Karunanidhi about his non-political hero, he replied "Kalaivanar."  Bharathidasan titled him as "Nagaichuvai Arasu", "Puratchi Vikata Vendhan".  He aimed to restructure the society through entertainment and make it  utopia. He dreamed of a utopia and took upon himself the Herculean task of restructuring society, through entertainment.  In all- time hit "Sirippu" song he performs laughs of humans in various situations.
Senthil has worked hard and successfully grabbed the position as a comedian in Tamil cinema. Senthil was not one of those who got instant recognition. His debut film was in Malayalam titled "Itti Karai Pakki." He appeared in many Tamil films like "Poi satchi" "Pasi" "
Indru Poi Naalai Vaa
" and "Vaidehi Kaathirunthaal" before he got noticed. Goundamani was a drama artist, and he was humorous even in his interactions with the co-artists. One thing to be noted is that he came to movies very late and by then he was pretty old. But his dialogue delivery and timing is something he picked up from stage drama. His first prominent role came in the movie "16 vayathinile" where he played the sidekick for Rajinikanth. Goundamani – Senthil combination is a kalakkal hit. A. Veerappan made this pair and also penned their dialogues. Some extraordinary piece of comedies he did are "Bedromax lightee dhan venuma?" "vazhaipazha'' joke stirs our stomach due to laugh were from this duo.
(Puli kutti son of Poona kutti, who appears in gounder's dreams, only to spoil his ambition of gaining a promotion)
Gundu Rao was born in 1933 in Dharapuram. He migrated to Chennai in search of a career. The writer Vaali and Director Sridhar were his roommates. While working as a clerk in Indian Railways in 1958, producer Balaji spotted Nagesh and made him an actor in Manamulla Marudhaaram, but his debut role was in Makkala Rajya (1960) in Kannada. Nagesh's performance in
Server Sundaram
was the best of its kind. People also call him as Jerry Lewis of India. He created a record of starring in 58 films that released within 52 weeks. Facial expressions, body language, slapstick were his trademarks. He makes the audience to feel the excitement and to applaud out of their control. One cannot forget the scene where the tipsy Nagesh talks to his own shadow with a liquor bottle in hand saying "cheers solanum da mundam" and clicks his bottle with his shadow on the wall. The bottle breaks! "Sirithu Vaala Vendum" is his autobiography. An attention deserving song from his film "Neerkumizhi" has its philosophical lyrics as follows. "Aadi adangum vazhkaiyada, Aaradi nilame sonthamada." These lines and the title of his autobiography explains everything about the life of the comedy king of Tamil cinema.
Born as Gopishantha Mannargudi in Thanjavur district, she started acting on stage at the age of 12. The veteran actor S.S. Rajendran brought her to Chennai to perform in his theater group, which eventually helped her to get into the movie industry. Drama Director Thiruvengadam and composer Thiyagarajan renamed her as Manorama. In the film Maalayitta Mangai (1958) as a heroine, Manorama appeared for the first time on the silver screen. She sang a song for the first time in Ratha Thilagam (1963) and also sang a song composed by A.R.Rahman in May Madham cinema (1994). She acted in over 1500 films in her career spanning six decades. She holds the record of having performed with five chief ministers of Tamil Nadu and Andhra Pradesh.
Kavitha Ranjini, known by the stage name Urvashi has been in acting since she was ten years old. Her first appearance was in a Malayalam movie, Kathirmandapam (1979). At the age of 13, she became a heroine in Thodarum Uravu. Due to some problems, it was released in 1986. So, her first film that released was Munthanai Mudichu in 1983 making her debut movie.
Moorthy born in the year 1936 is multi-faceted. He is a Lawyer, actor, writer, serial director, and an astrologer with an honorary doctorate on the subject! "Maalai Sooda Vaa" was
Kamal Haasan
's first film as the hero, in which Moorthy penned the story and dialogue. He made his debut in the movie 'Vennira Aadai' in 1965, and his career continues over five decades.
Vivekananthan while being a junior assistant in Madras Secretariat, he was the entertainer in the Madras Humour Club International. Salaman Papaya was his Tamil pandit in college days. He is the one who introduced Vivek to Balachandar and eventually Vivek started his career in filmography. Solli Adipen was the first film for his hero role but was not released. In 1987 he gave his first appearance in manathil uruthi vendum. From 1992, Vivek emerged as a comedian who makes people think about solutions to many social issues.
''
Vadivelu came from a lower middle class which made him seek the help of actor Rajkiran. Then Rajkiran made him an office boy in his studio which helped Vadivelu to draw the attention of many famous personalities like Kamal Haasan. Subsequently, he offered him the role of a comedian in Devar Magan, etc. Gradually Vadivelu's acting skills took him to stardom and now he became the one who none of the Tamilian could even forget. He is also the one and only man to take the challenge of acting in the historical genre of comedy in the film "Imsai Arasan – 23 Pulikesi".
Santhanam was born in Polichalur on 21st January 1980. Formerly he was a part of the small screen, appeared in serials like Chinna Papa Periya Papa, Sagala vs. Ragala. In a serial titled
Lollu Sabha
in Vijay TV, he enacted the spoofs of Tamil films and became a popular personality. With this popularity, he entered the big screen in 2004 in the cinema Manmadhan. Mostly he would play a role as a hero's friend in the movie. His conversational comedies would be enjoyable.
Born on 27 August 1973, now become one of the leading comedians.  Though he was acting from 1999, he became famous from the film Vennila Kabadikuzhu (2001) in which he got a chance to prove his timing comedy skills.  The comedy from this movie gave him the nick- name 'parotta soori'.