1. ' Theri Click to look into! >> Read More... ': -
Theri is a Tamil film directed by Atlee Kumar Atlee Kumar is a movie director and screenwriter f >> Read More... , and it's the director's second movie. The movie was a classic hit for its storyline and the exceptional acting of ' Vijay As they always say, "it runs in the blood", the sa >> Read More... ', Samantha Ruth Prabhu Born on April 28 1987 Samantha is a model and actr >> Read More... , and . The movie is a perfect blend of Action/Comedy.
...
2. Sivaji: -
Sivaji " The Boss Click to look into! >> Read More... " is the perfect cinema a fan of ' Rajinikanth 'Rajinikanth' is the name that is known in >> Read More... ' would love. The film had a budget of 500 million and its director was ' S Shankar S Shankar is one among the populous directors who >> Read More... '. Rajinikanth, to curb the corruption done by the Chief Minister, puts his life on the stake and acts like he is dead. He shaves his hair off and returns as M.G.R (M.G.Ramachandran), and he chooses the illegal way of beating up the ministers under the Chief Minister and emerges victorious.
...
3. Vettaiyaadu Vilaiyaadu: -
...
Gautham Menon Gautham Vasudev Menon is known for his directional >> Read More... directed the film, and Kamal Haasan Kamal Haasan is the most versatile actor that Indi >> Read More... is the Hero and Jyothika Saravanan Jyothika is a highly famous Indian cinema artist. >> Read More... is the co-actress. The stunts were done by Stun Siva Stunt Siva is an Indian fight master or action cho >> Read More... and the movie's budget was 24 crores. It's a Thriller movie.
4. ' Arrambam Click to look into! >> Read More... ': -
...
Arrambam is an action movie starring Ajith Kumar Ajith Kumar is a prominent Tamil film actor, model >> Read More... , 'Nayantara', Rana Daggubati Rana Daggubati is a famous Indian actor. He was bo >> Read More... , Taapsee Pannu Taapsee Pannu is an actress and model of Indian or >> Read More... , and ' Arya Click to look into! >> Read More... '. The film is about how Ajith takes revenge on the police department for approving a non-bulletproof vest in the name of a bulletproof vest for the money. Rana and Ajith work for the Central Intelligence Click to look into! >> Read More... who fight the terrorists. Rana dies as the vest was not a bulletproof vest and this gets him furious, and he takes his revenge on the concerned person for approving it for the sake of money.
5. Aaranya Kaandam Click to look into! >> Read More... : -
...
Aaranya Kaandam is more of a Thriller/Mystery movie with its addition of action. The film deals with how a man inside a gang plans to secretly kill the leader in order to take his place.
...
6. "Singam 2": -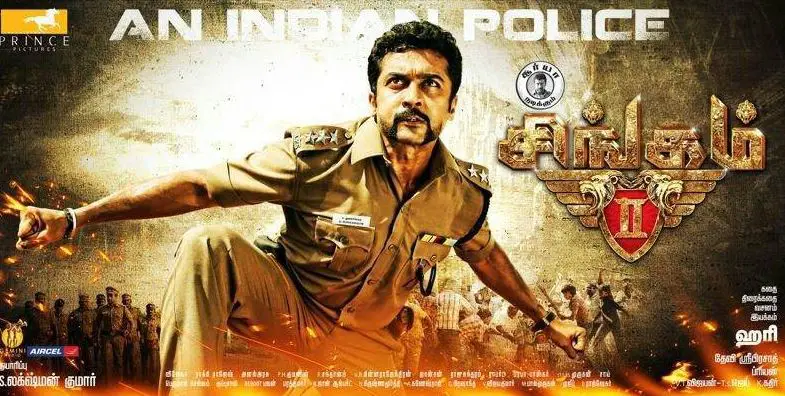 ...
Singam 2 is an action film that everybody would agree with, a cinema about a responsible and bold policemen who fights against all odds to keep his city safe and happy. He curbs corruption and all other evil practices that cause violence to the city. Anushka Shetty Anushka Shetty is the popular South Indian star wh >> Read More... , Hansika Motwani Hansika Motwani is a young and beautiful actress, >> Read More... , and Suriya Sivakumar Suriya Sivakumar is undoubtedly the biggest star i >> Read More... are the actors of the cinema and the stunt master is Anal Arasu Anal Arasu is a heat amidst the stunt coordinators >> Read More... .
7. 'Mudhalvan': -
Mudhalvan is that cinema which will remain in every Tamilian's heart for its unique story. What would happen if a state had a Chief Minister for one day? This film motivated the hearts of every youth who watched the movie to enter politics and change the fate of their state. The actors were Arjun Sarja Arjun Sarja was born as Srinivasa Sarja. He is an >> Read More... , Manisha Koirala Manisha Koirala, is a Bollywood actress of Nepales >> Read More... , and ' Raghuvaran Raghuvaran was an Indian actor and has given two a >> Read More... ' and the stunt master was Peter Hein A Chennai boy born in Karaikal to the immigrants o >> Read More... .
8. ' Kodi Click to look into! >> Read More... ': -
A movie that is a mix of action and comedy. It's a revenge based film, and ' Dhanush This lanky superstar Dhanush is an actor from Tami >> Read More... ' has done a double action. The brothers are unique in their ways with one being rebellious and the other being poise. Trisha Krishnan Born on 4th May, 1983 in Palakkad by Krishnan and >> Read More... is the villain in the movie. She and Dhanush are of two different political parties who are secretly in love. Trisha, to win the elections, kills him and erases all the evidence. His brother then figures out the malicious act and catches her red-handed. Durai Senthil Kumar was the director and Stun Siva was the stunt master in the movie.
9. 'Thalapathy': -
Thalapathy is a movie directed by Mani Ratnam Mani Ratnam is an Indian filmmaker deeply rooted t >> Read More... . A film that everybody loves for the purity of friendship witnessed in the story between ' Mammootty Muhammed Kutty Ismail Paniparambil is the original >> Read More... ' and Rajinikanth. Rajinikanth is an Orphan and Mammootty befriends him from the time they were young. Their friendship amidst all odds still stays the same.
10. ' Enthiran Click to look into! >> Read More... ': -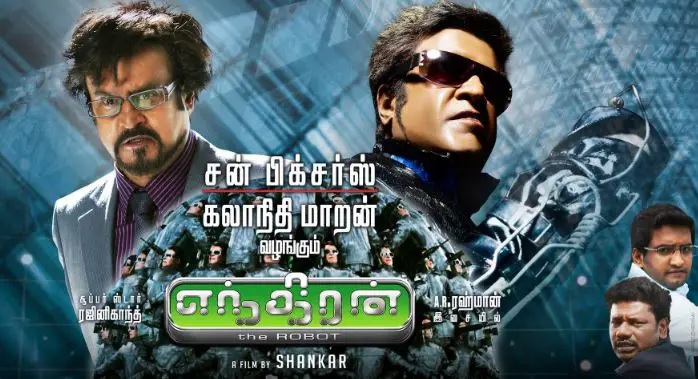 Enthiran is a movie based on science fiction. It's a kind of film Tamil cinema has never seen. Shankar is the director of the movie who has taken his direction to another level. The storyline and the classic mix of science and Romance makes it a must-watch. The budget of the film was 1.32 Billion INR, and the stunt master was Peter Hein.