1. ' M G Ramachandran M G Ramachandran was a demigod for his fans. And h >> Read More... ' and Janaki Ramachandran V.N.Janaki or more noteworthily known as Janaki Ra >> Read More... : -
The couple got married on 1967, and after the death of M.G Ramachandran in 1987, she has been living alone. They acted together in multiple films like Marudhanaattu Ilavarasi, ' Naam Story coming soon... >> Read More... ', Raja Mukthi and Mohini. Janaki was a political figure who was born in Kerala. She died due to cardiac arrest in 1988.
...
2. Saranya Ponvannan Saranya Ponvannan is one of the best actresses in >> Read More... and ' Ponvannan Ponvannan is a popular and leading Tamil actor who >> Read More... ': -
We all know the Saranya as the best mother role awardee in the past decades. She got married to Ponvannan her co-actor in 1965. Ponvannan, on the other hand, has been acting either a villain role or a side role. They have acted together in movies like 'Pulimaan', 'Pasumpon', and 'Karuththamma'.
...
3. ' Sneha Suhasini R. Naidu, more popularly known by her scr >> Read More... ' and ' Prasanna Prasanna is a South Indian actor who was born on 2 >> Read More... ': -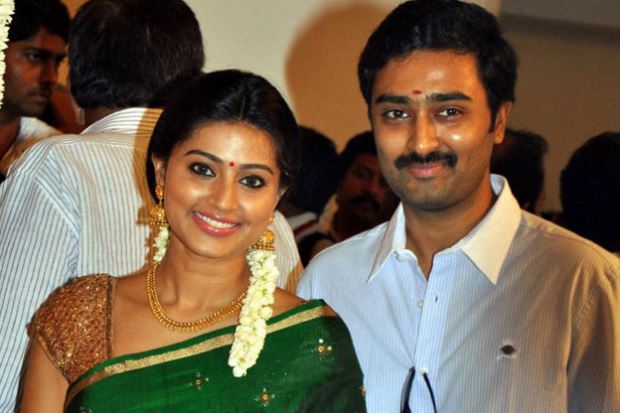 ...
Sneha and Prasanna are the couple ever body loves. They had been in a relationship for a long time and got married a few years ago and Prasanna attended all the modeling shows and movies that Sneha featured in. The couple has acted together in films like 'Goa', Achchamundu Achcamundu, 'Biryani', and JK Enum Nanbanin Vaazhkai. They got married in 2012 and have a son together.
4. ' K Bhagyaraj K Bhagyaraj is the name well known to all the film >> Read More... ' and Poornima Bhagyaraj Poornima Bhagyaraj was born in Tamil Nadu, India. >> Read More... : -
...
Bhagyaraj is a film Director, Actor, Producer and Writer. Poornima was an actress in many regional languages of South India. The both acted together in movies like Munthanai Mudichu, and Darling, Darling Darling Click to look into! >> Read More... for which he was the Producer of the film. They got married in 1984.
5. Suriya Sivakumar Suriya Sivakumar is undoubtedly the biggest star i >> Read More... and Jyothika Saravanan Jyothika is a highly famous Indian cinema artist. >> Read More...
...
Love is surely blind. Suriya and Jyothikas marriage was a sudden shock and happiness to the public. The marriage seemed too much for the fans as it was their greatest moment of Joy. The couple met during the shoot of Poovellam Kettuppar; Jyothika was from Mumbai who learned the Tamil language. Suriya fell in love with her for her humanity and kindness. The couple then met again and became close, and the love had blossomed between them with time. They announced their marriage and got married in 2006. They have starred together in many films like Kaakha Kaakha, Poovellam Kettuppar, Sillunu Oru Kaadhal, 'Maayavi', 'Perazhagan', and Uyirile Kalanthathu.
...
6. Radhika Sarathkumar Radhika is a famous actress in multiple of languag >> Read More... and 'R. Sarathkumar': -
...
Radhika married Sharath Kumar Bio coming soon... >> Read More... as her third husband, and he married her as his second wife. Though it makes people want to judge the couple has seemingly found the best in each other. They got married in 2001 and are still together with their children. The husband and wife had acted in several movies like Namma Annachi, Chennaiyil Oru Naal, and Naane Raja Naane Mandiri.
7. Ajith Kumar Ajith Kumar is a prominent Tamil film actor, model >> Read More... and Shalini Ajith Kumar Shalini is a versatile actress, who is very popula >> Read More... : -
It's a tough task to maintain a relationship when you are in the same industry and especially from the constant glare of Media. Ajith and Shalini were in love for many years, and they kept their relationship hidden for a while. They fell in love on the sets of 'Amarkalam' where Ajith took care of Shalini after accidentally cutting her finger. She fell for him, and they got married in 2000. They acted together in the film Amarkalam and had left the industry after marrying Ajith. They have a son and a daughter.
8. ' Krish Krish is an actor and a singer in the Indian film >> Read More... ' and Sangeetha Krish When contemplating a serial TV star, one cannot po >> Read More... : -
Krish and Sangeetha got married in 2009. They were in love for many years. They met in a friend's wedding and started liking each other after attending it at Tirupathi.
9. ' Vandana Srikanth Vandana Srikanth is an Indian costume designer. Sh >> Read More... ' and ' Srikanth Srikanth is an Indian cinema actor. He has mainly >> Read More... ': -
Vandhana and Srikanth got married in 2007, and they have acted together in the movie ' Nambiar Nambiyaar is an upcoming Tamil film in the science >> Read More... '. She played a small role as a Fashion Designer in the movie.
10. ' Khushboo Story coming soon... >> Read More... ' and Sundar. C: -
Khusboo is an actress, and Sundar. C is a producer and director. They got married in the year 2000. Khusbhoo worked with Sundar. C for a film and became close to him, and they fell in love. The couple then decided to announce their wedding.