Romance is one of the important ingredients in a recipe called movie. It is like the taste maker in Maggie. The romance on the screen depends on the performance of the two actors in the movie and their compatibility. There are numerous pairs in the Kannada Industry who have stamped an impression in the audiences' minds. This impression is never erasable. Here is a list of top 10 most romantic pairs on screen in Sandalwood, who created a great impression on the audience.
1. Dr.Rajkumar-'Jayaprada'
This couple is considered to be the evergreen pair in the Kannada Film Industry. They have acted in many films which include "Shabdaavedi", "Kavirathna Kalidasa" and "Huli Haalina Mevu". These movies have been considered as mile stones in Sandalwood. These two have won many hearts by their amazing performances.
...
2. ' Vishnuvardhan Vishnuvardhan was born in Mysore. He attended high >> Read More... '-''
This is the most celebrated pair in Sandalwood. This duo has been remembered for their realistic and heart-rendering performance in their movies. They have given evergreen films like Bandana and "Mathad Mathad Mallige".
...
3. Anant Nag Anant Nagarakatte was born in the year 1948 on 4th >> Read More... - Lakshmi Narayan Lakshmi or Lakshmi Narayan is an Indian film actre >> Read More...
...
This couple was very famous in the 1970s and 1980s. They have delivered outstanding performances in their movies and both have been successful in their careers. Their most famous movies include "Naa Ninna Bidalare" and "Benkiya Bale".
4. ' Ravichandran Ravichandran was a veteran Tamil film, theater, an >> Read More... '- Juhi Chawla Juhi Chawla is a renowned Indian actress and produ >> Read More...
...
Though Ravichandran and the Bollywood actress Juhi have done only a handful of films together; they share a rare bond which attracts the audience. The very famous movie of this duo is "" which is a movie meant for love and lovers.
...
5. ' Ambareesh The South has been famous for throwing up actor po >> Read More... '-' Sumalatha She was born on 27 August 1963 in the city of Chen >> Read More... '
The real life couple have also starred on the big screen. In fact, they both fell in love at the time of shooting of the movie " Aahuti Story soon >> Read More... ". Their performances have been appreciated by many audiences and critics too.
...
6. ' Sudeep Sanjeev Sudeep, known by the short name, Sudeep is >> Read More... '-' Ramya Bio coming soon... >> Read More... '
...
Though Sudeep fought with Ramya at the time of shooting of the film "Just Math Mathalli", their chemistry on screen has always been a hit among all the audiences.
7. Darshan Thoogudeep-'Rakshitha'
Darshan and Rakshitha have done many movies, and all their songs are power packed and fast. Their chemistry on screen is appreciable, and their songs are famous for dancing.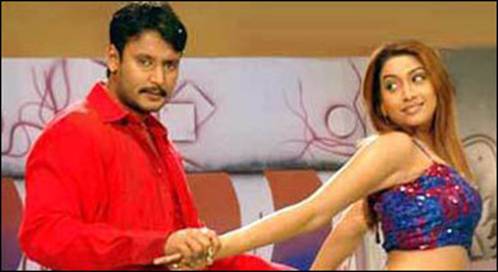 8. Puneeth Rajkumar-Bhavana Menon
This pair is very special in Sandalwood. They are considered to be a lucky pair and have done " Jackie Click to look into! >> Read More... " and " Yaare Koogadali Click to look into! >> Read More... ". The audience are waiting for more films by this lucky pair.
9. Aindrita Ray-'Diganth'
Rumoured real life pair has shown amazing chemistry on screen too. They have acted together in the movies "Manasaare" and " Paarijatha Paarijatha is aired on Suvarna TV from Monday to F >> Read More... ". Their off-screen romance might have helped in the on-screen chemistry.
10. Shiva Rajkumar-Parvathi Menon
Though they have acted together in only one movie, "Andar Bahar", they have performed very well especially in romantic and emotional scenes. They have attracted a lot of audience through this movie.