Do you know that Bhookailasa, a 1958 Kannada movie was the first film to cross the ₹1 crore mark? The list can go on, and many films will pop up, crossing marks of ₹100 crores, ₹150 crores, or ₹500 crores for the first time. But what are the top 10 highest-grossing Kannada movies so far? You have to keep scrolling for that. Kannada Cinema, also called KFI, Sandalwood, or Chandanavana, is dedicated to producing Kannada language movies widely spoken in Karnataka. Nowadays, entertainment has crossed every boundary and grossed amazingly on a domestic and international scale. So let's check out who created how much hype and did justice as per earnings and rating. 
1. KGF 2
With more than ₹1200 crore in the gross collection, it surely does not need any introduction. The movie is a sequel to the movie KGF 1, which was also a blockbuster hit. The craze of KGF 2 and the praise it received is still unbeatable so far. The movie was released on 14 April 2022 and directed by Prashanth Neel Prashanth Neel is an Indian filmmaker who works in >> Read More... . It has received an 8.5 IMDb rating, casting artists like Yash, Srindhi Shetty, Anant Nag Anant Nagarakatte was born in the year 1948 on 4th >> Read More... , Ramachandra Raju Ramachandra Raju is a producer cum actor in the Ka >> Read More... , Sanjay Dutt July 29, 1959, was the day when the two legends of >> Read More... , Raveena Tandon Raveena Tandon is an Indian film actress who is kn >> Read More... , etc.
...
2. KGF 1
Released in 2018, also directed by Prashanth Neel, is an unforgettable movie. The movie earned ₹25 crores on its first day of release. The comprehensive collection of KGF 1 is ₹250 crore. The movie is packed with action, crime and drama. With an IMDb rating of 8.2, this film can keep you glued to the screen till the end.
3. James
Released on 17 March 2022, starring late actor Puneeth Rajkumar Puneeth was born on 17th March 1975 in Madras, Tam >> Read More... was also a major hit. James had a gross collection of ₹150 crores and was rated 7.7 by IMDb. Written and directed by Chethan Kumar Bio coming soon... >> Read More... , this movie was Puneeth Rajkumar's last movie following his death on 29 October 2021. The movie also stars Priya Anand Priya Anand is a popular Tamil actress who has app >> Read More... , Meka Srikanth Meka Srikanth, born in Gangavathi, Karnataka (23 M >> Read More... , and Shiva Rajkumar Shiva Rajkumar is the populous Kannada actor, who >> Read More... .
...
4. Roberrt
Roberrt is a 2021 musical and thriller action film directed by Tharun Sudhir Tharun is a prominent director, writer, and actor >> Read More... . With a 6 out of 10 rating by IMDb, the movie has grossed around ₹100 crores so far. The movie stars Darshan Thoogudeepa Darshan also known as Darshan Thoogudeep is an act >> Read More... , Asha Bhat Asha Bhat was born on September 5, 1992 in Bhadrav >> Read More... , and Sonal Monteiro Sonal Monterio is an Indian film actress, popular >> Read More... . Darshan playing the role of Raghav, a Lucknow-based cook manages to bring this perfectly executed classic revenge drama to us.
...
5. 777 Charlie
777 Charlie received an IMDb rating of 9.2. The story is about a dog named Charlie who gives a loner guy, Dharma, a new perspective on life. The adventure comedy-drama movie is a huge hit commercially. It was produced by Paramvah Studios and written and directed by Kiranraj K. Rakshit Shetty Rakshit Shetty is a Kannada film actor and directo >> Read More... starrer; this movie is indeed a tear-jerker and perfect for dog lovers. The movie has a gross collection of ₹100 crores.
...
6. Kurukshetra
Very few films make it to the top regarding collection and reviews and are impactful enough to be remembered forever. Kurukshetra, a mythological piece directed by Naganna, is based on the epic poem Gadhayuddha and centers around the Kaurava king, Duryodhana. With a 6.1 rating, the movie has grossed between ₹90 to ₹105 crores.
...
7. Raajkumara
Once again, an action, power-packed movie starring Priya Anand with Puneeth Rajkumara was released on 24 March 2017. The story revolves around Siddharth, who faces various challenges after losing his family. It has estimated gross earnings of ₹75 crores. The film also cast Prakash Raj Prakash Raj, born on 26th of March, 1965, as Praka >> Read More... , Ananth Nag Ananth Nag is an actor. He was born on 24th Novemb >> Read More... , and Saranth Kumar in several important roles. Raajkumara received positive feedback from the audience and critics and was later dubbed in Hindi as Daring Raajkumara.
...
8. Mungaru Male
Referring to Pre Monsoon rain is a romantic drama film of 2006 directed by Yogaraj Bhat Yogaraj Bhat was born on 8th October, 1973 in Mand >> Read More... . The movie had a collection of ₹70 crores and stars Ganesh and Pooja Gandhi Pooja Gandhi is a famous actress in the Kannada fi >> Read More... . The story revolves around the male protagonist Preetam who falls in love with Nandhini, whose marriage is fixed with someone else. She challenges him to win her heart. The movie can remind you of Devdas, but the only question is, will Devdas survive or not?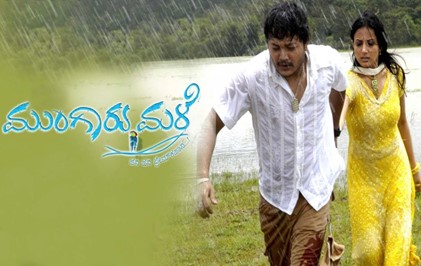 ...
9. The Villain
Written and directed by Prem and released in 2018, The Villain is an action thriller film that earned somewhere between ₹57 to ₹60 crores. The movie star Shiva Rajkumar, Sudeep, , Srikanth, Mithun Chakraborty When we talk about the few legends in the Indian f >> Read More... and Tilak Shekar Tilak Shekar is an Indian actor who mainly works i >> Read More... . The first day gross of the movie was almost ₹20 crores.
10. Pailwaan
An orphan guy named Krishna is nurtured by an owner of a gym, Sarkar. Rising against all odds, Krishna becomes a wrestler but ends up getting into a conflict with his mentor after falling in love. A 2019 sports masala movie stars Sunil Shetty Bio coming soon... >> Read More... as Sarkar, Sudeep as desi wrestler Krishna, and Aakanksha Singh Aakanksha Singh is an Indian Television actress an >> Read More... as Rukmini. Pailwaan settles for ₹53 crores.
These are just a few films that made it into our Top 10 kannada movies box office collection, but the list can go on, and you probably be missing out on amazing movie pieces. So stay tuned for many Top 10's curated especially for you.