Drenched in diverse cultures, vibrant landscapes, and pulsating urban energy, Bangalore, India's Silicon Valley, serves as a dynamic backdrop for numerous cinematic tales. This selection of ten movies encapsulates the myriad facets of life in this bustling metropolis, each offering a unique glimpse into its multifaceted character. From the heartwarming narratives that traverse the city's buzzing streets, lush parks, and iconic cafés, to the poignant stories that delve into its social fabric and evolving urban landscape, these films paint an evocative picture of Bangalore's essence. As characters navigate through tech hubs, college campuses, and neighborhoods, these movies encapsulate the city's spirit, from its aspirational drive and cultural melange to its challenges and triumphs, presenting a cinematic ode to the dynamic life in Bangalore.
'Bangalore Days' is a 2014-released Malayalam romantic-comedy drama that features a versatile cast consisting of Nivin Pauly Nivin Pauly is predominantly a Malayalam actor. Bo >> Read More... , Dulquer Salmaan Dulquer Salmaan is a popular Malayalam actor, who >> Read More... , Fahadh Faasil Born in 1983, Fahadh Faasil is known for his works >> Read More... , Nazriya Nazim This bubbly girl with expressive eyes was an ancho >> Read More... , , Isha Talwar Isha Talwar was born on December 22, 1987, in Mumb >> Read More... and Paris Laxmi A French citizen but Indian from heart Paris Laxmi >> Read More... . The story of the movie is centred around the life of three cousins who reunite in Bangalore and how they navigate their personal struggles, relationships and individual growth while adapting to the city life. The movie highlights their emotional journeys, bonding, and individual growth, combining drama and humour, and showing the life of Bangalore in the background. The film is overall a jovial romantic drama poised with laudable performances. The film is a complete package with full of life and can certainly be added to your watch list.
2. Made In Bengaluru
Released in 2022, 'Made in Bengaluru' is a Kannada movie that stars Madhusudhan Govind Bio coming soon... >> Read More... in the lead role as an engineer who quits his IT job to build his own startup. The film delves into their experiences, relationships, and the dynamics of urban life. Through its relatable characters and humorous moments, the movie sheds light on the aspirations and struggles of young adults in the bustling city, capturing the essence of Bangalore's cosmopolitan culture and spirit of ambition. The movie presents a fresh concept but is a tad slow, though, it still features some top-notch performances by the prominent actors. The movie can be classified as a decent one-time watch.
3. RangiTaranga
'RangiTaranga' is a 2015-released Kannada mystery thriller film that stars the debutantes Nirup Bhandari The good looking actor Nirup Bhandari is the broth >> Read More... , Radhika Chetan Radhika Chetan is just one-film old in Sandalwood. >> Read More... and Avantika Shetty Avantika Shetty from Mumbai is an aspiring actress >> Read More... in the primary roles along with the veteran actor, Saikumar. The story of the film revolves around the mysterious events that begin to uncover after a reclusive novelist & his wife move back to her ancestral village, followed by a journalist, in search of a missing woman. The movie has a suspenseful climax that reveals the hidden connections between characters, past tragedies, and the village's eerie history." Filled with riveting twists, this one is a must-watch if you are a fan of mystery or thriller films.
...
4. Ulidavaru Kandante
'Ulidavaru Kandante' is a 2014-released Kannada neo-noir gangster movie. Film's director and writer Rakshit Shetty Rakshit Shetty is a Kannada film actor and directo >> Read More... also appears in the lead role. Kishore, Tara, Achyuth Kumar Achyuth Kumar was born in Bangalore. He has acted >> Read More... , Rishab Shetty Rishab Shetty is a Kannada film actor and director >> Read More... & play supporting roles. The story of the movie revolves around a group of individuals, including a filmmaker and a gangster as they recount their versions of events leading to the murder of a local journalist. The movie lives up to the expectations of the audience and was even geared to up to be sent to the Cannes Film Festival. As the narratives converge, the truth becomes blurred, highlighting the subjectivity of perception and the complex nature of truth itself.
...
Released in 2022, Love Mocktail is a Kannada-language romantic drama which stars Darling Krishna Sunil Nagappa is also known as Darling Krishna and >> Read More... , the director of the movie and Milana Nagaraj Milana Nagaraj is a South Indian actress born in 1 >> Read More... in the main lead roles. The film follows the life of the protagonist Aadi and his quest for love. Life is a rollercoaster ride for Aadi, and the film captures hi experiences through it. Through a series of interconnected stories, it portrays the different facets of love and showcases Adi's evolution as he navigates through life's challenges, making it a heartfelt exploration of love and life. The film has even got a sequel titled, "Love Mocktail 2". The movie promises a brilliant display of direction, story, dialogues, screenplay, and cinematography. The debutant director's film proved to be a great success.
...
'Dia' is a 2020-released Kannada romantic drama starring Kushee Ravi Kushee Ravi was born 31st January 1993 in Bengalur >> Read More... , Pruthvi Ambaar and Dheekshith Shetty Dheekhshith Sethi is an Indian TV actor, popular a >> Read More... in the primary roles. 'Dia' is the portrayal of the life of a young, introvert girl whole daily life flips for good and brightens when she falls for her fellow college mate, Rohith. However, their love faces trials due to misunderstandings and societal expectations. As an introvert, it is extremely difficult for Dia to express her love for Rohith and took three years to confess but the destiny had its own plans. After a terrible accident, she is told Rohith does not survive. Later, when she starts seeing Adi, she finds out that he is still alive. Though it has a very tough and a difficult climax, 'Dia' promises to be a Kannada-cinema masterpiece. The film was even re-released in 2021.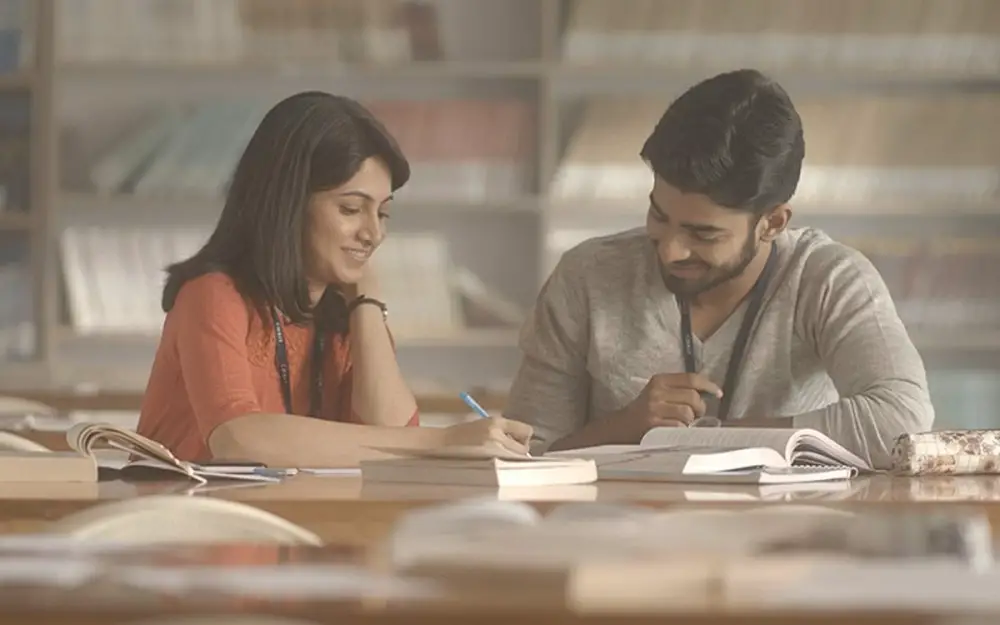 ...
7. Mungaru Male
Mungaru Male is a 2006-released Kannada romantic drama that stars Ganesh, Pooja Gandhi Pooja Gandhi is a famous actress in the Kannada fi >> Read More... and Anant Nag Anant Nagarakatte was born in the year 1948 on 4th >> Read More... in the lead roles. The story of the movie follows the life of Preetham, a photographer, who meets Nandini during a rainstorm. It was love at first sight for him. The sweet romance of the couple is best set in the beautiful monsoons. With stunning visuals and music, "Mungaru Male" captures the essence of love's journey amidst life's unpredictable twists. This Yogaraj Bhat-directed film hold many records in the Indian cinema and was one of the highest grossing films at the Kannada box office. This one deserves a spot in your watchlist.
...
Released back in 2009, 'Savaari' is a Kannada romantic drama that stars Raghu Mukherjee Raghu Mukherjee is an Indian model and film actor >> Read More... , Kamalini Mukherjee, and Srinagar Kitty Srinagar Kitty is an actor renowned for his work i >> Read More... in the primary roles. The story of the movie revolves around a rich spoilt brat named Abhiram who believes only in class and does not prefer to be in company of lower caste or poor people. Abhiram is in deep love with Dr. Janaki who is determined to help for the welfare of the poor people and those who are in need. Though Abhiram is in love with her, he does not like the path traversed by Janaki in helping poor & needy. Through his journey, Abhiram learns of Janaki's noble intentions. Ultimately, they reunite, shaping the story's conclusion.
...
9. Lifeu Ishtene
Released in 2011, 'Lifeu Ishtene' is a Kannada black comedy film starring Diganth, Sindhu Lokanath She was born on 5 February 1987. Her hometown is a >> Read More... and Samyukta Hornad Films made in the four major South Indian language >> Read More... in the lead roles. The plot of the movie revolves around the adult life of a carefree youngster named Vishal who falls in love with many women each and every day. The movie portrays his journey through friendship, love, and heartbreak, as he navigates a series of misunderstandings and personal dilemmas. Set against a backdrop of college life and urban experiences, the film delves into the complexities of modern relationships and captures Vishal's quest for happiness and fulfilment after he falls for Nandi while she is forced to marry someone else due to his careless attitude towards life. The film is worth giving a try and tries to calm you with beautiful moments in the movie.
This 2016-released movie is a Kannada romantic comedy that stars Rakshit Shetty, Rashmika Mandanna Rashmika became born in Virajpet, a metropolis in >> Read More... and Samyuktha Hegde Samyuktha Hegde is an Indian Film Actress, Televis >> Read More... in the main lead roles. The movie follows the story of a gang of mischievous students, led by the protagonist Karna, who has just joined an engineering college. The film explores their academic and personal challenges, friendship, and love interests. Karna transforms from a carefree youngster to a responsible adult after facing a tragic incident. The movie has pleasing visuals to show the scenic beauty of Bangalore. This is an amazing film and takes you back to your college days and cherish them once more. It promises quite a lot of wholesome moments to make you remind of your younger days. This one is a must watch.