True love is a lifetime dream for everyone and comes with many obstacles. There are many celebrity couples who come and go, but only a few remain for lifetimes. We have always seen on-screen couples and imagine if they are dating or married in real life or not. It has become common for people to get into a relationship and get married in the same industry. We have many famous couples in Kannada cinema who won the heart of many audiences. In this article, we will discuss the top celebrity couples from Sandalwood married in real life. Here is the list of the top 10 best celebrity couples in Sandalwood.
1. Rajkumar And Parvathamma
Rajkumar was an actor, and Parvathamma was a producer in the Kannada film industry. They are the first family of Sandalwood cinema. They have also given many classic films in Kannada cinema. They got married in 1953 and now have three sons and two daughters. These couples are an inspiration to many who have given equal contributions to sandalwood cinema.
Puneeth and Ashwini got married in the year 1999. They were both met via a common friend of theirs. Later they fell in love and had two lovely daughters, Vanditha and Drithi. Ashwini is a film producer in the Kannada film industry. Puneeth is an actor in Kannada cinema popularly known as the action hero of Sandalwood.
3. Ambaressh And Sumalatha
Ambaressh and Sumalatha married in 1987. They first became friends in 1984 and fell in love during the shoot in New Delhi. They are an ideal couple for the Kannada film industry. They were both famous in the Kannada industry for their chemistry.
...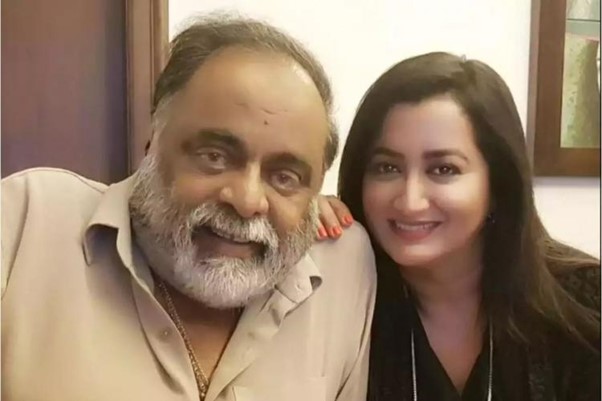 Anant Nag and Gayatri are the most lovable actors on screen and in real life. Later they fell in love with each other and got married in 1987. They are the most famous couple in Sandalwood cinema and had a beautiful daughter together, Aditi.
...
Shankar Nag and Arundhati Nag got married in 1980. They know each other from the drama days back in Bombay and eventually fall in love. They had a daughter together named Kaavya Nag. Shankar has given many blockbuster films in Kannada cinema.
...
Arjun Sarja is a Kannada action hero who proposed to Asha for marriage while they were shooting for a movie. Asha instantly said yes to the proposal and they got married in the year 1988. They both had two daughters named Aishwarya and Anjana. Arjun has won the best actor award in Karnataka state. Asha has also worked as a producer with Arjun in Sree Raam Films International production studio.
...
7. Upendra And Priyanka
Upendra and Priyanka got married in the year 2003. They both fell in love during the shooting of the Telugu film Raa. Priyanka has become Miss Kolkata in the year 1996. Upendra is known for his work in Kannada cinema and completed his Honorary Doctorate from Angkor University.
...
Yash and Radhika Pandit are known for their great chemistry on the screen and were adorable in real life. They have known each other back from their TV career days before appearing in movies. Finally, they tied the knot in the year 2016. Yash has played the lead role in the blockbuster film K.G.F: Chapter 1 & 2, one of the highest-grossing films in India.
...
Chiranjeevi Sarja and Meghana Raj tied the knot in the year 2018. They were both best friends and later decided to take the next step in their relationship. They were in the relationship for over ten years before marriage. They had a son together, Raayan.
Diganth and Aindrita Ray married in 2018. They fell in love during the shooting of the film Mansassare. Diganth is popularly known as Doodhpedha by his fans for his famous performance in Gaalipata. Aindrita Ray has also appeared in many successful Kannada films and is one of the leading actresses in Kannada cinema.
Conclusion
When we see our favorite on-screen couples marrying in real life gives us happiness. Many Sandalwood actors are living romantic life with strong bonds and trust. In the list, we have covered the top celebrity couples in the Kannada industry.