Kannada cinema, often known as Sandalwood or Chandanavana, is an Indian film industry that produces films in the Kannada language. Bangalore, Karnataka, India serves as its headquarters. The first talkie Kannada movie was Sati Sulochana, directed by Y. V. Rao, which came out in 1934. On the other hand, the area of Indian cinema known as Telugu cinema, or Tollywood, is devoted to the creation of films in the Telugu language, which is mainly used in the states of Andhra Pradesh and Telangana. Hyderabad, India's Film Nagar neighborhood, is home to Telugu cinema.
In 2018, Ram Gopal Verma and Ram Vamsi Krishna Ram Vamsi Krishna is a story, screenplay and dialo >> Read More... collaborated on the bilingual romantic action drama Bhairava Geetha, which was written in Kannada and Telugu. It was directed by Siddharth Thatholu. Under the production label Rashi Combines, veterans Ram Gopal Verma and Bhaskar Rashi Bhaskar Rashi is an Indian producer who worked in >> Read More... collaborated to create the movie. Dhananjay and Irra Mor Irra Mor is an Indian Film actress. She was Born i >> Read More... play the major lead roles in the movie.
...
The 2016 Indian comedic drama film Our Village's Ramayana, titled Mana Oori Ramayanam Click to look into! >> Read More... in Telugu and Idolle Ramayana in Kannada, was directed by Prakash Raj Prakash Raj, born on 26th of March, 1965, as Praka >> Read More... . The movie was made by Prakash Raj Productions and First Copy Pictures under the direction of Ramjee Narasimhan and Prakash Raj. The movie is a remake of the 2012 Malayalam film Shutter, with the dialogue for both versions being written concurrently by Jogi and Raman Gopisetti According to the Times of India, this movie is "absolutely a must-watch" for those who prefer solid storytelling over the standard action, song, and dance sequences. The icing on the cake here is the performances. According to The Hindu, Idolle Ramayana delivers a new experience for those who haven't seen the original because it is steeped in a nativity.
3. Jaguar
Jaguar is a 2016 Indian vigilante action movie that was written and directed by Mahadev and produced by H. D. Kumaraswamy under the name of Channambika Films. Nikhil Gowda Nikhil Gowda also known as Nikhil Kumaraswamy, is >> Read More... , the son of producer H. D. Kumaraswamy, and Deepti Sati Deepti Sati is a renowned Malayalam film actress. >> Read More... play the key characters in this film, which was simultaneously shot in Kannada and Telugu. Tamannaah made her Kannada language début and appeared in an item number. The battle scenes were choreographed by Ram-Lakshman, and the music was composed by Ghantasala Sai Srinivas.
...
4. Swetha Naagu
The 2004 Indian horror film Swetha Naagu features Soundarya, Abbas, and Sarath Babu Sarath Babu is in the Industry for few decades now >> Read More... . The film was later simultaneously shot in Kannada as "Shwetha Naagara" with a slightly different supporting cast for both the language versions. Originally, the movie was supposed to be made in Telugu and Tamil. According to numerous reports, this was Soundarya's 100th milestone film and her final significant film while still alive.
...
5. Veera Kannadiga
Puneeth Rajkumar Puneeth was born on 17th March 1975 in Madras, Tam >> Read More... and feature in the 2004 action drama movie Veera Kannadiga (also known as The Brave Kannadiga). Jr. NTR is the lead in the Telugu version of the movie, titled Andhrawala. The film was a financial hit.
...
6. Sri Manjunatha
Sri Manjunatha is a 2001 Indian historical drama film that was produced by Nara Jaya Sridevi and directed by K. Raghavendra Rao. Chiranjeevi, Arjun Sarja Arjun Sarja was born as Srinivasa Sarja. He is an >> Read More... , Ambareesh, Soundarya, and Meena are among the film's stars. It was simultaneously shot in Kannada and Telugu. In the Kannada version, Dwarakish and Mimicry Dayanand Dayanand is a Mimicry artist, impressionist, Kanna >> Read More... play supporting roles; in the Telugu version, Tanikella Bharani Tanikella Bharani is a renowned actor in Telugu an >> Read More... and Brahmanandam take their place. The movie is based on the life of Bhakta Manjunatha, a Kotilingeshwara Temple devotee of Shiva. The movie opened in theaters on June 22, 2001, and Tamil Nadu saw the release of the dubbed Tamil version in August of that same year. The movie was well-received after its debut. The International Film Festival of India featured a screening of the Kannada version.
...
7. Ananda Bhairavi
Jandhyala wrote and directed the 1983 Indian dance movie Ananda Bhairavi, which was simultaneously shot in Telugu and Kannada. In this movie, "Natyacharya," Bhagavathula Venkata Rama Sarma played a male classical dancer and was featured with Rajesh Kumar Rajesh Kumar is a renowned Indian actor, who rose >> Read More... , Kathak dancer Malavika Sarkar, and Girish Karnad Born on 19th May 1938, Girish Raghunath Karnad is >> Read More... . The Indian International Film Festival hosted the film's world debut. The movie won four state Nandi Awards and earned favorable reviews.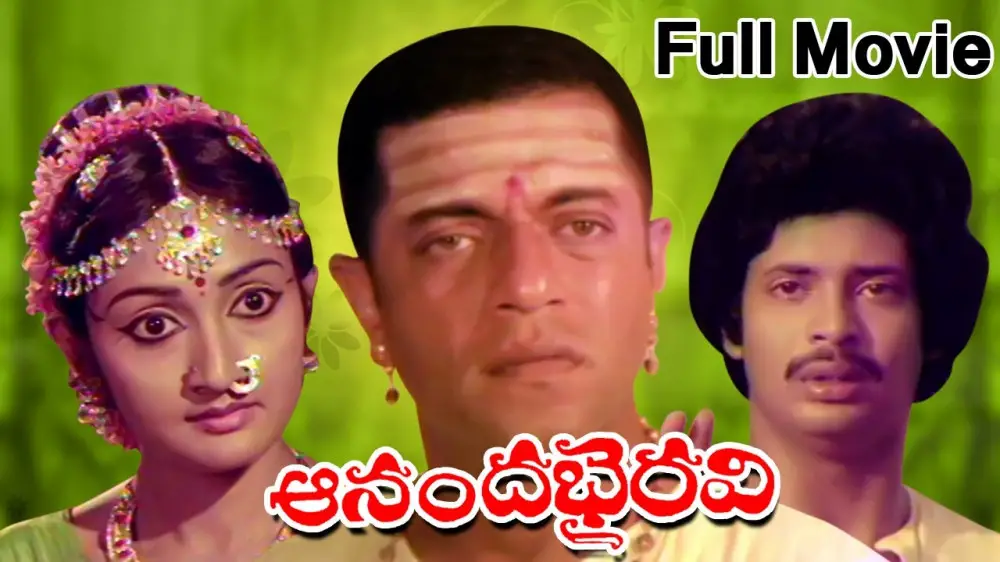 ...
8. Gaali Gopura
A 1962 Kannada-language movie called Gaali Gopura was produced and directed by B. R. Panthulu. Rajkumar, Kalyan Kumar Kalyan Kumar is a prominent Kannada film actor who >> Read More... , Leelavathi, and R. Nagendra Rao all acted in the movie. Udaya Kumar, an actor, had a quick cameo appearance. For this movie, renowned filmmaker Puttanna Kanagal Puttanna Kanagal was known as Chitra Brahma (God o >> Read More... worked with Panthulu. T. G. Lingappa composed the original score and soundtrack, which had lyrics primarily penned by G. V. Iyer. A Purandara Dasa song called Yaarige Yaaruntu Click to look into! >> Read More... , performed by Ghantasala, was included in the soundtrack of the film and was a huge hit. The movie was simultaneously made in Telugu by B. R. Panthulu and N. T. Rama Rao under the name Gaali Medalu. At the box office, both versions were profitable. Rajkumar, Kalyan Kumar, and Udaykumar all appeared in the film together for the first time. Udaykumar, however, just had a cameo in this film. They began working together in full-fledged parts in a single film for the first time in their careers in Bhoodana that same year.
...
9. Rogue
Puri Jagannadh's 2017 action-thriller movie Rogue was shot in both Telugu and Kannada at the same time. Along with Mannara Chopra Mannara Chopra is a Bollywood actress born in Boka >> Read More... and Angela Krislinzki Angela Krislinzki is a Telugu movie actress who is >> Read More... as the female protagonists, the movie debuts Ishan in the lead role. The first teaser was released on March 1, 2017, after the shooting had started in November 2015. At the seventh SIIMA, Ishan won the SIIMA Award for Best Male Debut (Telugu).
10. Saaku Magalu
Sowcar Janaki Sankaramanchi Janaki is an Indian actress hailing >> Read More... and Rajkumar star in B. R. Panthulu's love drama film Saaku Magalu, which was released in 1963 in the Kannada language. The movie served as the acting debut for renowned performer Kalpana, who later rose to prominence in Kannada cinema. Kalpana was chosen by director Panthulu on the advice of co-artist Narasimharaju and his helper, Puttanna Kanagal. NTR, Devika, and Sowcar Janaki were featured in Panthulu's movie Pempudu Koothuru, which was simultaneously released in Telugu.