Actors are the main attraction to a movie. Every audience will have their expectation from an actor or an actress. But, by and large, one of the main expectations is being a good dancer. Actors are required to impress the audience not only through their acting but even through their dancing abilities. Sandalwood has no shortage of great dancers. Here is a list of top 10 dancers in Sandalwood.
1. Puneeth Rajkumar Puneeth was born on 17th march 1975 in madras, Tam >> Read More...
Without even mentioning his name we all know that he is the most amazing dancer in the Kannada Film Industry. He entered the film industry as a child artist and now is one of the most successful actors in any film industry. He has entertained the audience through his acting, dance and his songs.
...
2. ' Yash Yash alias Naveen Kumar Gowda is a popular star of >> Read More... '
Yash is presently the most desired actor in the industry because of his fine behaviour and thinking. He is also one of the great dancers in the industry. He has given many box-office hits in which he has showcased his ability of dancing.
...
3. Shiva Rajkumar Shiva Rajkumar is the populous Kannada actor, who >> Read More...
...
Shivrajkumar, fondly known as Shivanna is also a great dancer in the industry. He is the brother of Puneeth Rajkumar, and the duo has showcased their dancing talents in many films. Shivrajkumar fans go mad when he dances. Being the son of Dr.Rajkumar, he has shown the qualities of his father in him.
4. Dhruv Sarja
...
In spite of being a newcomer, Dhruv has established himself extremely well in the industry. Being the nephew of the famous actor Arjun Sarja Arjun Sarja was born as Srinivasa Sarja. He is an >> Read More... , he has showcased his dancing skills really well in the few films that he has done. The audience is looking forward to more films.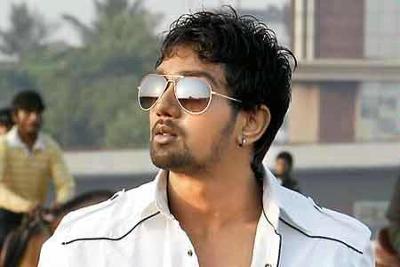 ...
5. 'Yogi'
Yogesh, also known as Yogi, has seen an ascending graph in his career. He hasn't looked back and has been amazing in acting. Not only this, his dancing abilities are talked about everywhere and are appreciated for his dance in the song "Jinke Marina".
...
6. Vinod Raj Actor Vinod Raj predominantly appears in Kannada f >> Read More...
...
Vinod Raj is the son of the famous actress Leelavathi. He has been successful in his films and has showcased his dancing abilities in all his films. Though he is not in news now, his dance abilities are always talked about.
7. Vijay Raghavendra Born in Bengaluru, Vijay Raghavendra is an Indian >> Read More...
Vijay entered the industry as a child artist. He is known for his acting and singing. It is less known to many people that he dances well. But the truth is, he is one of the great dancers in the Kannada Film Industry. He has done films in which his dance is appreciable.
8. Sri Murali
Sri Murali is the brother of Vijay Raghavendra. He has done many box-office hits, but he got his recognition through the movie " Ugramm Click to look into! >> Read More... ". He has been appreciated for his acting and dancing abilities. Following his brother's way, he is doing more and more blockbuster movies.
9. ' Shashikumar Shashikumar, hailing from Karnataka, India is an a >> Read More... '
Though Shashi went out of focus in the industry after the massive accident which affected his looks; he is still talked about for his dancing abilities. He is one of the great dancers in the Kannada Film Industry. He has given many entertaining movies to the audience which included his amazing dance moves too.
10. Srinagara Kitty
Srinagara Kitty is known for his acting in the films "Sanju Weds Geetha" and " Hudugaru Click to look into! >> Read More... ". It is less known that he one of the great dancers in the industry too. He has given few hit movies in which he mostly hasn't shown his dancing abilities but, in a few which he has danced, we can say that he is a great dancer.