South Korea's plastic surgery industry earns more money than any other industry. It is a million dollar industry and people fly from far and wide to get their features enhanced and in a world here looks are all that really matter to most people, the industry's prominence is no big surprise. Similarly, even Indian actors are going ahead and opting for plastic surgeries and making changes to their face that range from significant to minor. However, these changes can also cause havoc to people's faces and put an end to their career.
The following are 20 actors who opted to go under the knife.
1. Koena Mitra Koena Mitra is an Indian model, actress and the wi >> Read More...
Today it is hard to spot the actress anywhere. However, there was a time when she was highly in demand, and did item numbers in a lot of films. Then, in order to enhance her beauty, she opted for plastic surgery, which not only stopped the incoming of Bollywood offers, but also turned her face into a disaster.
2. Kangana Ranaut National award winner Kangana Ranaut... >> Read More...
The actress has now started to vocalize the need for women to accept themselves as they are. She even refused a 2 crore deal for a fairness cream. However, the actress, who had originally become popular because of her unconventionality decided to adhere to Bollywood standards and got the shape of her lips, along with spending a huge amount of money for enhancing her breasts.
3. Anushka Sharma Born in an army family to Col. Ajay Kumar and Ashi >> Read More...
The actress became an overnight sensation with her debut in " Rab Ne Bana Di Jodi Click to look into! >> Read More... " with Shah Rukh Khan Shah Rukh Khan or also known as SRK is a prominent >> Read More... . The country loved the cool vibe and girl next door looks. She went on with it for a while, before she started to temper with her face. It was while promoting the film 'PK' opposite Aamir Khan Aamir Khan or Mohammed Aamir Hussain Khan is Bolly >> Read More... that the lip job became noticeable and the actress received a lot of backlash for what she did to her face.
4. Minissha Lamba Born on 18th January 1985 to Punjabi speaking Sikh >> Read More...
The actress' face was originally cute, and she achieved a lot of followers, especially after her role in Bachna Ae Haseeno Click to look into! >> Read More... . However, instead of focusing on her career, the actress started to focus on her looks and tempered with her nose, which did not go down too well. Not only did she lose many fans, but also starved out her film offers.
5. Gauhar Khan Gauhar Khan or Gauahar Khan or Gauahar Zafar Khan >> Read More...
Gauhar is more of a celebrity than an actress. She has not appeared much in movies, except a few supporting roles here and there and appearances in reality shows. The actress had gone in gotten her nose re-touched.
6. Rakhi Sawant Rakhi Sawant, the well-known drama queen of the In >> Read More...
The actress may not have been an intelligent one, but she was decent looking when she started off, as can be seen in her roles in films like " Main Hoon Na Click to look into! >> Read More... ". However, then the actress went to great lengths to look sexy and got her breasts enhanced, her nose and lips tinkered. None of it went well and her face ended up looking terrible.
7. Juhi Chawla Juhi Chawla is a renowned Indian actress and produ >> Read More...
The actress was doing a wonderful job for herself, having starred in innumerable movies and worked with the greatest actors of her time. However, the actress was also involved in getting her nose retouched, which did not go down well with her fans, who believed that she looked much better earlier and had lost the cuteness of her face after the surgery.
8. Priyanka Chopra Born on 18 July 1982, Priyanka Chopra is an establ >> Read More...
The actress became Miss World in 2000, and has been doing great things in Bollywood ever since. She is now also an integral part of Hollywood and is making her country proud. However, in the midst of all this, the actress had gone ahead and gotten her lips redone, which is visible to anyone who compares her before after pictures. The actress however, refuses any such thing and claims to never have gone under the knife.
9. ' Sridevi Sridevi is an Indian an actress renowned for her w >> Read More... '
The actress has been evergreen and counted among the most talented actresses of yesteryears. Even her recent movies, like English Vinglish Click to look into! >> Read More... are heavily praised. However, the actress did go ahead and become one the first people in Bollywood who got their looks enhanced through plastic surgery.
10. Shilpa Shetty A model turned actress, producer, entrepreneur and >> Read More...
Today, the actress is known to be among the hottest actresses in Bollywood. However, when she entered Bollywood, she was not half as pretty. Cosmetics have been a great help, and her repeated plastic surgeries have also helped, and the previous ones were complete disasters.
11. Sofia Hayat  Sofia Hayat is a famous celebrity in both Hollywo >> Read More...
She recently made headlines due to her conversion into a nun, where she called a press conference and waved her silicone implants in their faces, claiming that she had gotten them removed as she no longer cared about the material world. Earlier, she had also gotten a lip job done.
12. Preity Zinta Preity, also known as Preity Zinta is a famous Act >> Read More...
The actress was popular in the industry for her bubbliness. However, after a successful run in the industry, the actress changed pretty much, thanks to near bankruptcy, failed films, a failed relationship and worse, a dose of Botox, which her fans did not appreciate. In fact, her fans have been hoping for a while now that they could see the same bubbly actress who they had fallen in love with.
13. Kareena Kapoor Khan Kareena Kapoor is a super hit actress working in I >> Read More...
The actress has been acting for over 15 years now, and will soon be becoming a mother. She has acted in various projects, and in a bid to become even more appealing, the actress had gotten her cheeks and jawline done, which has started to make her look a lot older as compared to earlier.
14. Ayesha Takia Ayesha is a Bollywood film actress, born on 10th A >> Read More...
Ayesha has always been known as the cute one. So, in order to change that image, the actress decided to go in for liposuction and breast enhancement. Sadly, these are all that the actress is known for now, as she has had little success in Bollywood to boast of.
15. Gauri Khan Born on Ocotber 8 1970, Gauri Khan (originally kno >> Read More...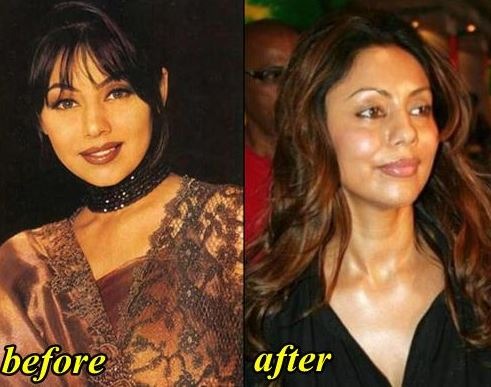 It is a pretty well-known fact in Bollywood that Shah Rukh Khan's wife, who was once a cute Delhi girl, has gone several times under the knife. She is originally an interior designer and a socialite, but can also be seen in some of Shah Rukh's advertisements. She is a regular consumer of Botox, has gotten several nose jobs and done a little something with her lips too.
16. Karisma Kapoor Karisma Kapoor is a well known face from the famil >> Read More...
We all know that the Kapoor clan is beautiful. The whole of it has mesmerizing people who are the epitome of beauty. However, not all of them were born perfect. Karisma today looks like someone straight out of a fairytale. However, she did have a fairy Godmother, played by an experienced surgeon who did a great job with her face.
17. Katrina Kaif Latest Videos of Katrina Kaif >> Read More...
The actress needs an improvement in her acting skills. The whole country acknowledges that. However, the whole country is not aware of the fact that although she did not see the need of improvement in her skills, she did notice it in her appearance and went in to get her lips and nose worked on. Of course, it has worked in her favour and has gotten her included in the most beautiful women of the country.
18. Aishwarya Rai Bachchan Aishwarya Rai Bachchan is a popular Indian actress >> Read More...
The actress has been awarded with the highest of honors and is among the most stunning women in the world. The actress was always this pretty, but she still chose to work a little more on her appearance and went under the knife. It worked in her favour and she looked prettier than ever before.
19. Mallika Sherawat Mallika Sherawat is a glamorous Model turned bold >> Read More...
Mallika is known more for the many antiques she plays to get attention than for actually working. However, when she does work, her roles are more on the sexy side, where her body is given more focus than her face. Knowing this, the actress decided to get her breasts enhanced and then moved on to work in Hollywood, where she behaved in a similar manner and was taken by her peers in Bollywood to be a big show off and all she ever did was post minute details of her stay on her twitter.
20. Sushmita Sen "What is the essence of being a woman?" her winnin >> Read More...
The actress has always been very frank about what she does with her life. She is bold and fearless, along with being unapologetic of the choices she makes in her personal life. So, when she decided to get her breasts enhanced, she was not shy of admitting it either.