The production house which has entertained many generations from our great grandfathers to our generation and will be entertaining our future generations also. Mostly, It has produced historical fictional shows and mythological shows such as Ramayan, Haatim, Sai Baba Sai Baba is a Tamil television series. The show is >> Read More... etc. But some of its shows were fictional such as Basera, Hotel Kingston Hotel Kingston is a story about a middle class guy >> Read More... etc. Let's move on to see its glorious Top 10 TV Serials.
1. Ramayan (1986-1988)
...
If we talk about Sagar Arts, the very first thing which comes in our mind is Ramanand Sagar Ramanand Sagar is an Indian filmmaker, director, a >> Read More... 's first Ramanayan which was widely appreciated by the viewers in such a way that it was registered in Limca Book of Records as World's Most Watched Mythological Serial. Starring Arun Govil Arun Govil was born on 12 January 1958 in Ramnagar >> Read More... and Deepika Chikhalia Deepika Chikhalia was born on 29 April 1965 in Pal >> Read More... as Lord Rama and Goddess Sita with Dara Singh Dara Singh was born on November 19, 1928 in Dharmu >> Read More... as Lord Hanuman and Arvind Trivedi Arvind Trivedi is an Indian actor. He was born in >> Read More... as Ravana, this mythological serial made Lord Rama and Goddess Sita come alive. In describing the seventh incarnation of Lord Vishnu, Arun Govil won million of hearts in such a way that people used to touch his feet as Lord Rama resides within him. This was the most popular TV Series which still telecasts on different TV Channels.
2. Shri Krishna Shri Krishna was an Indian television serial which >> Read More...
...
Another mythological masterpiece by Dr. Ramanand Sagar, Shri Krishna portrayed the life of Vishnu's eighth incarnation, Lord Krishna from his notorious childhood to his participation as a charioteer in the great war Mahabharata. Through this series, Swapnil Joshi Swapnil Joshi is an Indian television and TV actor >> Read More... became a household name as young Krishna and later on the role of grown-up Krishna was performed by Sarvadaman Banerjee.
3. Hatim
...
The most loved fictional TV series by Sagar Arts, Hatim which aired on Star Plus in 2003 portrayed the quest of Prince Hatim saving his princess from the hands of the demon king by accepting the challenge of searching the answers of seven questions within seven months. The awesome acting of good looking Rahil Azam Rahil Azam is a dashing Indian model and televisio >> Read More... made the character of Haatim very popular. The remake of this series also aired on Star Plus but was not able to gather as much audience as compared to the previous one.
4. Sai Baba
...
The Second most popular show of Sagar Arts was also produced by Dr. Ramanand Sagar. This show brought the life story of the great saint Sai Baba to the Television in 2005, and the audience accepted it whole heartedly. The story captured the journey of a meditation practitioner of becoming a God who solved problems of people and removed the obstacles from their lives. The realistic acting of Mukul Nag Mukul Nag is amongst the best actors of National S >> Read More... as Sai Baba reincarnated the God of Kalyug on screen.
...
5. Dharti Ka Veer Yodha
...
Prithviraj Chauhan This was a periodic drama based on the life story of the greatest warrior of India – Prithviraj Chauhan.`` The show captured different roles performed by Prithviraj in his real life namely a responsible and brave son, a lover, a great warrior who defeated Mohd. Ghouri many times and even after his defeat he didn't die before killing the invader. The role of junior Prithvi was essayed by Rajat Tokas Rajat Tokas is a prominent Indian television actor >> Read More... who became very famous by this role. He was paired with Mugdha Chapekar( junior Sanyogita). Their Jodi was widely appreciated by the viewers. Later on, the role of grown up Prithviraj was essayed by Anas Rashid Anas Rashid is widely known for his character as S >> Read More... who took the show to its end.
6. Chandragupt a Maurya
...
The show was based on the life journey of the founder of Mauryan Empire, Chandragupta Maurya Chandragupta Maurya was co-created by Sagar Expres >> Read More... who was one one the greatest ruler who took India to greatest height and was responsible for the golden era in Indian History. This show showcased the journey of a common shepherd to the ruler of United India with the support and guidance of the greatest economist. Each character of the show was very realistic whether it be junior Chandragupt ( Rushiraj Pawar Rushiraj Pawar is an upcoming young and multi tale >> Read More... ) or Chandragupta Maurya ( Ashish Sharma Ashish Sharma is an Indian actor who acts predomin >> Read More... ) or Manish Wadhwa Manish Wadhwa is an Indian Film and television act >> Read More... as Chanakya. This was the marvelous piece of work by Sagar Arts but soon it went off-air due shut down of NDTV Imagine Channel.
7. Dharam Veer Dharam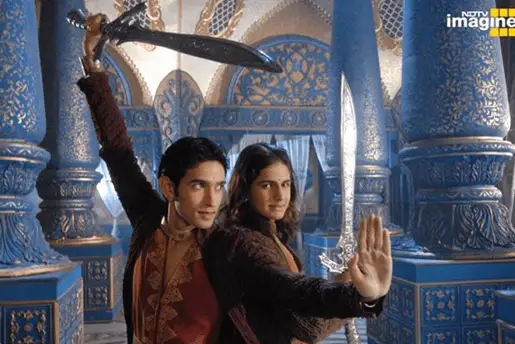 Veer was the fictional periodic drama based on the true friendship of two brothers Dharam and Veer where Dharam( Vikrant Massey Vikrant Massey, who is a TV actor, was born in Nag >> Read More... was an Aryavrat prince and Veer( Rajat Tokas) was the laborer. The show portrayed that amidst the hatred between Aryavrats and laborers their friendship bloomed and ended the ended the long-running fight between Aryavrats and laborers.
8. Mahima Shani Dev Ki
This Serial firstly introduced the audience to the reality associated with the angry justice-loving God of Hindu astrology i.e. Shani Dev whose anger can be a curse for human beings and his blessing can be a boon for his devotees. The role of Shani Dev played by showed that Shani Dev is not harsh to anyone unnecessarily but is very kind to good souls.
9. Vikram- Aur Betaal
This series captured the stories from 'Baital Pachisi' in which King Vikramaditya tried to catch the spirit of Betaal to free his kingdom from a long-running trouble. Starring Arun Govil as King Vikramaditya this series entertained the viewers with unique stories knitted by the spirit with the same condition that if the king gave the right answer for the question which he asked after the completion of each story then the spirit will escape else king will be killed by the spirit.
10. Alif Laila Alif Laila was a famous adventurous television ser >> Read More...
This series was inspired by One Thousand and One Nights in which many classic tales like Aladdin, Alibaba, and Forty Thieves etc. The series was mainly meant for children but attracted the audience of all ages. This was also a beautiful creation of Dr. Ramanand Sagar.