Each year, many films are produced. Some movies perform incredibly well, while others that deserve to be seen don't. These ten underappreciated Tamil films are all well worth viewing. 
1. Kalyana Samayal Saadam
The main character of this 2013 Tamil romance drama is a software developer with erectile dysfunction. As he attempts to find a solution, this causes him many problems in his marital life. Crazy Mohan Crazy Mohan was born as Mohan Rangachari on Octobe >> Read More... , Lekha Washington Lekha Washington started her career as a video Joc >> Read More... , Uma Padmanabhan Uma Padmanabhan is among the first Television host >> Read More... , Delhi Ganesh Delhi Ganesh is one of the veteran Tamil actors, b >> Read More... , Srilekha Parthasarathy Srilekha Parthasarathy is a playback singer in Tam >> Read More... , and all have significant parts in the Prasanna-directed movie.
...
This 2010 action movie centers on a guy who, as he ages, feels well-built and formidable. He creates the ideal strategy to defeat his foe, but the events that transpire are unimaginable. Leading actors in this Thiagarajan Kumararaja-directed movie include Jackie Shroff Intro: Jackie Shroff is a well known Bollywood act >> Read More... , Yasmin Ponnappa Yasmin Ponnappa is an Indian film actress and a mo >> Read More... , Ravi Krishna Ravi Krishna is a South Indian actor who predomina >> Read More... , Sampath Raj 'Sampath Raj' was born on 25 December 1968 >> Read More... , and .
This highly praised movie, directed by Sundar C, also stars Kamal Hassan, Madhavan, Kiran Rathod Karan Rathod is an Indian actress and a model. She >> Read More... , Sanathana Bharathi, Uma Riyaz Khan Uma Riyaz Khan (born Uma) is a Tamil actress who a >> Read More... , and Nassar. Anbe Sivam tells the story of an advertisement-making filmmaker. He becomes stranded at an airport one fine day because of terrible weather.
...
The story of a nature photographer and his path toward marriage is the focus of this 2011 Tamil movie. His wife's miscarriage causes problems in their marriage. Dhanush, Richa Langella, Manithivanan Rajendra, Pooja Devariya Pooja Devariya was born on 29 July 1991 in Mumbai, >> Read More... , Zara Barring Zara Barring is a Canadian actress born on 26th De >> Read More... , and Sundar Ramu all had significant parts in the Selvaraghavan-directed movie.
...
5. Iruvar
The relationship between an actor and a writer is portrayed in this movie. Mohanlal, Aishwarya Rai Bachchan Aishwarya Rai Bachchan is a popular Indian actress >> Read More... , Prakash Raj Prakash Raj, born on 26th of March, 1965, as Praka >> Read More... , Tabu, Gautami, Revathi, and Nassar all play significant parts in this political-themed movie. This 1997 Tamil movie, which Mani Ratnam Mani Ratnam is an Indian filmmaker deeply rooted t >> Read More... directed, hit theatres.
...
6. Kaaviya Thalaivan
The journey of two theatrical performers who are part of a company is shown in this movie. While the other is unable to experience success, one of them does. This 2014 historical drama, which Vasanthabalan directed, has Siddharth, Anaika Soti Anaika Soti is an Indian actress who was born in t >> Read More... , Nassar, Ponvannan, Vedhika, Thambi Ramaiah Thambi Ramaiah, an Indian film actor, and director >> Read More... , and Singampuli as pivotal characters.
...
7. Appa
Two dads are central to this Tamil play; one encourages his son to pursue his aspirations, and the other forces his viewpoint on him. Samuthirakani, Yuvasri, Gabriella Charlton Gabriella Natalie Charlton was born in Hyderabad i >> Read More... , J. Vignesh, Thambi Ramaiah, Namo Narayanan Namo Narayanan was a South Indian actor. He predom >> Read More... , and Vinodhini all had significant parts in the Samuthirakani-directed movie. 2016 saw the release of this movie.
...
8. Oththa Seruppu Size-7
A murder suspect who is mentally disturbed is the center of this movie's plot. This undervalued Tamil film is undoubtedly the one for you if you're looking to watch something fresh and original, directed by R. Parthipan. 2019 saw the release of Oththa Seruppu Size 7.
...
9. Kanchivaram
A father makes a vow to his daughter that he will drape her silk saree on the day of her wedding in this underappreciated 2008 Tamil movie. His route was paved with difficulties. This Priyadarshan-directed film has performances by Prakash Raj, Sriya Reddy Sriya Reddy is an Indian film actress mainly perfo >> Read More... , Shammu, Geetha Vijayan Geetha Vijayan was born on June 22, 1972. She hail >> Read More... , Vinodhini, P. Sreekumar, and George Maryan George Maryan is an Indian comedian and actor who >> Read More... .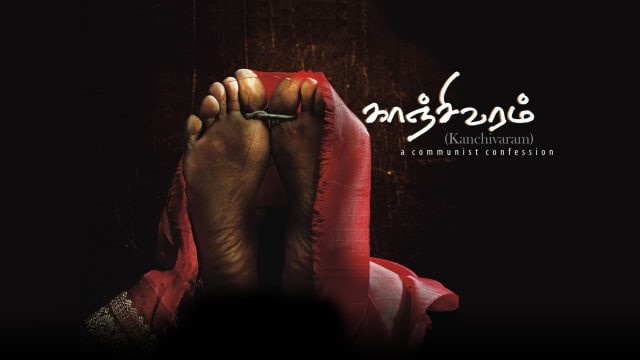 10. Jiivi
This suspenseful story tells the story of a man who desires to succeed. He resorts to diamond theft. This Tamil thriller, directed by V J Gopinath, stars Vetri, Monica Chinnakotla Monica Chinnakotla is a movie actress who speciali >> Read More... , Karunakaran, Rohini, , Anil Murali Anil Murali is an Indian film actor in Malayalam c >> Read More... , and Boskey in the lead positions. Sundaramurthy KS Sundaramurthy KS is an Indian born film Music Dire >> Read More... , who directed the music in this movie.