Many movies would've come and gone, but doctor themed movies remain one of the crowd-pleasers. The main reason is that they learn a lot of new and interesting stuff, and the movie is an adventure into the medical world. From Rajini, Kamal to Suriya, Arya Click to look into! >> Read More... , almost everyone has done at least one movie in which they are doctors.
#1 VASOOL RAJA MBBS
...
Not only is this movie a romantic comedy, but also it gives out a beautiful message. This movie shows how most doctors function, like robots and how many of them lack empathy and kindness. Kamal Haasan Kamal Haasan is the most versatile actor that Indi >> Read More... stresses the importance of treating patients with love first than medicines. This movie also has one of the best scripts for comedy. This movie is a whole package, and it leaves you with a light heart at the end.
#2 DHARMADURAI
...
This movie has Vijay Sethupathi Vijaya Gurunatha Sethupathi was not born with silv >> Read More... as a doctor. He is a doctor in trouble after the demise of his fiancé. The flashback shows him through his medical college years, befriending Tamannah Bhatia and Shrusti Dange. This movie shows him how unfair life has been to him. Finally, he ends up marrying and living with his best friend, Tamannah, who is also a doctor.
#3 REMO
...
Everyone has cross-dressed comically for a scene or two. But ' Sivakarthikeyan Sivakarthikeyan is a stand-up comedian, actor, and >> Read More... ' has made a giant leap with his cross-dressing expanding for the entire movie. In this movie, Keerthy Suresh Keerthy is the daughter of yesteryear actress Mena >> Read More... is a doctor who is engaged to be married to someone. But Sivakarthikeyan has a crush on her and decides to pretend to be a nurse and work under her so that he can get closer to her. This funny take on the movie, with the amazing songs, is a laughter riot.
#4 MERSAL
...
'Vijay's dual-action movie, 'Mersal,' has him playing two roles: a doctor and a magician. The doctor played by him is a very humble person with the purview of serving the society. He charges his patients very less fee for his treatment. This movie also depicts the bad side of medicine with poorly qualified doctors, taking a play with a patient's life. When Vijay's mother was pregnant, they had to shift her for Caesarean section, and she dies in the process due to a doctor's negligence.
...
#5 THANDAVAM
...
The concept of this movie is rehabilitation. Chiyaan Vikram Vikram is from the Tamil family. His father is Chr >> Read More... , the husband of Anushka Shetty Anushka Shetty is the popular South Indian star wh >> Read More... , who is an ophthalmologist, turns blind in an accident. Sight is not the only thing he loses in the accident. Anushka is also dead by the time he could save her. He uses echolocation to get him around life. The plot revolves around how he avenges her death singlehandedly.
#6 CHANDRAMUKHI
...
' Rajinikanth 'Rajinikanth' is the name that is known in >> Read More... ' is a psychiatrist in this movie. Jyothika Saravanan Jyothika is a highly famous Indian cinema artist. >> Read More... , who is obsessed with Chandramukhi and her lifestyle, is diagnosed with a split personality disorder. Rajini tries to bring back Jyothika from her obsession as she is his friend's wife. He stays in the house, reads people's minds, and finds out who is responsible for all the odd and haunting things that are happening in the house.
#7 GHAJINI
Suriya Sivakumar Suriya Sivakumar is undoubtedly the biggest star i >> Read More... plays Sanjay Ramasamy, who is traumatized by the death of his girlfriend and is hit on the head with a metal rod. He develops retrograde amnesia as a result of the assault. ' Nayanthara Nayantara also called as Nayanthara Kurian, is a r >> Read More... ' plays a medical student who researches on the function of the human brain, and she picks Suriya for a case study. As she grows closer to him, she finds out the injustice done to him and helps him to take his revenge on those who were responsible for his girlfriend's death.
#8 KAATRU VELIYIDAI
This movie is a love story between an Air Force pilot and a doctor. A romantic comedy with the best pair of personalities makes this movie fun to watch. Karthik Sivakumar Karthik Sivakumar, or popularly known as Karthi, i >> Read More... is a short-tempered pilot with commitment issues. Aditi Rao Hydari As her title may be suggesting, Aditi the talente >> Read More... is an innocent doctor who is crazy about him. Disaster strikes and Karthi is captured by the Pakistani army. Aditi is left abandoned. Karthi escapes from them and goes in search of Aditi when he is encountered by a little boy who takes him to Aditi. Karthi is pleasingly shocked when he hears that that boy was his son.
#9 IRANDAAM ULAGAM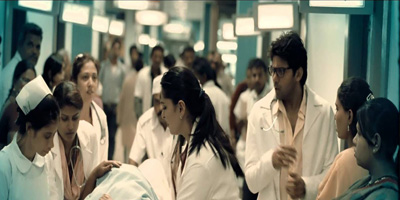 Anushka is a medical student in this film. She asks 'Arya' out on a date and later wanted to marry him. But, Arya refuses, and she gets engaged to another person. Arya changes his mind and wants Anushka back. He even follows her on a medical camp to win her back. Unfortunately, Anushka dies in an incident. Half of the movie takes place on another planet where Arya is insanely in love with Anushka.
#10 VETTAIYADU VILAIYADU
How great power can be abused is showed in this movie. Amudhan and Ilamaaran are doctors who do anything but service. They entice girls, abuse them, kill them, and bury them. Kamal Haasan is the police officer in charge of this case. Things take a serious turn when they target and kill the commissioner's entire family.