Dark comedy is a bold genre. Especially in a place like India, where political correctness is given much importance, directing a dark comedy movie is only a job half done. Releasing and running the movie is the main part. Though it is a bold venture, these movies become really enjoyable when tastefully written.
#1 Soodhu Kavvum Click to look into! >> Read More... (2013)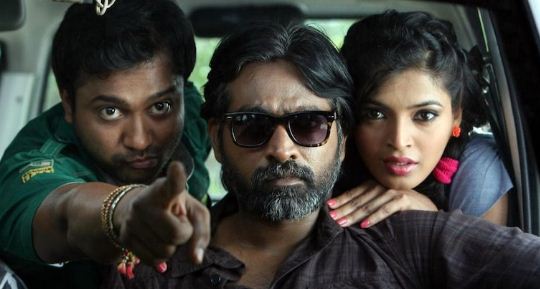 ...
The theme of this movie is kidnapping. Vijay Sethupathi Vijaya Gurunatha Sethupathi was not born with silv >> Read More... is the lead of this movie, who is a kidnapper. He has an imaginary girlfriend going with him all the way. Karunakaran plays the son of an honest politician. The plot is played around the kidnapping of Karunakaran by two parties: Vijay Sethupathi along with three others who have joined as his assistants owing to their financial status and Karunakaran's team to fake kidnapping to loot money from his father. Both these parties come together and agree to share the ransom money, but Karunakaran cheats them and escapes with it.
#2 Jil Jung Jak (2016)
...
As if cocaine selling wasn't enough, cocaine painted car smuggling was chosen as the theme, which is a very new concept. A cocaine smuggling don assigns the job of transporting this car to another place for delivery with three people: Jil, Jung, and Jak. Things take a funny twist when the pink color, cocaine painted car gets exchanged with another similar looking pink car. How the don gets his car back, and how the three hired employees escape from him is the rest of the story.
#3 Va Quarter Cutting (2010)
...
Shiva and Charan are the stars of this movie. The basic storyline is around one-quarter of alcohol. Shiva and Charan are brothers-in-law. Shiva is about to go to the UAE for his work when someone tells him that he is not allowed to drink, partying, or even looking at girls over there. So, he wants to binge some alcohol while he still can. Unfortunately, due to the elections at that time, it was very difficult to catch hold of some drinks. How far will he go for one 'quarter cutting'? Does he get it in the end? This is the direction of the movie.
#4 Naduvula Konjam Pakkatha Kaanom (2012)
...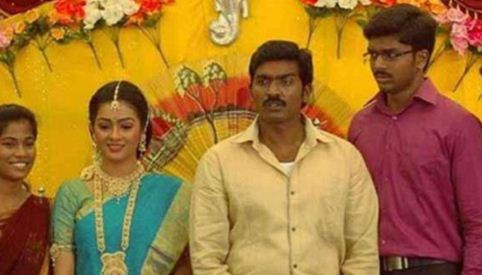 Vijay Sethupathi's first movie was such a big hit, owing to its success in the well-written comedy. Based on a real story, the lead, who is about to be married in a couple of days decides to play cricket with his friends. Regrettably, he slips and injures his head. On recovering from the injury, he suffers from temporary amnesia, where he forgets even his fiancé. Terrified, his friends try to push him to his marriage. How the friends convince Vijay Sethupathi to get married without letting anyone know about his condition leaves us hilariously nervous!
...
#5 Mumbai Express (2005)
...
Pasupathy is a gang leader who wants to kidnap a rich man's son for ransom money. His sketch involves a crane used to kidnap the boy. When the crane operator falls sick, his brother-in-law, Kamal, comes to play. He is a deaf person. How Pasupathy deals with Kamal, the mishaps during the execution of the kidnap, leaves us laughing. In the end, they kidnap the wrong boy. Kamal realizes what he has done and tries to return the boy, who is the son of the DSP.
#6 Neram (2013)
...
Bobby Simha The transformation of Bobby Jayasimha of remote K >> Read More... is a money lender in the movie. Nivin Pauly Nivin Pauly is predominantly a Malayalam actor. Bo >> Read More... had borrowed some money from him for his sister's marriage and was unable to pay the loan as he was jobless. He falls in love with Nazriya, his long time friend. Nazriya's dad refuses to get them married, so Nazriya decides to elope with him. Everything goes downhill when Bobby Simha's men kidnap Nazriya, mistaking her for someone's girlfriend. How life throws many financial problems at Nivin Pauly and how things work out, in the end, is shown in this movie.
#7 Kolamavu Kokila (2018)
If innocence had a face, it looks like Nayanthara. She had done a remarkable job of playing an innocent girl, who barely tries to make her ends meet, working as a receptionist at a massage parlor. Her mother gets diagnosed with lung cancer, leaving the whole family dejected. She comes across drug smugglers and helps them smuggle a packet of cocaine for them once. When she needs money for her mother's treatment, she tries to work with those smugglers. Yogi Babu Yogi Babu is one of the famous actors in Indian fi >> Read More... enters the scene accidentally as he has a crush on her. How she innocently cheats the smugglers and escapes is taken on a funny reel in this movie.
#8 Settai (2013)
Diamond smuggling, prostitution, kidnapping, cheating; this movie has touched all things dark. Arya, Santhanam, and Premji live in an apartment in Mumbai, which is in the worst condition possible. Hansika, Arya's girlfriend, works as an air hostess, who delivers a package of diamonds for her sick friend. This package is supposed to be delivered to Nassar but gets exchanged for Santhanam's stool sample at the apartment. Nasser tracks them down, kidnaps Hansika, and terrorizes them on the whereabouts of the diamond. How does the trio manage to escape? How do they put the fun in funny?
#9 Saroja (2008)
This is a story of four friends: Shiva, Premji, Vaibhav, and Charan. They plan on a road trip to Hyderabad to watch the Indian cricket team play. They get stuck in traffic and decide to take an alternate route. This route leads them to an abandoned place with many buildings where they are encountered with hefty men. They capture them and seal them in a building. On trying to escape, they come across Vega Tamotia Vega Tamotia is an Indian actress who was born on >> Read More... , who plays the daughter of Prakash Raj Prakash Raj, born on 26th of March, 1965, as Praka >> Read More... , a business icon. She has been kidnapped by the gangsters. Will they escape from the place? Will they save the poor girl from them? With their clumsy physical comedy and the hilarious scenes where they panic makes this movie a must-watch.
#10 Biriyani (2013)
Karthi and Premji are the leads of this movie. They are friends who are being accused and chased by the police for the murder of Nassar, a businessman. Ramki is his son-in-law, and Sampath is the police officer. Karthi meets Nasser in a showroom opening ceremony. Soon after, they get drunk and enticed by a prostitute. Later, the next morning, to his shock, he finds Nassar dead in the back of his car. They drive around with Nassar's dead body, trying to prove their innocence and find the actual killer.