1. Ajith Kumar Family
Ajith Kumar is a superstar in Tamil film industry. His wife Shalini Ajith Kumar was a top class actress in Malayalam both as a teenager and as a child artist. And her brother Richard Rishi and sister ' Shamili' are both in the film industry as film artists.
2. ' Chiranjeevi' Family
This family is a more popular family than many other families in this list. Chiranjeevi himself is a great actor, and his brother Pawan Kalyan is also an actor. Son of Chiranjeevi, Ram Charan is a frontline actor in Telugu film industry. Brother of Chiranjeevi, Nagendra Babu, is a well-known producer as well.
3. ' Ilayaraja' Family
Apart from other families in this list, Ilayaraja family is the one family that has its fame in the musical world. Ilayaraja and his son Yuvan Shankar Raja are the main music directors in Tamil film industry nowadays. His daughter ' Bhavatharini' is a playback singer as well.
4. S. A. Chandrasekhar Family
Director Chandrasekhar is a well-known personality in Tamil film industry as he is the father of superstar actor ' Vijay'. Chandrasekhar's wife is a famous playback singer. Both son and daughter of Vijay have appeared in many films as child artists.
5. Kamal Haasan Family
Kamal Haasan doesn't need any introduction and his daughter Shruti Haasan also doesn't need any introduction. His wife Gautami Tadimalla was a front line actress during the 90's. Before his marriage with Gauthami, he was married to Vani Ganpati and ' Sarika'; both were actresses as well.
6. ' Karunanidhi' Family
Karunanidhi is a well-known politician in India. But before his emergence into the politics, he was a well-known script writer. His son 'Stalin Karunanidhi' was an actor and now a politician. His other two sons, 'Muthu' and 'Alagiri', are actor and politician respectively.
7. ' M G Ramachandran' Family
Everybody knows MGR. His wife ' Janaki' was an actress during her rise to fame. His brother M. G. Chakrapani is also an actor. Grandson of MGR, ' Ramachandran' is an actor in South India.
8. ' Sivakumar' Family
Sivakumar was an old time actor in Tamil film industry. But his two sons are very famous. Suriya Sivakumar and Karthik Sivakumar are at their peak in South India. Suriya's wife Jyothika Saravanan is a front row actress in Tamil film industry.
9. ' Rajinikanth' Family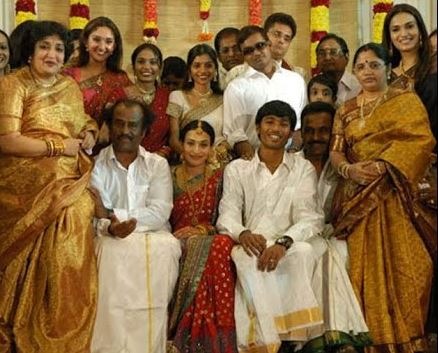 No need of any introduction for the legendary actor. His daughter ' Aishwarya R Dhanush' is a director and her husband is none other than ' Dhanush', who along with Anirudh Ravichander created the hit song "Why this Kolaveri." Anirudh is part of the Rajinikanth family.
10. " Sivaji Ganesan" Family
He was a legend in Tamil film industry. His son ' Prabhu' is a well-known actor, and his son Vikram Prabhu is also an actor. Another son of Sivaji, Ramkumar Ganesan is a producer. The ex-wife of Prabhu, ' Khushboo' is an actress as well.