A blockbuster movie, filmed in Tamil-Telugu and later dubbed in several Indian languages, 'Baahubali' an historical creativity by S.S. Rajamouli gave an incessant epic of all times. The box office collection was close to INR 500 crores. The visual effects, the graphics and the acting delivered by the actors gave a different dimension to the film. With Baahubali's success, another fantasy movie ' Puli Click to look into! >> Read More... ', a heavy budget movie with Vijay, the protagonist in the lead role.
1. Content
...
This film was the imagination and the creativity of V.Vijayendra Prasad, Rajamouli's father. The Magizhmathi kingdom, kingship era and the entire fictional depiction ideas belongs to him.
Rajamouli's 'Puli', another fantasy movie with a fictional backdrop rises a question about how successful will the movie be. Words are being circulated, that one fifth of the movie will depict fantasy and like the 'Kalakeya' tribe in 'Baahubali' there will be dwarfs in the movie.
...
There have been rumors regarding 'Puli' that the concept of time travel, the kings and the queens playing a major part and also that it is story of a man in his previous life.
2. Computer Generated Imagery (CGI)
...
Enormous efforts were made to deliver the graphics and the visual effects in the movie – Baahubali. There were huge number of people employed for three years to picturise in Rajamouli's reverie.
R. Kamalakannan is heading the particular department, Computer Generated Imagery (CGI), for the movie 'Puli' and will be working in Netherlands, Ukraine, Russia, Bulgaria, Bangalore, Chennai and freelance animators from these places have employed for the same. 2,200 CGI scenes will tentatively be used in 'Puli'.
...
3. Cast
...
'Baahubali' and 'Puli' both have eminent actors in the movie. Prabhas, the protagonist, as Rana in a negative role, Anushka as hero's mother, Ramya Krishnan Ramya Krishnan is a South Indian movie and TV actr >> Read More... as Rajamatha, Tamannaah as heroine and Sathyaraj as the patriotic soldier. 'Puli' stars Vijay as the central character and Sridevi is making a comeback, has accepted to play the role of a queen. The film features three actress Hansika Motwani Hansika Motwani is a young and beautiful actress, >> Read More... , Nanditha and Shruti Haasan Shruti Hassan is an Indian film actress born on 28 >> Read More... . It is Vijay's first time in the fictional genre.
4. Costumes
...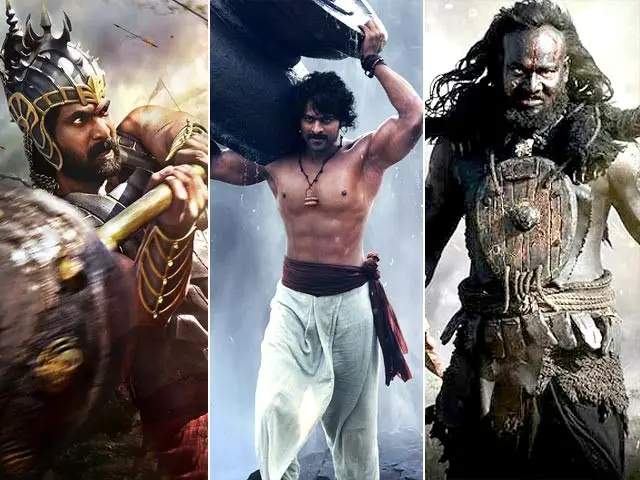 The clothing is parallel with the costumes of 'Baahubali'. It is the conventional clothing of Indian royal society during ancient times. More ethnic costumes will be used in 'Puli'.
...
5. Creator
S.S Rajamouli has delivered ten movies with 'Baahubali', ' Magadheera Click to look into! >> Read More... ' and 'Naan Ee' being the super-hits. Director Chimbu Deven, is new to the historical fictional genre, nevertheless he has directed few hit films like 'Irumbukottai Murattu SIngam' and 'Imsai Arasan 23aam Pulikesi'. People were expecting Puli to be as victorious as Baahubali did on screens.
6. In A Land Ruled By Darkness
Paalvalthevan / Bhallala Deva Click to look into! >> Read More... , the brutal warrior played by Rana and in 'Puli' Sridevi and Sudeep are in the dignified characters.
7. The Hero
Shivudu in Baahubali and Vijay in 'Puli' portraying as the hero.
​8. Shruti Haasan Vs Tamannaah 
The brave warriors, Vijay and Prabhas have their beloveds who bears a non-royal lineage.
9. Rich Flashback To The Father's Character
In Puli, Vijay has a flashback of him with long hair and riding on black horse similar to the exciting flashback in Baahubali.
10. The Element Of Surprise 
The trailer did not show Nanditha's character and was expected to exhibit an aura like Anushka did in Baahubali.